Jeff Bezos Versus Elon Musk: The Space Race, Amazon.com, Inc. & More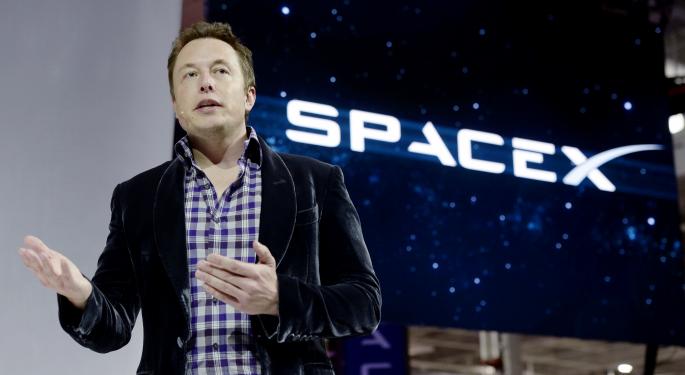 Tesla Motors Inc (NASDAQ: TSLA) co-founder Elon Musk has received a lot of attention for his dedication to space exploration. Few realize that a similar enterprise, Blue Origin, was also started by Amazon.com, Inc. (NASDAQ: AMZN) founder Jeff Bezos.
The project has remained a mystery for several years, but Bezos has reportedly invested $500 million in the company. That investment could pay off now that Blue Origin has secured a deal with The Boeing Company (NYSE: BA) and Lockheed Martin Corporation (NYSE: LMT).
"There is a complete, new market of space tourism which is going to evolve," Global Equities Research analyst Trip Chowdhry told Benzinga.
"The reason is, the cost to make a space journey -- probably in about 10 years from now -- [may not] be different from taking an aircraft or an airplane. So the costs are going to come down. Why? Because of privatization. Secondly, because of competition."
Related Link: Apple, Tesla Union Would Be 'Phenomenal'
Patrick Moorhead, president and principal analyst at Moor Insights & Strategy, thinks this is a "step too far" for Amazon and Bezos.
"The fact is, Amazon is a distribution company," Moorhead told Benzinga. "While I actually do see benefits from things like drones, until rockets start shipping things from coast to coast, I just think that this is tinkering."
Falling Prices
Chowdhry thinks that Blue Origin and other industry players are good for the overall space travel and exploration market. "Today we have multiple players," said Chowdhry.
"I think more than 20 companies are interested in space tourism. Is it a market share winner? No, because it is a market creation activity [focused on] innovation and bringing the prices down. Already, SpaceX has brought the price down by a factor of 10. But the price points have to come in at less than a million [dollars], so there's a long way to go."
Related Link: Should Amazon Use RadioShack to Enter Brick And Mortar?
Who Wins?
"If it's on Amazon's books, it's a waste of money," said Moorhead. "I can see Bezos, if he has an interest in this, wanting to get in on this early research and development. But I just don't see this helping Amazon a whole lot."
Chowdhry told Benzinga that it was tough to pick a winner. "I think Jeff Bezos benefits but so does Elon Musk," he said. "They are creating an industry. In this environment, the person who takes the most risks also gets the most reward."
By being first and by being hyper-competitive, Chowdhry believes that both Musk and Bezos will be successful. "In fact, they are successful because they are thinking outside of their comfort zones," Chowdhry added. "You don't want companies to live and die in their comfort zones because the demise and irrelevancy of those companies is imminent."
Tesla Assistance Today, SpaceX IPO Tomorrow
Investors can't get in on SpaceX just yet, but the company's value is slowly coming to light.
Chowdhry said that Tesla has borrowed three key technologies from the company. SpaceX was also the first entity to send a 3D printer into space.
"Will any of these companies do a public IPO? Not for another 10 years," said Chowdhry. "Why? Because the technology has not matured. The consumer is also not very comfortable [with space travel]."
Disclosure: At the time of this writing, Louis Bedigian had no position in the equities mentioned in this report.
View Comments and Join the Discussion!
Posted-In: Amazon Blue Origin Boeing Elon Musk Jeff Bezos Lockheed Martin Patrick MoorheadTech Best of Benzinga