5 Ways Microsoft Can Earn Billions Monetizing Minecraft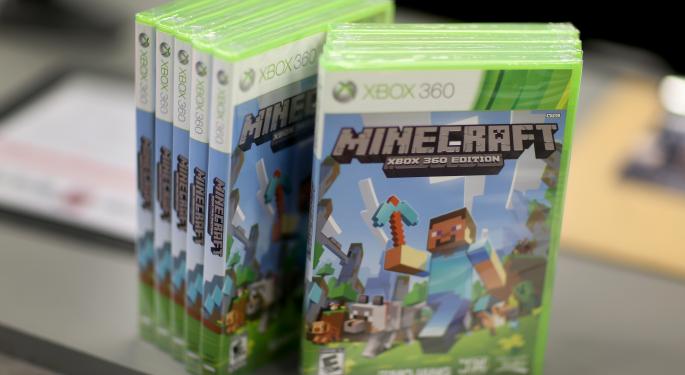 "Minecraft" is a largely un-monetized sandbox game that has sold more than 54 million copies worldwide.
The game has been profitable for its developer, Mojang, but only at the point of sale. Once the game has been downloaded, consumers take their money elsewhere.
Microsoft (NASDAQ: MSFT) acquired Mojang for $2.5 billion, presumably with the goal of fully monetizing the millions of "Minecraft" players.
Related Link: Nasty Reviews Unlikely To Hurt Activision's 'Destiny'
Below are five ways that Microsoft could succeed and turn this into a billion-dollar franchise.
1. Licensing
As of this writing, Mojang has yet to monetize the thousands of servers that have been created for Minecraft. Jason Bratt (who runs one of the servers, Mineswine) thinks this could be a huge opportunity for Microsoft.
"There's [somewhere around] 100,000 servers out there," Bratt told Benzinga. "And some of the top ones, they're making $2 million a month! It's crazy! Microsoft wants to get a part of that."
Bratt said that while he is concerned about how Microsoft will respond to the server community, he expects the company to leave them alone in exchange for a licensing fee.
"From what we hear it sounds like they want to keep all the servers, 'cause that's really a big part of Minecraft -- all these servers having all this custom stuff," said Bratt. "If we didn't have that, Minecraft wouldn't be what it is today."
Related Link: Nintendo Promoted 'Mario Kart 8,' Nintendo 2DS With $9.7 Million TV Ad Campaign
2. App Store For Mods
Mineswine sells mods for "Minecraft," allowing players to tweak the game with guns and other enhancements. Bratt suspects that Microsoft may also try to monetize this element by opening an app store for mods.
"I think that's very possible," he said. "They could make an app store where people could submit plugins and such and then Microsoft would license the code to them to make the plugins and then maybe take a cut of whatever the plugins make if they sell them on there." Wedbush analyst Michael Pachter concurred with this assessment.
"I don't think Microsoft will kill off the modders, but they will probably create a marketplace to facilitate sale of goods created in the game," Pachter told Benzinga.
3. Free With Windows 9?
Bratt thinks that Microsoft might end up giving a copy of "Minecraft" to every person who buys the next version of Windows. "It'll be built into the whole Windows and Microsoft stuff, and maybe you have to pay to subscribe to the game," Bratt theorized. "I think they might come out with a Minecraft 2 for Xbox to gain more money that way."
4. Demographics
Direct monetization may be important, but Pachter thinks that Microsoft might be looking at the bigger picture. "It's really not about squeezing blood from the people who play, it's about capturing mind share of a younger demographic," he said.
Bratt agreed that the demographic is very important. "If you think about it, every kid that's 14 or younger, they know about Minecraft -- and their parents know it too," said Bratt. "You got that whole connection of people, so I think that's a big plus for Microsoft to have all those connections in addition to having the game."
5. Profit From Those Who Didn't Pay
In Microsoft's official statement regarding the Mojang acquisition, the company said that "Minecraft" has been downloaded more than 100 million times on PC alone.
This is significantly higher than the number of paid downloads that have been reported across all platforms. Thus, by monetizing mods through an app store or by applying licensing fees to those who run a server, Microsoft could profit from those who did not initially pay to play.
Disclosure: At the time of this writing, Louis Bedigian had no position in the equities mentioned in this report.
Posted-In: comments Jason Bratt Michael Pachter Microsoft Minecraft Mineswine WedbushTech Best of Benzinga
View Comments and Join the Discussion!