Peregrine CEO Jim Cable Talks Murata Buyout, Apple Components And More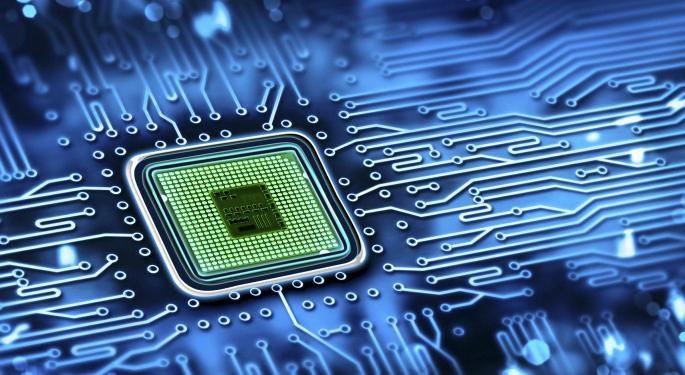 Peregrine Semiconductor (NASDAQ: PSMI) announced on August 22 that it had agreed to be acquired by Murata Electronics North America (a wholly-owned subsidiary of Murata Manufacturing).
Investors jumped on the deal (which is valued at $12.50 per share), raising the stock by more than 60 percent over the past week.
"Peregrine and Murata have had a very strong partnership for many years," Jim Cable, Ph.D., chairman and CEO of Peregrine Semiconductor, told Benzinga. "As we talked about in our earnings calls, their revenue is typically in the range of 60 to 70 percent of our total revenues. To say that there's not already a very, very strong relationship between the two companies would be a complete understatement."
Related Link: Apple Supplier Peregrine Semiconductor Is In More iPhones, iPads Than Investors Realize
JMP Securities analyst Alex Gauna was very bullish on the news.
"The deal is a natural fit," Gauna told Benzinga. "Murata is obviously its largest channel partner. It does the packaging for three quarters of Peregrine's sales, so Murata knows presumably what [the company is] getting here and exactly what it's doing. If they're willing to pay 2.5x price to sales, to me that says they've got some confidence in the roadmap."
A Return To iRevenue?
Peregrine is a key Apple (NASDAQ: AAPL) supplier, but the company's components have not made it into every iPhone. While Peregrine's supplies have appeared in the last several iDevices, they will not be found inside of the upcoming iPhone 6.
"There's obviously so many rumors around us and what's going on with us and inside that particular customer," Dr. Cable explained. "We felt that we didn't want to spend the next eight or nine months dancing around what was going on there and then a teardown would come out and people would be surprised."
Peregrine officially announced that it wouldn't be an iPhone 6 supplier during its February earnings call.
"I reminded people that we've had lots of experiences there," said Dr. Cable. "We were in the original iPhone, the 2G version. We were kind of out of the 3G and I think the 4. And then we were back in the 4S, the 5, the 5S, the 5C. We're not in the 6, but we feel very good about our future going forward and future generations of that phone."
Dr. Cable said that while the iPhone absence will have an impact on the company's revenue in 2014, it "does not have any impact on what that means for us competing for that particular customer going forward."
"The announcements regarding 2015 and 2016, those competitions for those designs are still happening," he added. "Again, we kind of feel good about our position there."
Related Link: An Apple-Pandora Merger Would Be A 'Scary Combination'
New Growth Opportunities
Tablet sales may be declining, but the devices are actually a source of potential growth for Peregrine, which supplies components for the cellular iterations.
"We've traditionally had a very strong share in the tablet space," said Dr. Cable. "The recent ones -- the iPads and Minis and certainly in the Samsung Notes -- we have a long history of being in those."
With regard to products that have yet to be announced (such as the iPad Air 2), Dr. Cable said that Peregrine does not typically comment until the parts are uncovered from a teardown.
"I would say we continue to do very well on the tablet side," he added. "It does seem like tablet growth is certainly not happening at the rate that it did when it was first announced. But it's still a sizeable market. I'm told that the percentage of cellular-enabled tablets is actually increasing. So even if the total number of tablets is kind of stagnant, the market for us is really that total number multiplied by the percentage that [has] cellular enabled."
Disclosure: At the time of this writing, Louis Bedigian had no position in the equities mentioned in this report.
Posted-In: Alex Gauna Apple Dr. Cable iPad Jim Cable JMP SecuritiesTech Interview Best of Benzinga
View Comments and Join the Discussion!