Bitcoin Moves From $339 To $680 In Two Months: Could It Go Above $1,200?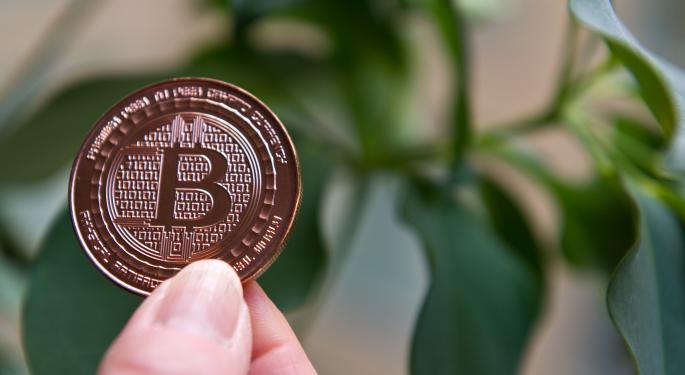 Bitcoin hit a low of $339 just two months ago and went on to hit a high of $680 on June 3, according to leading exchange Bitstamp. The question now on everyone's mind is: is bitcoin headed higher?
2013 Price Explosion and 2014 Optimism
In 2013, Bitcoin rocketed from $13 to above $1,160 in late November before ending the year at $739. At the end of the year, optimism was high. Bulls were predicting bitcoin would end 2014 in the $5,000 to $10,000 range. Overstock's January announcement, that they were accepting bitcoin, added additional fuel to the positive sentiment.
Related: Top 8 Bitcoin Stories of 2014
2014 Negative News
2014 has had a lot of negative bitcoin news as well; the scope of failure at leading exchange Mt. Gox was shocking even to the most faithful bitcoin advocates. The arrest of bitcoin industry board member, Charlie Shrem, the negatively perceived IRS ruling and China's tightened bitcoin regulations all brought bitcoin's price far lower than believers thought it could go.
Related: Was Bitcoin's All-Time High Fraudulent?
2014 Fundamental Improvements
While most people have been fixated by the negative headlines, savvy investors and the bitcoin faithful have viewed these lows as a temporary discount. At a fundamental level, bitcoin has had a massive leap of utility in 2014. Here are some of the reasons:
Venture capitalists have poured hundreds of millions of dollars into bitcoin this year.
Circle launched to make bitcoin as easy for consumers to use as a bank.
Bitreserve is launching to eliminate bitcoin's volatility for customers.
So many companies accept bitcoin it is no longer news, unless they are a multi-billion dollar company.
Innovations in consumer safety are in the works on a level never seen before. Soon viruses won't be able to steal bitcoins
Silicon Valley startups like Stripe and Square and regional startups like Tech Twurl are incorporating bitcoin into their offerings.
Related: Signs A Bitcoin Tidal Wave Is Forming To Disrupt Business
How High Could Bitcoin Go?
Believers think bitcoin will be bigger than the internet. Venture capitalist Chris Dixon has gone on record stating a bitcoin could be worth $100,000. Bitcoin could easily hit a new all-time high this year -- if the SEC greenlights a bitcoin Exchange Traded Fund in the works.
The only certainty about bitcoin's price is it will continue to violently thrash about throughout the year, as investors react to developments. For retail investors, bitcoin is either the opportunity or the folly of a lifetime.
Disclosure: At the time of this writing David Smith has a long bitcoin position.
View Comments and Join the Discussion!
Posted-In: Bitcoin Bitcoins digital currencyTech General Best of Benzinga