Tablet Roundup: iPad Mini, Surface, Nexus 10 and More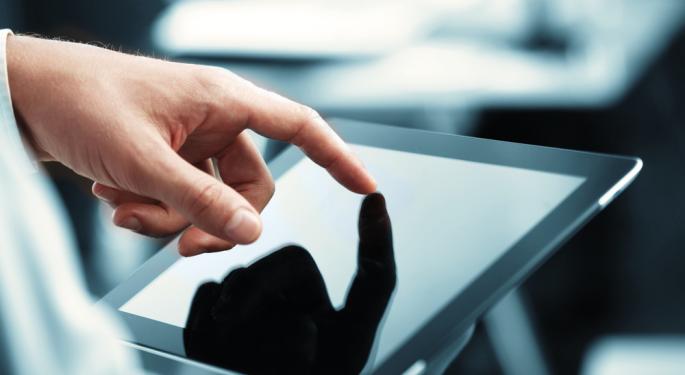 There are more tablets hitting store shelves this year than ever before. From Apple's (NASDAQ: AAPL) long-awaited iPad Mini to Google's (NASDAQ: GOOG) first 10-inch tablet, these powerful touch screen devices are expected to overtake the laptop market by 2016.
Surely there will be additional tablets released next year. Many consumers will still be tempted to purchase one in 2012. Is that a smart move or would it be wiser to wait?
To find out, Benzinga takes a look at the hottest new tablets available.
iPad Mini
Smaller, lighter and weaker than its fourth-generation sibling, the iPad Mini is an attractive device. The $329 price tag is extremely high when compared to its seven-inch competitors from Google, Amazon (NASDAQ: AMZN) and Barnes & Noble (NASDAQ: BKS). Compared to the $299 iPod Touch, however, the iPad Mini seems like a steal. After playing one game on the iPad Mini, it may be difficult for iPod Touch users to return to their pocket-sized device.
iPad 4
The fourth-generation iPad will forever be known as the upgrade that came too soon. As Benzinga noted 24 hours before the device was unveiled, Apple needed to release an upgrade to avoid pricing issues and other difficulties next spring. Now that the device has been upgraded, consumers will not expect to see another iPad for a while. This will give Apple the chance to properly and simultaneously upgrade both devices next fall.
Unfortunately, that means consumers are currently left with a paperweight upgrade. It might be slightly faster than the third-generation model, but it is essentially the same device all over again.
Surface
With a clickable keyboard cover, a reduced version of the new Windows operating system, a specific app store and a cornucopia of tantalizing features, Surface was one of the most anticipated tablets of the year. Sales are beginning to take off, but without any kiosks at Best Buy (NYSE: BBY) and other big box retailers, it is very difficult for consumers to test the new tablet.
Consumers who are interested in buying one must go to a Microsoft Store or Microsoft.com/Surface. There are a few other sellers throughout the country, including third-party retailers that work with Amazon.com. But consumers will not find Surface at their nearest Wal-Mart (NYSE: WMT), Target (NYSE: TGT) or Best Buy.
Nook HD and Nook HD+
Barnes & Noble proved that it was ready to compete when it unveiled the seven-inch Nook HD and the nine-inch Nook HD+. Both appear to be solid devices, particularly the nine-inch model, which sells for $30 less than the 8.9-inch Kindle Fire HD. However, both Nooks are currently limited to roughly 10,000 apps. The Kindle Fire reportedly has more than 35,000, with more coming every week.
Four Kindle Fires
Starting at $169 for the standard seven-inch model, the Kindle Fire is easily the cheapest of the bunch. But that price comes with a catch: the tablet does not ship with a power cord (users will have to buy one separately for $10 to $20). And unless consumers want to pay an additional $15 fee, the Kindle Fire will also contain ads that appear when the device is in standby.
This is true for all of the new Kindle Fires, including the $499 model that comes with 4G LTE. Even so, Amazon's tablets are still much cheaper than the iPad and the iPad Mini.
Nexus 10
Starting at $399, the Nexus 10 is Google's first high-end tablet. The device's 2560x1600 (300ppi) display and dual-core ARM Cortex A15 processor are considerably more impressive than the specs of the Nexus 7, which features a 1280x800 (216ppi) display and a quad-core Tegra 3 processor from NVIDIA (NASDAQ: NVDA). CNET referred to it as "Android's most promising iPad alternative."
Pint-Sized Alternatives
Some users do not want a hefty device to lug around. They would prefer to pick up a small, handheld unit that they can stick in their pocket at any time.
In essence, they want an iPod Touch.
Apple has them covered with the all-new four-inch model. There is one catch, however: the MSRP starts at $299. At that price, consumers might as well get an iPad Mini.
Aside from the iPod Touch, consumers have not had many mobile gaming options. There are dedicated high-end game machines from Sony (NYSE: SNE) and Nintendo (OTC: NTDOY), but if consumers want to play cheap downloadable games without a smartphone, they were once out of luck.
That changed when PlayMG released MG, the first Android-based handheld gaming device. Retailing for $149.99, MG features a four-inch screen, Android 4.0 (Ice Cream Sandwich), a TCC8925 Cortex A5 processor and a microSD slot for memory expansion. Internal memory tops out at just 2GB, but the device ships with an 8GB microSD card. MG also comes pre-loaded with NBA Jam and Need for Speed Hot Pursuit from Electronic Arts (NASDAQ: EA), as well as several games from Com2uS -- including the ridiculously addictive Tower Defense.
Like the Kindle Fire, MG does not ship with a charger. It uses micro USB 2.0, so most consumers should already have a working charger in their home.
Follow me @LouisBedigianBZ
Posted-In: iPad 4 iPad Mini iPod Touch Kindle Fire MG Nexus 10Tech General Best of Benzinga
View Comments and Join the Discussion!