Has Aol Become a Violence and Murder Company?
Soon to have the new slogan, "You've got death."
If you visit the homepage of the company formerly known as America Online (NYSE: AOL), you may have noticed a change. Whereas aol.com used to be known as a hub for logging into a crappy e-mail account, it has slowly transformed into a mainstream news destination. Looking to strengthen its success in this area, the company acquired the Huffington Post for the mind-boggling amount of $315 million.
Since that time, business has (mostly) continued as usual. There were several layoffs, which were to be expected once the acquisition was complete. But things seemed to be normal.
Over the past few months, however, the oddly spelled "Aol" has gone through another transformation: it has become a violence and murder company. Nearly every single day, aol.com publishes and heavily promotes a story about someone that was attacked, kidnapped, murdered, vandalized, or victimized in some capacity. Though one could argue that this is no different from our local news, Aol used to be different. It used to be a site where you could gain a snapshot of today's big stories with just one click. While the stories of crime in America may have been there before, they were not featured on the main page as if they were the most important story of the day – one that every visitor, no matter how young or how old, should see.
Last night alone, I counted seven violent crime-related stories on the main page. Seven! I screen captured a few of them: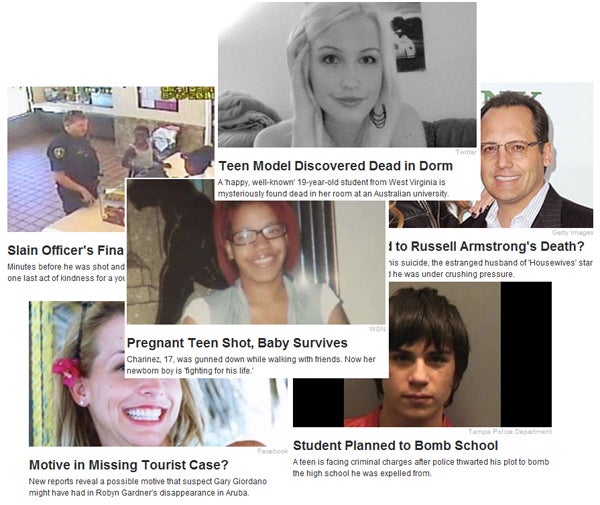 In Aol's defense, the story involving the slain officer was about his final good deed (he bought a 13-year-old some cookies). But what about the rest? One could argue that the missing tourist case should be reported everywhere as it could increase the chances that she is found. One could also point out that the alleged student bomber was caught before he could commit the crime, thus preventing the violent act from occurring.
Still, I have to ask: why does Aol feel the need to feature these stories at the top of the page? Has it not learned anything from the Huffington Post? Drop by that site right now – enter http://www.huffingtonpost.com into your browser. What do you see? Politics, entertainment, sports, science, a smattering of other content (such as "Chipotle Menu To Fess Up To Bacon Usage Because Of Tweets"), and more. The Huffington Post is, without question, more of a political site than anything else. But its news is varied, and it doesn't feel the need to start every day with a reminder of how vicious our world has become. Aol does, however – early this morning, its top story involved the murder of a 91-year-old socialite).
In previous years, Aol was a surprisingly decent source for a wide variety of news content. Aol linked to not one but several other media outlets, and had a full news team of its own. Now that it has acquired the Huffington Post, you would think that Aol would have the power to build an even bigger and better news site. That's the theory, at least. But while the Arianna Huffington enterprise continues to deliver the content that its readers have come to expect, Aol is going through a major identity crisis.
More bad news for a company that has been struggling to maintain a healthy share price.
Follow me @LouisBedigian
Posted-In: America Online AOL Arianna Huffington Huffington PostTech Media Best of Benzinga
View Comments and Join the Discussion!