Former Goldman Sachs Executive Wants To Revolutionize An Industry Silicon Valley Ignored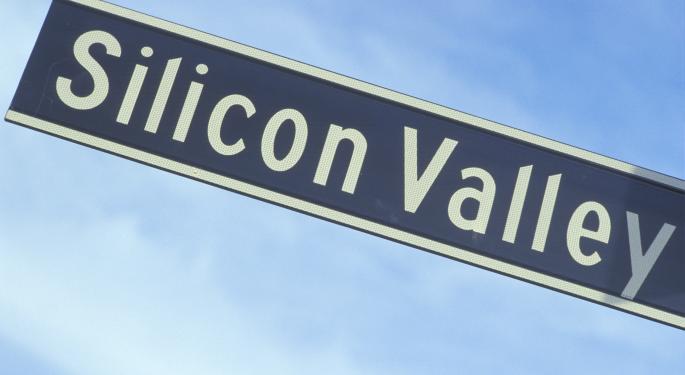 Between the rush to build new apps, new robots and new rockets, Silicon Valley might be too distracted for its own good.
While working as the head of Emerging Private Companies at Goldman Sachs (NYSE: GS), Nicole Shariat Farb began to realize that no one was paying attention to the $30 billion DIY (do-it-yourself) industry.
As a fan of DIY crafts, she became a fan of the beautiful creations that people posted on Pinterest. At the same time, she was perturbed by how difficult it was to re-create them herself.
"I think as Pinterest grew -- DIY is one of the largest categories on Pinterest -- you become all the more frustrated with your own level of skill when you see the beautiful imagery on Pinterest," Farb told Benzinga.
Farb wanted to solve this problem. She envisioned a site where crafters could come up with great ideas, and consumers could buy the resulting items (in the form of kits) and have the fun of putting them together themselves.
After realizing that no one else was going to make this happen, Farb decided to take the plunge and leave Goldman Sachs.
"People ask if I left because I just got the startup bug," said Farb. "That's not the case. I had a really cool job at Goldman and got to interface with people who were at the cutting edge of innovation."
During her time with Goldman Sachs, Farb said that she interacted with 100s of startup founders in Silicon Valley. She also got to interact with some in New York.
"But I became obsessed with [an] idea," she added. "It was out of my own love for crafting -- [my] love and frustration of it," that inspired her to leave Goldman Sachs.
Related: How an eBay PowerSeller Raised $20 Million For a Startup
A New Startup Is Born
After leaving her secure job at Goldman Sachs, Farb launched a new DIY crafting marketplace: Darby Smart.
Inspired by real designers like Coco Chanel and Michael Kors (NYSE: KORS), Darby Smart is not named after a real person.
"I wanted the brand that we built to be a person, although I didn't think that person is me," said Farb, who co-founded Darby Smart with Karl Mendes, a former senior software engineer at Eventbrite
"So I started to think about this fictional person -- a hipster, witty, quirky girl who would come home and actually create her own fashion or her own décor pieces instead of buying them at the store. That was Darby Smart. So it's totally fictional."
Big-Name Support
Darby Smart has a whopping 17 backers who have poured just over $1 million into the company. Some of the most prominent investors include:
Forerunner Ventures
Maveron (investment company from Starbucks (NASDAQ: SBUX)
CEO Howard Schultz)
Dave Gilboa (co-founder and co-CEO of Warby Parker)
Vivi Nevo (formerly one of the largest shareholders in Time Warner (NYSE: TWX); still a big player in media)
Novel TMT (a spin-off from the people behind Michael Kors)
Farb said that Darby Smart will raise additional funds in the future.
Related: Get Up Close And Personal With Detroit's Most Innovative Companies At OpenCo
Do-It-Yourself Growth
Darby Smart launched earlier this summer with just 10 designers.
The company initially hoped to get 30 designers on board by the end of the year. As of September 2013, there are hundreds of individuals making items for the site.
Many of those designers had a strong presence on the Web long before Darby Smart was formed. They may have run a blog or have a popular Pinterest page. But it's not a requirement to craft with Darby Smart.
Unlike Etsy, which allows crafters to sell their completed items directly to consumers, Darby Smart crafters do not have to supply the items themselves. Darby Smart takes on that risk by sourcing all of the supplies internally. The creator of the kit will then receive a percentage of the sales.
Farb would not state how much a crafter may receive, but she said that the percentage is based on a few variables:
Who has the marketing power? Some bloggers have very large audiences, so they help with distribution, marketing, etc.
The creativity of the kit.
The difficulty of sourcing the supplies.
"It's a meaningful percentage back to the blogger," said Farb. "In over 90 percent of the cases, people who have created kits with us want to create a second one. We have a really high retention rate because we're creating value for them."
In addition to its lineup of designers, Darby Smart has also partnered with JewelMint, which is part of the BeachMint family of companies. Through the partnership, Darby Smart will take JewelMint's base parts (such as a gold bracelet) and allow consumers to personalize them.
"We're always trying to give you something you can't get on your own," Farb concluded.
Disclosure: At the time of this writing, Louis Bedigian had no position in the equities mentioned in this report.
Louis Bedigian is the Senior Tech Analyst and Features Writer of Benzinga. You can reach him at 248-636-1322 or louis(at)benzingapro(dot)com. Follow him @LouisBedigianBZ
View Comments and Join the Discussion!
Posted-In: Darby Smart Dave Gilboa Forerunner Ventures Howard Schultz JewelMintSuccess Stories Startups Tech Best of Benzinga