iPod Touch's Newest Competitor is Cooler, Runs Android and Costs $169.99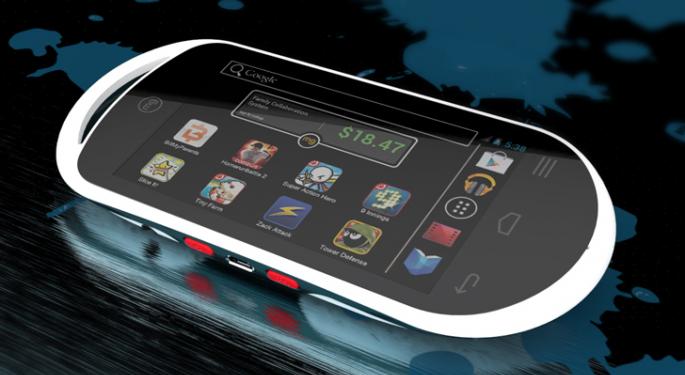 Apple (NASDAQ: AAPL) stunned the world when it announced that its newest iPod Touch would carry an MSRP of $299 -- the same price as the original iPod Touch, which came out in 2007.
At that time, touch screens were relatively new to the average consumer. Nintendo (OTC: NTDOY) helped proliferate the technology with the release of the Nintendo DS, the first mainstream device of its kind. Smartphone users, however, were unfamiliar with the potential of touch-enabled devices. The iPhone showed them what they were missing by delivering a high-end mobile Web experience. Software applications (abbreviated as "apps") later took the iPhone to a whole new level.
In the time since the iPod Touch was released, only a handful of companies have attempted to challenge Apple's dominance in the market. None of them have been successful. Not even Samsung, which makes some of the most popular smartphones in the world, has managed to create a formidable iPod Touch competitor.
After years of waiting, that has finally changed. Apple's $299 iPod Touch is now being challenged by a four-inch, Android-based device called MG. Developed by PlayMG (which stands for "Play More Games"), MG can be best described as a high-end Android phone -- without the phone, of course.
Unlike other Android devices, MG was built primarily for gaming. Parental controls are provided (for those who wish to employ them), but the entire Google Play store can be accessed.
In a comparison test, Tower Defense (which is pre-loaded on the device) played equally as well on MG as it did on the HTC myTouch 4G but crashed less often. Better still, MG proved to have better color saturation than Samsung's Galaxy Note II. The whites were whiter and the blacks were blacker. Even yellow text appeared to be more true-to-life on MG than it did on the Note II.
This was as impressive as it was astonishing. While Apple CEO Tim Cook has publicly criticized the OLED displays employed by his competitors (Samsung is a big supporter of the technology), this was the first time that his words held meaning.
MG comes pre-loaded with several games, including Electronic Arts' (NASDAQ: EA) NBA Jam and Need for Speed: Hot Pursuit. Com2uS provides the aforementioned Tower Defense, along with Inotia 4, Swing Shot, 9 Innings Baseball, Slice It, Tiny Farm, Homerun Battle 2, Super Action Hero and Derby Days.
When Benzinga interviewed PlayMG last summer, the company said that it wanted to create a product for the kids, tween and teen markets.
"The first rule of marketing is sacrifice," T. Scott Edwards, one of PlayMG's founding partners, explained. "We could and eventually might appeal to a broader audience, but in terms of starting out, we wanted to be very focused."
At the time Edwards said that there were 63 million kids under the age of 18. Thirty-nine million of them did not own a smartphone or an iPod Touch. "The 39 million addressable audience is a pretty big niche for us to go after," he said.
Indeed, the kids market can be quite lucrative -- but MG is far from a kiddie handheld. Adult gamers will be able to jump in and start using the device without realizing that it was designed for their children.
Nonetheless, PlayMG teamed up with BillMyParents to offer a digital wallet that allows parents to add money to a prepaid SpendSmart card. In addition to the free games that are included with the device, PlayMG is giving away $10 in free downloads to anyone who adds $10 to their account.
While the battery is on par with most smartphones, gamers may be annoyed when they have to charge the unit after only a few hours of non-stop play. This is no worse than the Nintendo 3DS (OTC: NTDOY), which has one of the worst batteries in the industry. However, it is much lower than the older systems that consumers have become accustomed to, such as the Game Boy Advance SP and the original Nintendo DS.
MG comes with only 2GB of internal memory and a microSD slot. To make up for this, PlayMG includes a free 8GB microSD card with every unit, increasing the total storage to 10GB.
Following in the footsteps of other Android devices, PlayMG wisely chose to include a micro USB port for charging. However, since many consumers already have a micro USB charge, the $169.99 base model does not ship with one. This was an odd decision considering that the target market is kids who don't yet have a smartphone, and thus may not have a micro USB charger.
PlayMG has remedied this issue by offering a $179.99 package that comes with one charger and one case. Alternatively, customers can pay $189.99 for the system and two cases, but no charger.
These issues may have prevented MG from becoming a perfect game system, but they shouldn't deter app-seeking consumers. This is still easily the best pocket-sized Android device available.
Follow me @LouisBedigianBZ
View Comments and Join the Discussion!