New Year's Resolutions From Famed Investor Warren Buffett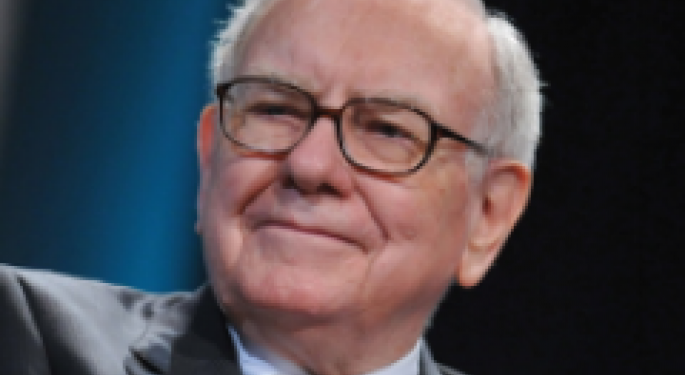 As the ball drops, lovers kiss, and champagne corks fly -- tis the season for New Year's resolutions. Investors around the world are reflecting on their performance over the past year, and setting goals to do even better in 2013.
Seeking inspiration for a New Year's resolution? Who better to turn to than the world's most renowned investor, Warren Buffett.
His Berkshire Hathaway (NYSE: BRK.A) has gained more than 1700 percent since 1990, versus 290 percent or the S&P 500 over the same time period. Pouring over decades of interviews, biographies, and shareholder letters, we have a clear picture of Buffett's investing principles and habits.
In 2013, you can emulate Buffett for success in investing, business, and life.
1. Be on the lookout for good value
Buffett is famous for going to great lengths to seek value. He famously avoided the dotcom bubble, choosing to instead invest in steady, under-the-radar companies in industries like insurance, furniture, and food services. Buffett always depends more on a company's track record and balance sheet than a flashy new product. In 2013, you can be more like Buffett by investing in solid value stocks and not being wooed by the latest fads.
2. Avoid debt
One of Buffett's main investing criteria is low debt. He studies a company's debt-to-equity ratio, and compares it to that of other players in an industry. Having little debt on a balance sheet is a strong indication that management is efficient and fiscally resposible. About debt, Buffett once said, "Good business or investment decisions will eventually produce quite satisfactory economic results, with no aid from [debt] leverage." To emulate Buffett, make 2013 a year in which you pay off debts and avoid taking on new ones. Interest rates can often be higher than investment returns, so debt reduction shold be top priority. And make your portfolio more like Buffett's by buying shares of companies with low or no debt.
3. Be Thrifty
Despite being the second wealthiest person in America, Buffett still lives a relatively modest lifestyle. Buffett is famous for living in the same house in Omaha that he purchased in 1958, before making it big, for $31,500. He prefers hamburgers to exotic, gourmet meals.
Buffett told CNBC in 2007 that his family eats Christmas dinner at McDonald's (NYSE: MCD) because the chain gives him free food. The comment may have been tongue-in-cheek, particularly because before 2012 McDonald's locations were not typically open on Christmas, but plenty of people took it as matter of fact since it is the kind of thing that Buffett would do.
When Buffett spends a dollar, he does not only consider it an expense of one dollar, but an expense of all potential future appreciation if he had invested that dollar instead. If you adopt that attitude in 2013, you will gain control over your expenses and boost your savings.
View Comments and Join the Discussion!
Posted-In: Berkshire Hathaway Inc. New Year Warren BuffettSuccess Stories Best of Benzinga