Fr. Emmanuel Lemelson Gives Deep Insight Into His Domino's Short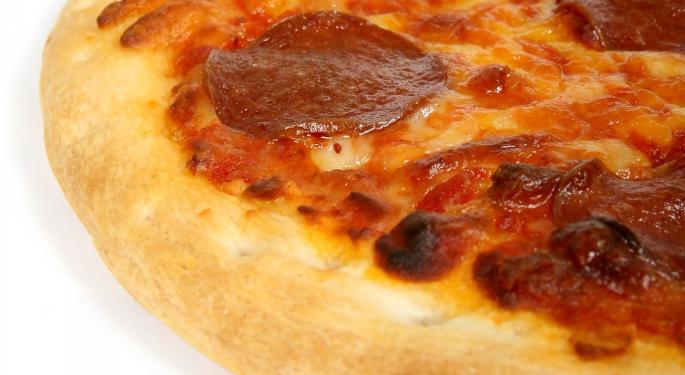 Fr. Emmanuel Lemelson splits his time between the Greek Orthodox community and hedge fund executives. One of Lemelson's more notable calls as of late is his short thesis in Domino's Pizza, Inc. (NYSE: DPZ), which he believes is overvalued by more than $100 per share.
Speaking during a charitable conference, Lemelson discussed his short thesis, which he admitted received a lot of "flack" from the media.
"Among the short-selling community there is this idea that you have to have a catalyst," he explained. "I have a slightly different take on it. I don't think that every time you short a company you need a clear smoking gun catalyst."
'It's Just An OK Pizza'
Lemelson emphasized the fact that his prior short thesis on Skechers USA Inc (NYSE: SKX) didn't have a "clear smoking gun catalyst." Rather, the shoe maker remained a "second rate" shoe company and investors merely created a bubble in the stock. And stock bubbles are universally the same, whether it is a shoe company or a pizza company like Domino's that has gained 1,400 percent in value over 10 years.
"What's really changed [at Domino's]?" he asked. "It's pizza for crying out loud. It's just an OK pizza."
Meanwhile, Domino's CEO compensation plan is directly tied to the performance of the stock and this isn't fair for shareholders. Lemelson pointed out that CEO Patrick Doyle took over top ranks at the tail-end of the stock market crash following the 2007/2008 recession and has since levered the balance sheet "to death" for $2.6 billion in debt and created an "enormous shareholder deficit."
"Interest rates are rising, he won't be able to continue doing what he is doing," Lemelson added. "It has to have an end. They all do, and I don't think it will end well for the common shareholder."
Finally, Lemelson emphasized the fact that Domino's considers itself to be a leader in pizza delivery — not the best tasting or quality pizza. In fact, if years down the road Domino's starts delivering pizza by drones, there is no reason why its closest competitors won't be doing the same, which would call into question its leadership status as the delivery expert.
Related Links:
Domino's Is Doing 'Something That We've Never Done Before'
View Comments and Join the Discussion!
Posted-In: Dominos Emmanuel LemelsonShort Sellers Short Ideas Restaurants Media Trading Ideas General Best of Benzinga