Why American Realty Capital Plunged Nearly 20%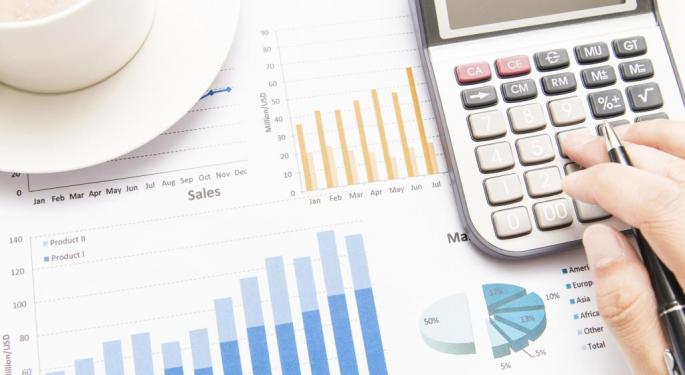 Unfortunately for American Realty Capital Properties Inc (NASDAQ: ARCP) shareholders, the stunning disclosure that greeted them prior to the October 29 opening bell is not just a bad dream. The company broadcasted, "[ARCP] Announces Non-Reliance on Previously Issued Financial Statements and Changes in Accounting Personnel."
Not just a bad dream, but the elements of night terrors, the PR release included this ghastly revelation: "The Audit Committee believes that this error was identified but intentionally not corrected, and other AFFO and financial statement errors were intentionally made, resulting in an overstatement of AFFO and an understatement of the Company's net loss for the three and six months ended June 30, 2014."
Related Link: Midday Losers From October 29
The pro-forma resignations of the former CFO and Chief Accounting Officer were announced as well, along with the newly appointed successors, CFO Michael Sodo and CAO Gavin Brandon.
"The identified potential adjustments would not affect the Company's compliance with the financial ratios in its debt covenants," according to the American Realty Capital announcement.
The Charts Tell The Story
By the end of Wednesday's trading (including the after-hours session), shares of the REIT had fallen a little over 20 percent.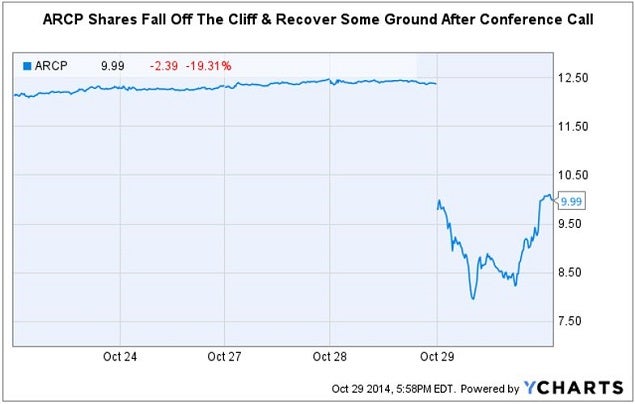 RCS Capital Corp. (NYSE: RCAP) stock was affected as well. RCS announced the purchase of American Realty Capital's Cole Capital non-traded REIT and advisory business in early October. It is scheduled to close next week.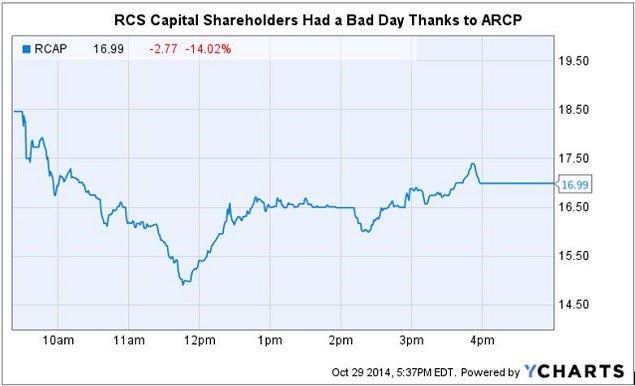 The Irregularities
The accounting irregularities overstated the uber-metric for all REITs: adjusted funds from operations (AFFO). AFFO is a measure of cash flow available for distribution, which are funds used to pay shareholders the dividends REIT investors crave.
In a recent Benzinga article, current CEO David S. Kay was described as a "straight shooter."
The accounting issues discovered by the American Realty Capital Audit Committee occurred while founder and current executive chairman Nicholas Schorsch was CEO. Schorsch was the driving force behind a series of transformative M&A deals that propelled American Realty Capital to the largest single-tenant net-lease REIT, overtaking stalwarts Realty Income, National Retail Properties and W.P. Carey. Schorsch has many titles on Wall Street, including Chairman of RCS Capital.
The PR release stated that "Management does not expect this matter to impact any previously announced transactions, including the sale of Cole Capital to RCS Capital Corp., which the Company expects to be completed next week…"
Additional Notes
According to a Seeking Alpha news update, investment bank "JPMorgan is notable for its two-notch downgrade, taking American Realty Capital Properties to Underweight from Overweight. Also tossing in the towel are BMO Capital and Capital One, downgrading American Realty Capital to Market Perform/Equal Weight."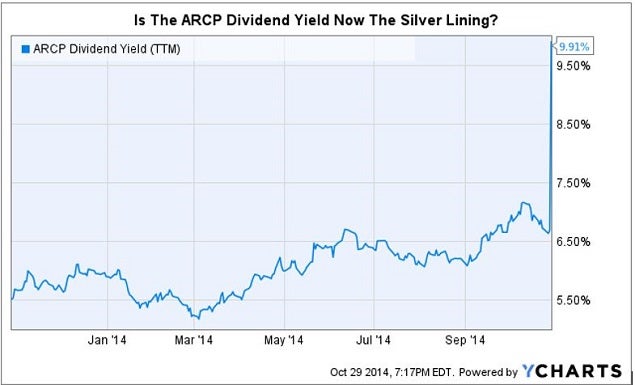 The current dividend of $1.00 per share is now yielding a little under 10 percent.
Conference Call
In a conference call on Wednesday afternoon, Kay shed more light on the subject.
"We don't have bad people, we had some bad judgement," he said, according to Seeking Alpha.
An internal "whistleblower" was responsible for breaking the story to management, and "those who were involved in the "cover-up" have been fired and none of remaining management has been implicated in the issue," the outlet added.
Disclosure: At the time of this writing, the author had no position in the equities mentioned in this report.
Posted-In: Cole Capital Nick SchorschREIT Real Estate Best of Benzinga
View Comments and Join the Discussion!