Ocwen Financial Shares Crushed By Regulator Report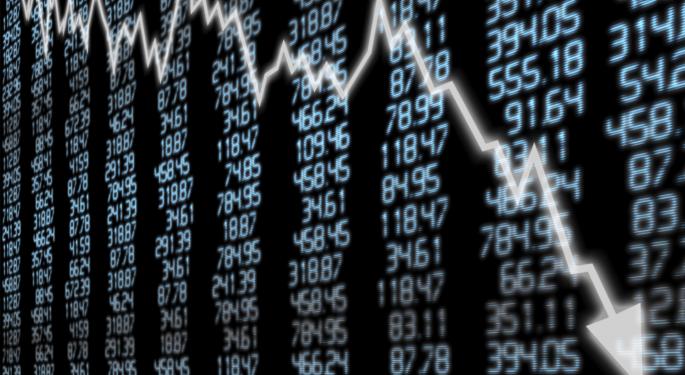 After firing several shots across the bow, it appears that the New York State Department of Financial Services (NYDFS) latest allegations might actually torpedo the once high-flying flagship of the Ocwen family of companies.
Ocwen Financial Corp. is one of the largest servicers of non-performing loans (NPLs) in the United States. These are pools of delinquent residential mortgages for which Ocwen has purchased the servicing rights, often from big money center banks such as Wells Fargo & Company, Citigroup Inc., Bank of America Corp and JPMorgan Chase & Co..
Related Link: Sears Shares Skyrocketed Again: 3 Charts Investors Should Study
The Most Recent Letter
The serious allegations regarding Ocwen systems and processes detailed in the October 21 NYDFS letter to Ocwen included:
Backdating letters denying a mortgage loan modification -- making it impossible for a homeowner to comply within a 30-day window required to appeal the letter.
The Ocwen vice president of compliance ignoring an employee concerns regarding the backdating issue for five months.
Ocwen never investigated these allegations properly which has resulted in issues remaining unresolved to this day.
Ocwen not meeting its obligations under both New York and federal law regarding accurate record keeping and timely communications with borrowers.
Basically this seems to be an example of ignoring lessons that should have been learned back in the kindergarten sandbox — if it's not nice, don't do it. In this case the question becomes — if it's not legal and you get caught — will the consequences be so severe that the core business is at risk of failing?
The Money Center Banks Were Able To Settle
On March 18, 2014 Joseph A. Smith, monitor of the National Mortgage Settlement, reported that all four of the money center banks had fulfilled their financial obligations under the 2012 settlement agreement. Based upon the formula in the settlement, each bank achieved its required share of more than $20 billion of homeowner debt forgiveness and refinancing assistance.
This consumer relief primarily resulted from settling allegations about the practice of robo-signing and other faulty foreclosure documentation. In aggregate, the banks provided more than $50 billion of relief to more than 600,000 households.
Ocwen entered into a similar agreement with the same monitor in December, 2013 to provide $2.1 billion in relief to homeowners. This settlement was approved by the court on Feb. 26, 2014.
New York Keeps Ocwen In Its Crosshairs
The NYDFS has initiated several investigations into Ocwen servicing practices and business structure. The NYDFS has also caused Ocwen to put a deal to acquire the MSR's to 184,000 loans from Wells Fargo -- with $39 billion of unpaid principal balance -- on "indefinite hold" back in February 2014.
To help put that into perspective, Ocwen was servicing mortgage loans with about $473 billion of unpaid principle balances at the beginning of 2014.
Financial Fallout For Ocwen Shareholders
In light of the losses reflected in the chart above, it should be noted that Ocwen-related entities Altisource Residential Corp (NYSE: RESI) is now paying a dividend yielding about 9 percent, and Home Loan Servicing Solutions Ltd (NASDAQ: HLSS) is paying out a dividend yield approaching 10 percent to its shareholders. These are the only two Ocwen related entities that pay a dividend.
The Incredible Stock Performance Of One Ocwen Entity
According to the corporate website, Altisource Asset Management Corp (NYSE: AAMC) is an asset management company that provides portfolio management and corporate governance services to investment vehicles that own real estate related assets.
Its initial client is Altisource Residential Corporation a real estate investment trust, (REIT) formed to acquire and own single family rental assets through the purchase of sub-performing and non-performing mortgages as well as single-family homes at or following the foreclosure sale.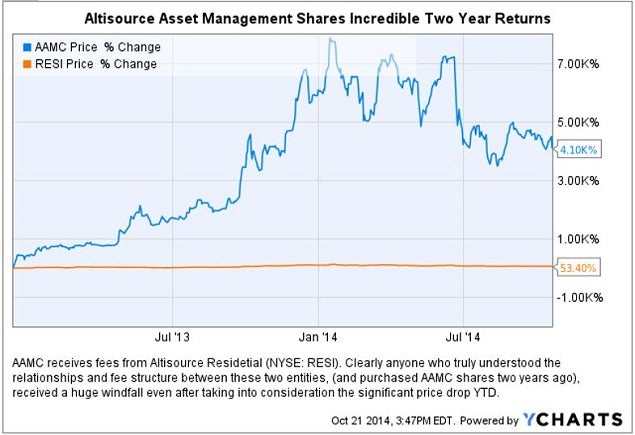 This company is already caught up in an existing NYDFS investigation.
On August 18, 2014 a Reuters article detailed that Ocwen had received a subpoena from the SEC regarding "business dealings" between some of its affiliates. "Ocwen said the probe was related to its dealings with Home Loan Servicing Solutions, Altisource Asset Management Corp and Altisource Residential Corp, and the interests of its executives in these companies."
The NYDFS has also has been conducting an investigation into the business arrangements between the various Bill Erby controlled entities — specifically as it relates to "arm's length" transactions and shareholders rights.
Bottom Line
"The product we service is a very difficult product to service by and large." -- Ocwen Executive Chairman Bill Erbey
The business of servicing NPL's operates within a complex minefield of both state and federal regulations — from which even the largest and most sophisticated loan servicers have been unable to escape unscathed.
Regulatory hurdles have been both a blessing and a curse for Ocwen and its related entities as they helped to create a wide moat — effectively limiting the competition. However, it now begs the question, will Ocwen Financial be able to recover from the serious damage inflicted by the latest NYDFS allegations of malfeasance?
View Comments and Join the Discussion!
Posted-In: Bill Erby New York State Dept of Financial Services Ocwen SECGeneral Real Estate Best of Benzinga