5 Key Takeaways - Simon Property Group Inc CEO Interview With Brian Sozzi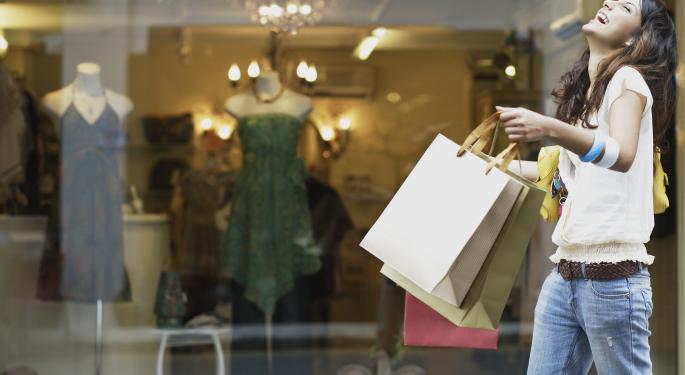 While some pundits continue to describe the death of U.S. shopping malls as being inevitable -- a result from changing demographics and online shopping trends -- it appears that the death of the mall is greatly exaggerated.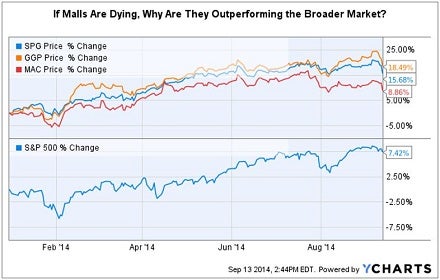 If you want to learn about the prospects for regional malls, why not ask industry leader Simon Property Group Inc. (NYSE: SPG) CEO David Simon? That is exactly what Brian Sozzi had a chance to do last week in a Street.com interview.
Five Key Takeaways
1. Location, Location, Location: The perception that the U.S. has an overabundance of stores does not match the reality on the ground. Basically, it boils down to demographics, which is a purely local equation. While certainly there have been some trade areas which have declined, the dominant story is that well-located regional malls are a vibrant and healthy product type.
Related Link: Entire REIT Sector Slides Sharply: Simon Property Group Inc Takes Advantage Of Low Rates
2. Keeping Current: Well-positioned malls continue to evolve through renovations and upgrades. These run the gamut from providing 21st century technology enhancements such as Wi-Fi -- which allows the promotion of brands to consumers in the mall -- to a better merchandise mix.
Desirable retailers include TopShop, Zara, H&M Company, Inc, Lululemon Athletica Inc., Athleta, Inc. and American Girl Brands, LLC. The creation of food halls and dining pavilions featuring fast casual restaurants helps malls to generate additional traffic for retailers as well.
3. Well Anchored: Throughout the Simon Property 228 mall portfolio there is currently one vacant anchor. This is the lowest amount of available anchor space in company history.
When anchor space does become available, if need be it can be replaced by combining health clubs, entertainment uses and a retailer such as Zara into the former big box space.
However, the presentation of full anchor space reflected the Simon Property's spinoff of some properties into the Washington Prime Group (NYSE: WPG).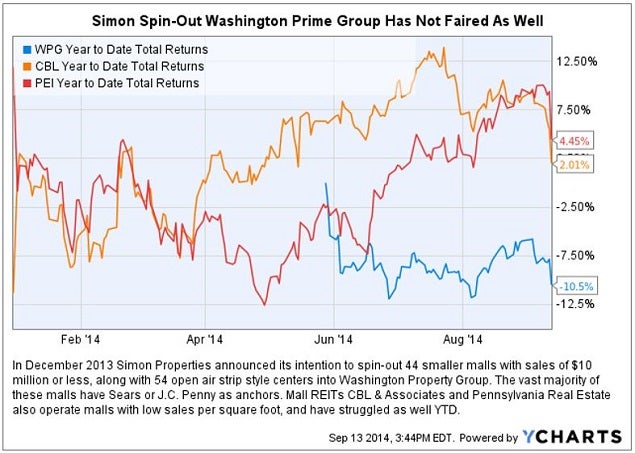 . The Washington Prime Group anchor space was not discussed.
The spinoff also generated $1 billion in cash for the Simon Property balance sheet, which can be used to reinvest in its strongest properties
4. Bargains Help: Retailers have found that outlet malls are not "brand negative," but in fact are "brand positive" because:
If a customer loves a brand, they also love a bargain.
Tourists are attracted to perceived bargains in Outlet Malls.
The bottom line is that retailers have found it to be profitable.
5. Bricks And Clicks: CEO Simon was very upbeat regarding the future of the "bricks and clicks" ship-from-store trend. He noted that Macy's, Gap, Footlocker and Nordstrom all had a "real good sense of their consumer and technology…" This trend effectively allows stores to double as omni-channel distribution centers, which leverages the impact of physical stores. However, this also serves to further blur the already murky line between what is a truly bricks and mortar sale versus an Internet sale.
Investor Takeaway
Mall landlords are first and foremost in the real estate business. When it comes to malls, the old real estate adage: location, location, location is critical. Updated and well managed malls, in trade areas with strong demographics, generate the highest sales per square foot, regardless of which "bricks and clicks" retailer is ringing up the sale.
Posted-In: Brian Sozzi David Simon shopping malls Simon Property Group Inc TheStreet.comTrading Ideas General Real Estate Best of Benzinga
View Comments and Join the Discussion!