#PreMarket Prep Guest List For The Week Of November 24, 2014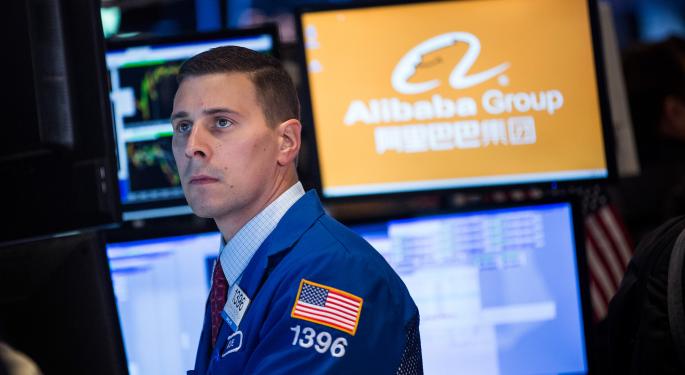 It's a shortened week due to the holiday, but there will still be plenty to talk about on this week's #PreMarket Prep broadcast, sponsored by Marketfy.
Be sure to tune in at 8:00 am EST Monday-Friday here for the show.
Monday, November 24, 8:20 a.m.
Jeffrey Hirsch (@AlmanacTrader), Editor-In-Chief of "The Stock Trader's Almanac"
A 25-year Wall Street veteran, Jeffrey Hirsch is also the editor-in-chief of Seasonal Sector Trades and Almanac Investor eNewsletter at www.stocktradersalmanac.com and author of "The Little Book of Stock Market Cycles" and "Super Boom: Why the Dow Will Hit 38,820 and How You Can Profit from It." He is a 25-year veteran of Wall Street and took over from founder Yale Hirsch in 2001.
9 a.m.
Sean Udall (@UdallTechStrat), Tech Stock Strategist
After nearly doubling his money on NVLS Systems in the early 1990s, Sean Udall has been hooked on tech stocks ever since. His more than 20 years of experience working for some of the biggest firms in the country (Morgan Stanley, Salomon Smith Barney), managing more than $350 million in client assets and writing prolific content on the tech sector.
9:20 a.m.
Angie Maguire (@goddessofgrain), Vice President of Grain for Citizens Elevator
Angie Maguire has been working in the grain industry for more than 10 years. After beginning her career as a cash grain broker she transitioned into a position as Vice President of Grain for Citizens Elevator in Charlotte, Mich. At Citizens she manages five elevator locations as well as a state of the art on-farm program bringing the company's overall yearly handling to more than 11 mbu.
Tuesday, November 25, 8:35 a.m.
Nic Chahine (@racernic), Creating Income with Options Spreads
Nic Chahine joins the show every Tuesday to discuss the week's options outlook.
9 a.m.
Dan Nathan (@RiskReversal), Co-Founder and Editor of Risk Reversal
Dan Nathan has spent the better part of the last 17 years as a proprietary equity and options trader at hedge funds and within the equity derivatives group of Merrill Lynch. Since early 2009, Nathan has served as a broker to investment banks for large equity option block trades while also offering trade structure and fundamental trade ideas.
9:20 a.m.
Paul Wallace (@FXTraderPaul), Performance Coach and Financial Trader
Paul Wallace has more than 18 years' experience working in competitive, results-driven performance environments. Working with individuals operating in challenging zero-sum environments, he helps create a "performance mindset" to promote success. With a background in sales, trading and the military, Wallace is a self-motivated individual. He is adaptable and versatile with proven sales, leadership, management and planning skills, developed in challenging and geographically diverse environments.
Wednesday, November 26, 8:35 a.m.
Paul Mladjenovic (@PaulMlad), Author of "Stock Investing For Dummies" and "The Raving Capitalist"
Paul Mladjenovic is a national seminar leader, author and consultant. His specialties are investing and home business issues. Since 1981, His company has helped thousands build wealth through nationwide seminars, workshops and investment conferences.
9 a.m.
Dr. Kannoo Ravindran, Author of "The Mathematics of Financial Models"
Dr. Kannoo Ravindran currently consults financial institutions (banks, insurance companies etc.) globally on all aspects of derivatives trading, modeling, risk-management (inclusive of pricing/development/hedging of guarantees embedded in insurance and investment products). In addition to this, he also lectures around the world on these topics while running a private fund arbitraging mispriced or undervalued assets or investing in isoteric assets.
9:20 a.m.
Jason Sen (@daytradesignals), Technical Analyst and Director of Daytradeideas.com
Jason Sen began his trading career in the options pits on the trading floor of LIFFE in 1987 at the age of 19, making markets on his own account. When the trading floor closed in 2001, he successfully made the transition to day trading on computer screens. Trading financial markets is all he has ever done, every day, for more than 25 years.
Friday, November 28, 8:35 a.m.
Christian Tharp (@cmtstockcoach), Marketfy Maven and Author of "Five-Star Stock Watch"
Christian Tharp is a certified market technician. He has helped more than 2,500 beginner and advanced traders and investors around the world take control of their own financial futures.
9 a.m.
David Tawil (@MaglanCapital), Co-Founder of Maglan Capital
Prior to founding Maglan Capital, David Tawil was an investment banker with Credit Suisse, where he served as Director of Leveraged Finance and co-managed the fixed-income alternative asset trading business, focusing on sourcing and trading illiquid high-yield and distressed debt. Before joining Credit Suisse, David was an attorney with Davis Polk & Wardwell, specializing in workouts and bankruptcies.
9:20 a.m.
Dr. Mikhail Melnik, Economics Professor at Southern Polytechnic State University
Mikhail Melnik's economics research in online commerce and taxation is recognized internationally. His research has been cited by policy makers, including the State of Florida Senate and prominent think tanks, including American Enterprise Institute. He has more than a decade of economic forecasting experience.
View Comments and Join the Discussion!
Posted-In: Benzinga #PreMarket Prep broadcast Dan NathanPre-Market Outlook Best of Benzinga