From 'Totally Overwhelming' To Savvy Investor: How One Woman Gained Confidence To Manage Her Own Money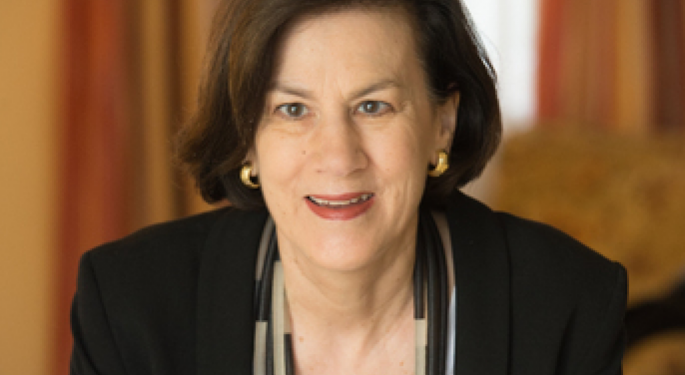 It's difficult calculating the true cost of the financial crisis. Some reports claim $19.2 trillion in household wealth disappeared in 2008. But that's only an estimate.
What is a little more tangible however, is the damage done to individuals. For many people who had, by all accounts, done everything right—invested conservatively, stuck their money in retirement accounts and pension plans—the financial crisis represents a life changing turning point. This is especially true for baby boomers, many of whom could do nothing but watch as a lifetime's worth of wealth disappeared seemingly overnight.
Sandy Chaikin was one of those people. In 2008 she lost 40 percent of her IRA portfolio. Despite repeated requests to sell, she stayed invested in the stock market at the behest of her financial advisor, who advised her to ride it out.
"I lacked the confidence to override his advice and I lost 40 percent of the value of my portfolio, which I worked over 30 years to build up," she said.
That lesson was a wakeup call for Chaikin, who despite a high-powered career as a marketing executive, didn't know the first thing about investing. So she set out to change that.
'Nobody Cares About Your Money More Than You'
The first thing Chaikin did was end her relationship with her portfolio manager.
"I really had to get involved with this and not blindly turn it over to somebody else," she said. "Nobody cares more about your money than you. That started with me applying that mantra to myself."
But she wasn't alone in this endeavor. Nearly $400 billion came out of brokerage firms and into self-managed accounts after the crisis.
She then turned to her husband, Wall Street veteran Marc Chaikin, who advised her to start by investing in a Vanguard account to get broad exposure.
Together with her husband, Chaikin started Chaikin Analytics, a company designed to help her, and the many people like her, manage their money.
"But as Marc and I started this company, I said, 'Look, I don't know anything about Wall Street, but I do know about marketing. So I'll help you market it.' I am a firm believer that if you're going to be successful marketing a product or a service you have to immerse yourself in it and feel it, do it, live it."
One Step At A Time
Slowly, Chaikin started gaining more confidence in her investing. She listened to what Marc said in appearances on CNBC and took his advice to start, even though she wasn't yet a confident investor.
"I knew that in order for me to be successful at marketing financial services, I had to understand the market and I had to understand the product, in this case our service Chaikin Analytics and the Power Gauge Rating. So I just started listening. It was totally overwhelming.
Register for Sandy Chaikin's free webinar Thursday February 2 at 4:15 ET: Investing 101: A 5-step guide to finding winning stocks in 15 minutes a day. Sandy's presentation is appropriate for all investors, from novice to knowledgeable.
"I said, 'I'm never going to be able to learn how to do this to myself.' There is absolutely no way I could garner Marc's 45 years of experience and his intelligence, but I didn't need to because of the tools he created. Marc created powerful analytics, but in simple green/red displays so even a novice like me could understand."
One day in 2012 he mentioned that eBay Inc (NASDAQ: EBAY) and Comcast Corporation (NASDAQ: CMCSA) had bullish signals on the Power Gauge rating. So she jumped in and bought $5,000 worth of each. Nine months later one was up 40 percent and one was up 60 percent.
"I thought, 'Okay, this is good. I'll buy a little more.' So little by little I bought more and more stocks until my entire portfolio is now in individual stocks."
To help her keep things simple, Chaikin holds between 8-10 stocks at a given time. She also relies on the Power Gauge on the Chaikin Analytics platform to inform her decisions. That, she said, controls her fear and acts as a true indicator for when she should buy or sell.
"Fear is a big motivator of selling. People get fearful and they sell, and they typically sustain a loss when they do that. I have seen many of my stocks go down 10 percent, but if the Power Gauge stays green, I'm still in with confidence."
Her Advice To People Who Don't Invest
Today Chaikin is trying to help people like her old self. She gives webinars aimed specifically at new investors and those who are overwhelmed by investing their money—especially women.
"Women in particular lack confidence to invest. Studies show that 70 percent of women don't have the confidence to invest—that's a staggering number. That is really sad because women are powerful. Women hold the purse strings. So it's critical that we all learn how to invest."
Her starting advice is simple: just get started.
"The hardest part is getting started. You'll be amazed how much you can learn and how much you don't need to learn. That's really what I want to pass on. It is not as complicated as you think."
Chaikin advises people to start with a small amount of money that they're comfortable losing and invest in one or two stocks. That will get you in the game.
"You'll be amazed how much more meaning that transaction has for you because you made the transaction, because you bought the stock. If you don't have any skin in the game you are just looking at numbers."
Chaikin Analytics is a sponsored partner with Benzinga. This article was written in conjunction with Chaikin Analytics, and may have been subject to their approval.
Posted-In: Financial Advisors Fintech Entrepreneurship Success Stories Be Your Own Boss Startups Small Business Personal Finance Best of Benzinga
View Comments and Join the Discussion!