Despite Setbacks, Royal Dutch Shell is Not Out of Africa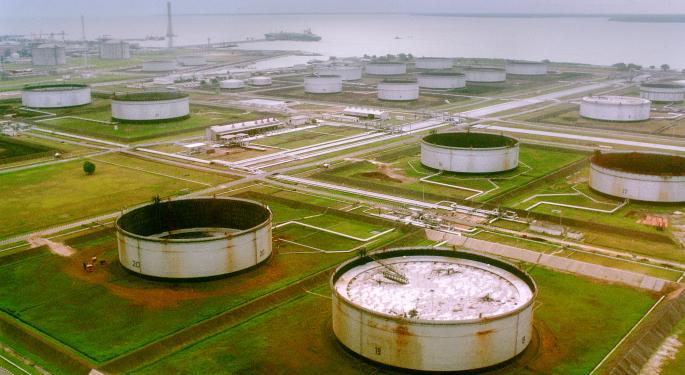 Although Royal Dutch Shell (NYSE: RDS-A) is selling four oil blocks in Nigeria, it is firmly committed to its position in the energy industry in Africa.
Along with Exxon Mobil (NYSE: XOM) and others, the company has strongly opposed proposed protective legislation in South Africa that would reduce competition to Sasol (NYSE: SSL), the oil and petrochemicals corporation based in Johannesburg. That is hardly evidence of a company looking to leave the continent.
This has also been clearly demonstrated by the resilience of Royal Dutch Shell in Nigeria.
In the first two months of the year, Royal Dutch Shell and other oil companies had to declare force majeures on three separate occasions. Force majeures is a contractual feature which allows for businesses to miss obligations due to major disruptions-- such as  crime, armed hostilities, or an "Act of God" such as a hurricane. 
For Royal Dutch Shell, the most recent invocation of a force majeures clause was in having to shut down the Trans Niger Pipeline to repair crude oil leaks. The damage was caused by the theft of 150,000 barrels of oil and 500 million standard cubic feet of gas a day in Bodo West and Oloma.
According to Chatham House, an independent policy institute based in London, an estimated 100,000 barrels of oil were stolen daily from pipelines in Nigeria during the first quarter of 2013. That does not include additional thefts from export terminals. For Shell Oil, that is a loss of about $10 million every day in Nigeria when oil is at $100 a barrel. The actual figure is much higher, as that does not include stolen natural gas.
The recent thefts in Nigeria are the worst since 2009, when the insurgency in the Niger Delta was at its peak. According to Mutiu Sunmonu, Managing Director Shell Nigeria, "We have now witnessed a significant upsurge in the activities of crude oil thieve. The situation in the last few weeks is unprecedented. The volume being stolen is the highest in the last three years."
In 2010, Shell was forced to replace a sabotaged pipeline in Nigeria at a cost of $1.1 billion.
These losses are worth it to Royal Dutch Shell, as Africa presents one of the richest oil plays left in the world. Already Nigeria is a major oil producer, at about two million barrels a day. But the potential for the country, like the entire continent for oil and natural gas production, is much higher.
The proposed laws in South Africa opposed by Royal Dutch Shell and other international oil giants are intended to allow for the country's burgeoning energy sector to develop with an indigenous leadership role. There is certainly a size mismatch: While Sasol Ltd is the largest publicly traded corporation in Africa, with a market capitalization of nearly $30 billion, for Royal Dutch Shell it is about $216 billion, with Exxon Mobil weighing in at nearly $382 billion.
In South Africa, Exxon Mobil has bought blocks near Durban -- and Royal Dutch Shell is exploring areas off the nation's west coast.
The coast of Mozambique is also attracting Royal Dutch Shell and other foreign energy conglomerates.
Eni Spa (NYSE: E), an Italian oil company, and Anadrko Petroleum Corp. (NYSE: APC), a Texas firm, have announced a one trillion foot discovery off the coast of Mozambique. That is enough to build the second largest liquefied natural gas plant in the world.
Statoil (NYSE: ASA), from Russia, and Tullow Oil (LON: TLW), based in London, are active in the oil segment of the Mozambique fossil fuel play.
At the same time, Royal Dutch Shell is seeking to cut its presence in North America by one-half, down to four or five regions. With $24 billion in North American assets, Royal Dutch Shell just took a $2.1 billion charge against earnings. Compared to that, the losses in Nigeria are minor, especially with the awesome fossil fuel potential of the country.
That is the case for the energy outlook for the entire continent of Africa. Unlike the Middle East, there are no threats of major wars or nuclear-armed belligerents. It also has a thriving middle class that is not beset by religious strife. Africa's middle class is the fastest growing in the world, with consumer spending projected to increase to $1.4 trillion in 2020, according to the McKinsey Institute.
To foment the expansion of this burgeoning middle class, development of an energy sector is the most efficient and effective economic route. When oil is imported, job-creating capital is exported. That is critical for emerging market nations like those in Africa. Achieving energy sufficiency is a critical step towards a positive balance-of-payments posture.
Those factors and more contribute to Africa being so appealing to Royal Dutch Shell and others. The oil and natural gas potential is also proven by the daily pumping of millions of barrels of oil across the country. While theft in Nigeria is draining, what BP (NYSE: BP) will lose due to lawsuits and legal fees from its Gulf Oil spill in the United States will dwarf that amount. 
There is a cost of doing business anywhere in this world for any industry for the participants, but the riches that await in the oil and natural gas sector of Africa will keep Royal Dutch Shell and others active on the continent.
Posted-In: Financial Advisors News Commodities Contracts Events Global Markets Personal Finance Best of Benzinga
View Comments and Join the Discussion!