Fiat CEO Sergio Marchionne Denies Discouraging Investors From Upcoming Chrysler IPO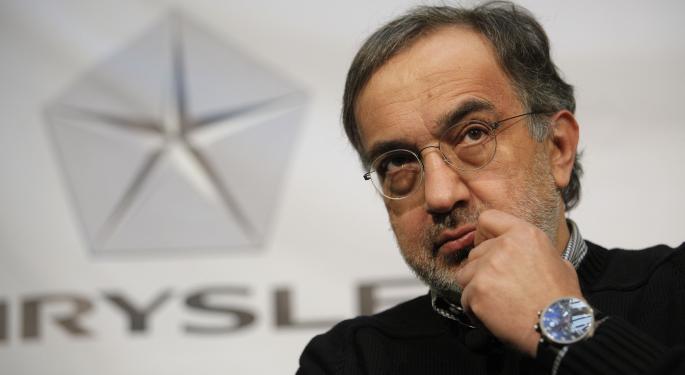 Here's something you don't see everyday: reports of a company chief executive waving investors away from his firm's impending IPO.
But that's the scenario apparently unfolding around Sergio Marchionne, the man in charge of both Fiat (OTC: FIATY) and Chrysler.
Last week, at an investor conference in London, Marchionne made some positive comments about Chrysler's financial prospects.
However, according to a Bernstein Research report quoted by the Detroit Free Press, Marchionne added he "did not believe investing via this partial IPO would be the most attractive route for investors." On Thursday, Fiat said Marchionne was not discouraging investors from buying Chrysler shares.
The auto-maker, meanwhile, is anxious to show it's not only turned around its business in the wake of the government's 2009 bailout, but that the future looks bright. In its IPO filing last month with the SEC, Chrysler described its alliance with Fiat as a "fundamental" part of its transformation – which, as of the end of August, included 41 consecutive months of year-over-year U.S. sales gains.
But there are some bumps in the road; most notably a contentious provision from the United Auto Workers retireee healthcare trust – which owns over 41 percent of Chrysler, with Fiat owning the rest. The provision, hammered out during Chrysler's bankruptcy deal, allows the trust to demand preparations for the IPO, even though Fiat reportedly wants to purchase all of Chrysler's shares.
"The trust is looking for a windfall based on the current expected value of a public-traded Chrysler," said Jack Nerad, Kelley Blue Book's executive editorial director and a market analyst, in comments issued last week, "but the move may actually harm Chrysler's future and by extension harm current Chrysler workers."
Nerad wonders if the IPO could become a stumbling block for Chrysler's consolidation within Fiat's global operations. However, he adds, "what is certain is that in the current market Chrysler would appear to have strong value if it were to go public."
And KBB senior analyst Alec Gutierrez sees the IPO as another sign of Chrysler's returning strength. "Interestingly, Chrysler's IPO is being motivated by the need of the UAW health care trust to cash in on the company's gains over the past several years to shore up their own cash reserves." he said.
"This goes against Fiat's desire for a 100 percent ownership stake in Chrysler," he added, "and in the end, may only serve as a negotiating tactic."
Stay tuned.
Posted-In: Financial Advisors News Eurozone Rumors Commodities IPOs Economics Markets Best of Benzinga
View Comments and Join the Discussion!