Why Front Running Earnings Announcements Doesn't Work For Most People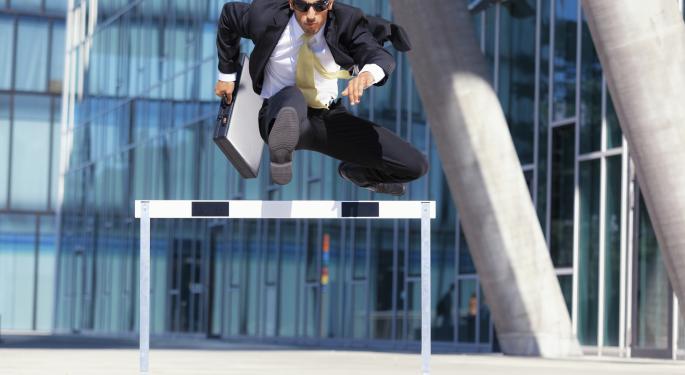 Earnings season is mostly in the books, but everybody knows the next one is never far away. It's already time to start putting a strategy in place to profit from the next season.
It might be time to change your playbook: Stop front running earnings announcements.
In honor of California Chrome winning the second leg of Triple Crown, let's look at this in terms of horse racing. Some people have studied horse racing all of their lives. They know the sport from every angle including the trainers, the intricacies of the track and the lineage of the horses in the field.
They also know how to read stats in the racing forms, they understand the flow of bets and how that will affect the odds as the race draws closer. But in the end, they know that it's a game of chance, the best they can do is make an educated guess and hope that the unknown variables don't come into play, ruining all of their strategizing.
Related: 7 Stocks For Your Retirement Portfolio
Every rule has its exceptions, as they say, but when was the last time you heard of somebody making a fortune betting on horse races?
Front running earnings announcements is similar. There are plenty of statistics. You can look at past earnings and how the market reacted; you can read analyst reports and employ some technical analysis but the biggest factor to consider is risk.
What would make you put your money in harm's way? Is the potential for making big money enough of a reason to risk losing big?
Lots of people enjoy a thrilling wager, and that's why we wrote, 4 Compelling Trades Ahead Of Thursday's Earnings on May 7. Twelve days later, we see that each of those four stocks did the same thing: a big move and then a correction. Three of the four are only fractionally different than they were on May 7.
In order to profit, you had to get the direction of the initial reaction correct and get out of the trade at the right time.
Any earnings trader knows that a stock that beats earnings on all fronts sometimes moves shapely lower while the most disappointing earnings announcement sometimes results in the stock moving higher. The initial move after the announcement isn't much different than betting on a horse. It's an educated guess at best.
What to Do
Instead of front running to trade the initial reaction, play the correction. If a stock runs up sharply, there's a good chance that short-term profit taking will take place. If the stock moves lower, expect value investors to buy the dip if the company is otherwise strong. These types of actions aren't without risk, but they follow less emotional rules of investing and are far less risky than front running.
Second, don't go all-in. If you're an options trader, be ok with not capturing all of a move in order to hedge your bet. If you're a stock trader, a pairs trade or simply a very small position is the best move.
Finally, some will tell you of the big gains they made trading earnings announcements. A one-time win doesn't qualify as a sound strategy. Some will make a lot of money front running the announcement but for most, that isn't the case. Don't let the chance of a big win take you away from a strategy that involves sound risk/reward analysis.
Posted-In: Earnings risk-rewardPersonal Finance Best of Benzinga
View Comments and Join the Discussion!