The Jamie Dimon Rally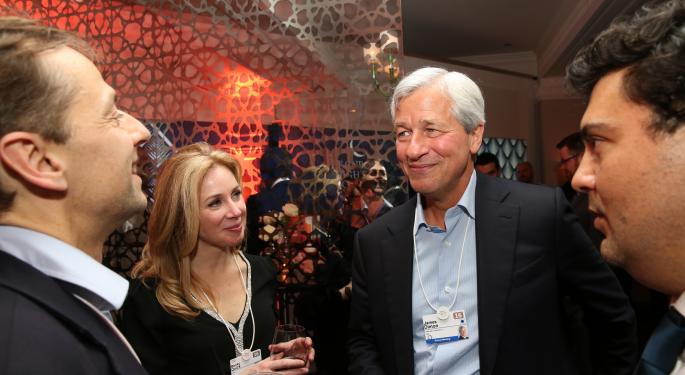 One person and one person only is responsible for the 10 percent rally in the S&P 500 index since February 11. No, it's not Janet Yellen, Carl Icahn or even Warren Buffett... it's Jamie Dimon, CEO of JPMorgan Chase & Co. (NYSE: JPM).
The reason for that being it was disclosed on February 11 that Dimon had purchased 500,000 shares of his own company during its recent slide from the $70 area. The announcement instigated a sharply higher open in JPMorgan that day from a level it has yet to revisit (close of $53.07 on February 10) and is now flirting with the $60 area. The S&P 500 index went on to bottom later in the day at 1802.50 and now rests roughly 170 handles above at the 1970 area.
But Why?
Why was Dimon's large purchase so pivotal to the broad markets? At that time, the index was bearing down on a major support level (1800) and the financials had been leading the charge lower since the beginning of the year. Investors were and have been extremely cautious on the sector due to potential liabilities of holding debt for companies in the energy sector.
And for good reason, as Crude oil plunged from its October 2014 high ($105.60) to $28.21 in February. One has to wonder who some of the casualties will be in the sector if Crude doesn't rebound soon and what banks will be caught holding the bag.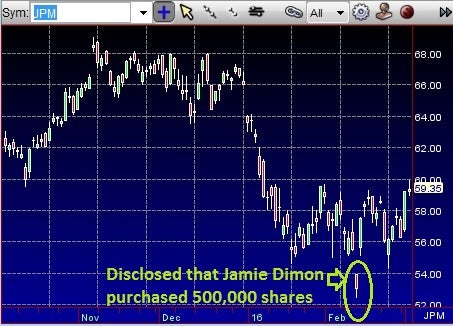 Related Link: Where Will The S&P 500 Index Be If Crude Oil Rallies To $40?
In essence, Dimon's large purchase gave an all-clear signal for financials, or at the least his institution was in the clear. Obviously, other investors took note of his $25 million purchase and joined in by buying not only his company, but other financials.
The boost he provided to the lagging financial sector, coupled with a rebound in Crude Oil from its $28.21 low to the $35 area, has nearly taken to index to the psychological 2000 resistance level.
Now What?
The question remains what will be the next catalyst to improve on a solid year's gain of 10 percent in only 12 trading sessions. Could it be a blast to $40 in Crude Oil? Of course, it has to clear the major resistance at $35 first. How about a stellar earnings season? Well, we just finished a mixed one and Q1 results will not start piling in for another month.
Does this market really need a strong catalyst to move back to all-time highs? For now, it appears the Fed is not going to put a kibosh on the rally with continued interest rate hikes as China and Europe are quiet for now.
Most importantly, where can investors find a decent yield on their investments? Most certainly not in certificate of deposits or Treasuries. Instead, investors are investing in issues that have been beaten up, but still pay a nice dividend and have a chance at capital appreciation. In others word, Warren Buffett is getting paid to wait out the recent decline in the indexes, and his track record speaks for itself.
Listen to the clip from today's PreMarket Prep on "The Jamie Dimon Rally" from Wednesday's show here.
Dennis Dick contributed to this article.
Image credit: Financial Times, Flickr
Posted-In: Jamie DimonOpinion Top Stories Movers Trading Ideas Best of Benzinga
View Comments and Join the Discussion!