Dolan: Yellen To The Rescue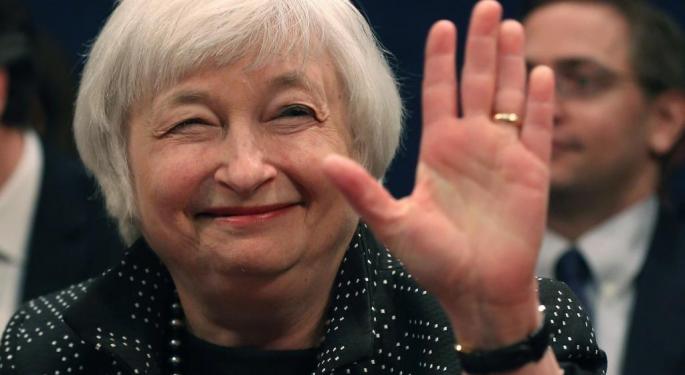 In her first testimony to Congress since the Fed's rate hike in December, Chair Janet Yellen is saying all the right things, at least as far as investors should be concerned in my view. Her comments are far more dovish than the relatively stand-offish statement after January's FOMC meeting.
The reaction in market sentiment then, if you'll recall, was initially negative, as the Fed appeared to look past global turbulence and pretend nothing major had changed.
Markets clearly had a different view of the rate outlook as seen by ever-declining rate-hike expectations for the March FOMC (below). Yellen put the nail in the coffin, sending market expectations to near zero for March.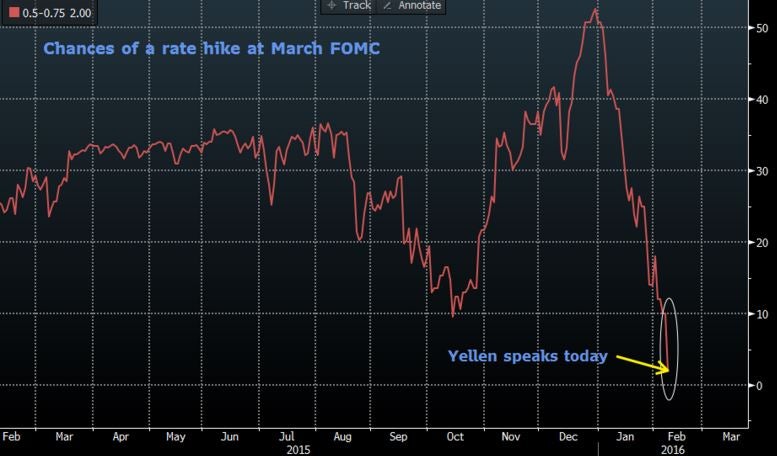 Source: Bloomberg; DriveWealth
Today, Yellen appeared to recognize more explicitly the risk that market turmoil has greater potential to spill over into the real economy. At the same time, she is sounding relatively upbeat about fundamental global prospects. In particular, she notes:
Recent indicators don't suggest a sharp slowdown in China;
The US labor market shows solid improvement;
Cheap oil could lead to better than expected US growth.
And the headwinds she cited—stock market declines; stronger US dollar; wider credit spreads—are all mostly abating, with the obvious exception of stock market weakness. The USD has reversed course sharply following the decline in US interest rate expectations, while wider credit spreads appear to be mostly contagion from global stock market declines.
Market Outlook
Taken together, the Fed has more explicitly stepped back from further tightening given the risks, but is nowhere near the level of concern being exhibited by markets. This suggests markets are overreacting and Yellen's comments today should allow markets to stabilize and recover.
On the technical side, key market indexes such as the S&P 500 and the MSCI World index are holding above recent lows seen in mid-January. While those levels hold, I would look for another bounce, potentially more resilient than at the end of January.
Another key tipping point to watch: the S&P 500 Financial Sector index, which has been most negatively affected by declining interest rate expectations (as it should be) has just hit the key 38.2% Fibonacci retracement level at 269/270 (below).
Weakness below those key levels would suggest things just got a lot worse. Lastly, keep an eye out for Bank of Japan (BOJ) intervention to reverse the surge in the Japanese yen (JPY), which has obliterated the impact of their move to negative interest rates.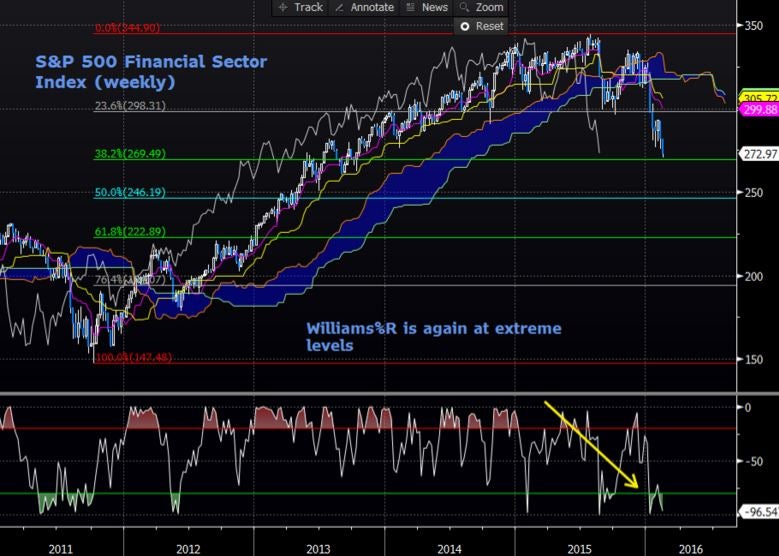 Source: Bloomberg; DriveWealth
Posted-In: Federal Reserve Janet YellenOpinion Economics Federal Reserve Markets Best of Benzinga
View Comments and Join the Discussion!