For Auld Lang Syne: What You Missed At Benzinga In 2015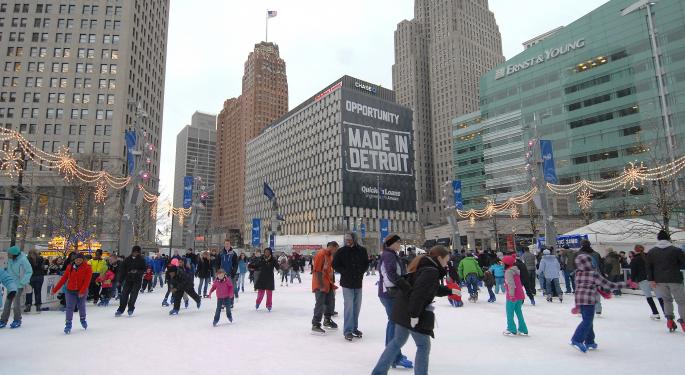 New York City has all the glitz and glamor, but Detroit has The D Drop on New Year's Eve.
Okay, maybe it's not quite as impressive as the Time Square Ball, but it's certainly a nice view from our new office. As we close out 2015 and head into 2016, here's a look back on how our year went.
What'd You Miss?
From breaking news to industry spotlights, 2015 was quite a memorable year.
We had an exclusive report that said Syngenta AG (ADR) (NYSE: SYT) could be acquired by ChemChina or Monsanto Company (NYSE: MON). Two weeks later, Syngenta's CEO said the company was in talks with each of these companies. Syngenta has gained more than $7 per share in value following the report.
Noted economist Mohamed El-Erian provided real-time commentary on the U.S. Federal Reserve's first rate hike in over a decade. He told Benzinga it was part of the "loosest tightening" in modern history.
Peter Schiff and Ron Insana got into a debate on PreMarket Prep's January special #FedForecast2015. The one thing they agreed on? The Fed probably wouldn't raise interest rates this year. Whoops.
115 companies competed in the first-ever Benzinga Fintech Awards last spring. The New York City gala saw more than 10,000 votes cast and drew over 400 attendees. The BZ Awards is a competition to showcase companies with the most impressive technology who are paving the future in financial services and capital markets. Interested in entering for 2016? Click here to find out more.
See Also: Benzinga's Top 15 Articles Of 2015
The Good...
Benzinga moved into downtown Detroit in October. The move was a long-time coming and left a few of us restless, but it gave our team a boost of energy and optimism for what's to come.
At the same time, our company has never been bigger. Everyone from the news desk, sales team and developer squad has worked tirelessly to give you the best trading idea platform around. The hours may be long, but the reward is worth the time.
That brings us to the new and improved Benzinga Professional, our premium real-time news service. Benzinga Pro provides you with real-time headlines and analysis covering everything from micro- to macro-cap companies across all sectors. Coverage includes earnings reports, M&A, IPOs, rumors and much more.
The Pro desk filters out the noise to deliver only important coverage that is moving the markets. Customer experience is crucial at Benzinga, with help from the entire team. Click here to try the new Beta edition of Benzinga Pro.
Related Link: Art Cashin Bids 2015 Adieu In Epic Poem
...The Bad
The move to Detroit has been a great experience, but it didn't get off on the best of terms. On our very first day, one team member's car was broken into in the wee morning hours. It has been a pleasant experience since, but sometimes you have to roll with the punches that come from living and working in a big city. Hey, at least the perpetrator left a $20 sitting on the dashboard.
We welcomed many new faces to the team this year. Unfortunately, we said goodbye to a few others, most of whom had been with Benzinga when it was operated out tight little office space(s). While moving on is rarely easy for both sides, the contributions these people made to Benzinga will never be forgotten.
What's Next?
Who knows? That's the beauty of it. We have big things planned and hope you'll continue to be along on this journey with us. 2016 will be our best year ever.
Posted-In: Detroit Mohamed El-Erian Peter SchiffEntrepreneurship Opinion Success Stories Startups General Best of Benzinga
View Comments and Join the Discussion!