Zatlin: Fed Rate Hike is Unlikely This Round, But That Doesn't Matter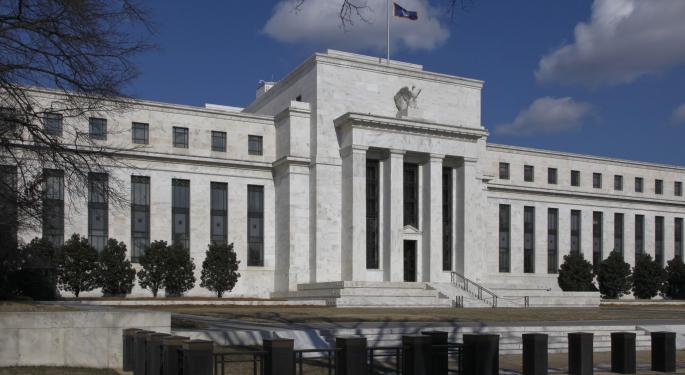 This article was originally published on Moneyball Economics, home of the world's most unique economic commentary.
For over a year the Fed rate hike has been 'just around the corner.'
Timing – not magnitude – has been of major focus. After all, the market has already priced in 25 basis points (bps):
>25 bps is too much. In the past 50 bps was the norm for the Fed's first move when changing course, but the economy was a lot different then. 50 makes more sense when inflation is clocking in at 3 percent and the GDP is 4 percent. 25 bps is good enough with GDP of 2-2.5 percent and inflation under 2 percent.
<25bps is too little. It sends the message that the Fed doesn't believe the economy is really that strong.
The chatter is about whether it will be June, September, or not at all in 2015. We favor September:
Not June because the experienced folks on Wall Street will be away on vacation. Meanwhile, most others haven't seen a rate hike before. Given the Fed's focus on communication and preventing market turmoil, it's better to wait until September when more seasoned hands are back at the desks.
2016 is too late. It's an election year and the politicians will push back on any Fed action.
Data Driven? Really?
Most macroeconomic data – from GDP to labor to PCE – does not indicate the economic need for a rate hike. In fact, inflation is the only signal that looks likely to heat up. While the 12 month core CPI is 1.8 percent, deflation is very front-loaded; meaning that the factors holding back inflation happened last year. Most recently we're running at 2.4 percent-3.6 percent. Expect inflation to begin rising steadily and exceed 2.2 percent by September.
The Fed is in a lonely place. Almost every other country has been lowering rates. The EU, Japan and China have embarked on quantitative easing. The Fed claims to be data driven, but only when the data is strong and it wants to re-inflate the dollar and bond markets.
Economic data is really just ground cover to justify its move.
The Second Move Matters More
The first hike is a mere formality. The effect of a rate hike is already priced in, so any official rate hike is largely symbolic. Additionally, the Fed has been telegraphing its move for over a year, so the markets shouldn't be surprised. What comes next is more critical.
There is a compelling case to be made that there has to be a second move. Otherwise the picture is of a Fed tentatively raising rates only to back them down, which again brings us back to timing: the political and economic realities limit the runway for the second move.
Where the initial rate hike is a statement that we can't do zero interest-rate policy (ZIRP) forever, the second move is a message about the economy: whether or not the Fed believes the economy is strong and inflation is a risk.
We believe that inflation will keep rising above 2.5 percent. By late 2015, the elements keeping inflation in check (like falling gas prices) will have run their course while inflationary factors (medical costs, food costs) will be racing up.
The Fed wants to do a second hike to reinforce the first one as necessary. They will also want to do a second as inflation remains untamed. So yet again the rate hike becomes a timing question. If September is the earliest point for an increase, April is the latest. The 2016 election ties the Fed's hands, since it would be political suicide during an election year when appointments are about to be made.
The problem is that macroeconomic data will be mixed. We believe that stagflation is very possible: low GDP growth (<1.5 percent) but rising inflation. Accompanying the slower growth will be increasing jobless claims and sluggish consumer spending. Only inflation will provide a compelling reason to raise rates.
After the first rate hike, the Fed will go back to using words like "patient" and "data driven."
Big If's Abound
If the Fed is going to raise rates, it will be in September.
If they are going to do it a second time, it will be before 2Q 2016 and only if inflation makes the case.
The following article is from one of our external contributors. It does not represent the opinion of Benzinga and has not been edited.
Posted-In: Federal Reserve GDP Growth Janet YellenPreviews Opinion Economics Federal Reserve Trading Ideas Best of Benzinga
View Comments and Join the Discussion!