Lululemon Gets Off The Mat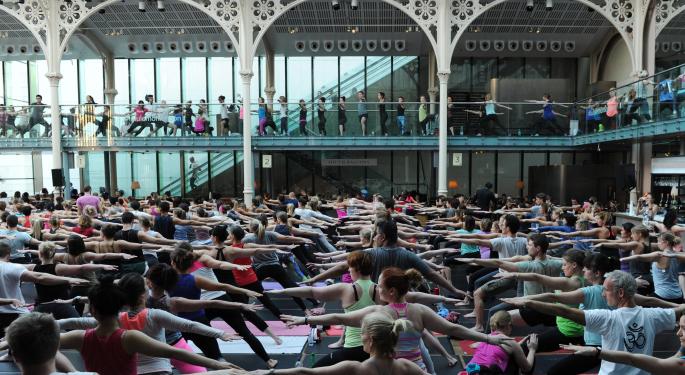 I have a love/hate relationship with Lululemon. In fact, the first story I ever wrote for TheStreet.com was on the pending Lululemon Athletica inc. (NASDAQ: LULU) IPO.
I filed remotely from a yacht somewhere near Newport, Rhode Island. Following the stock since then, I have weathered the seaweed debacle, the Tata Tamer, see-through gate, fat-girl gate, Chip Wilson and Christine Day.
Full disclosure, I don't practice yoga.
I think its stupid. And after getting kicked out of a hot yoga class for talking —(shocking, right?)— I developed a healthy disdain for all things yoga.
Whilst channel checking around Christmas time I started noticing a very subtle shift in merchandising at LULU to OUTERWEAR.
The company had a garment, the QuickChange Vest, which to me looked remarkably similar to a CELINE vest I was coveting for spring. Needless to say, I snatched it up.
Well played LULU, well played indeed.
Then I started to realize something a bit more telling: the creative had changed. Put another way, that means the way the company visually represents the brand had distinctly changed.
Taking a look at the "How We Wear It" page on the website, http://howwewearit.lululemon.com, aside from the usual "I'm doing yoga poses in the studio" images, there were images of women in a distinctly urban setting. They were on the street, in the city, having cocktails or biking to the market.
Related Link: Nike takes Flight With High Fashion And High Performance Line
This is a clever move on LULU's part as they are starting to dress their customer from the studio to the street (all the better to dress you with, my dear!). Which is why watching a brand's creative is just as important as watching their balance sheet, young Jedi.
And now, with the addition of a new swim collection, the company segues into a logical line extension that will in my opinion further entrench the brand with its already cult like following.
If the company can do for bikini bottoms what their yoga pants have done for scores of derrieres, then they are seriously on to something.
Baby got back indeed.
Posted-In: CELINE vest Outerwear QuickChange VestTravel Opinion General Best of Benzinga
View Comments and Join the Discussion!