Notes From The Street: The Swiss Currency Shock That Came 'Out Of Left Field!'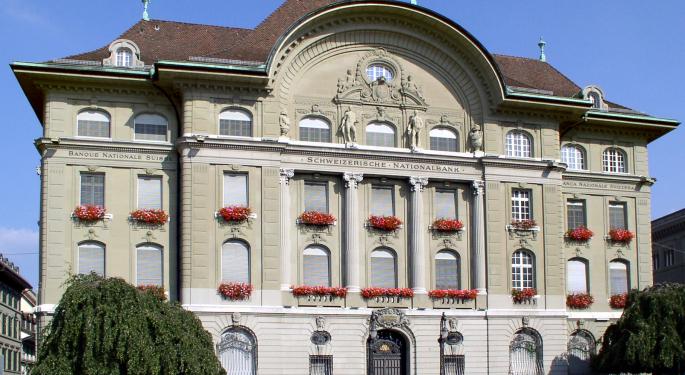 The following are excerpts from Kenny Polcari and Timothy Anderson's morning notes. They can be found on Twitter at @kennypolcari and @TJAnderson1.
Kenny Polcari: 'Swiss Come Out Of Left Field!'
Some of the more inflammatory remarks out of the World Bank's chief economist, Kaushik Basu, included comments that the global economy is at a: "disconcerting juncture." saying that "the global economy is running on a single engine... the American one." Areas of weakness include the usual suspects - The Eurozone, Japan emerging markets of China, Brazil and Russia.
Although many of us agree overall about where the weaknesses are - I disagree with the China story. Economists are seeing the glass as half empty when they discuss China - but China is still growing at 7.2%.... and if things are so bad can you please explain why their stock mkt is up 60% since July 2014? What are investors seeing that economists are missing? If you listened to the economists you would have sold everything and gone into the bunker.....How's that working for you?
This morning US futures were once again under pressure.. futures were down 13 pts in early trading ...... and the Black Swan event overnight........ the Swiss National Bank stunned global mkts by abandoning its currency peg vs. the Euro - this right in the middle of US bank earnings and just ahead of The ECB QE decision next week. Swiss stocks cratering - now down some 12% - dragging European stocks lower and US futures lower as so many were blindsided....
In the end - this isn't a game changer for the mkts - BUT it does just increase the overall level of anxiety and uncertainty - considering the way it was announced. There were no warnings or suggestions...and the move in the mkts reflects the fact that - mkts do not like surprises! As the mkt digests the move - we have seen European mkts stabilize and US futures rally back to almost unchanged. But the mkt still feels a bit skittish....
Timothy Anderson: 'Swiss Currency Shock!!'
Overnight Currency Shock!! The Swiss National Bank has shocked the Global Currency markets by ending their minimum exchange rate for the Swiss Franc and lowering their benchmark interest rate to -0.75% from -0.25%. That is not a typo. Swiss interest rates are negative on bank deposits that exceed a certain threshold. This has sent Eurozone equity markets lower and reversed US Equity futures from decidedly green to anywhere from -0.5% to -1% lower for the NY opening in a few hours. This is a very fluid situation marked by tumultuous trading in currency markets in the first couple hours after this very unexpected move by the Swiss National Bank.
[...]
Lennar Corporation (NYSE: LEN) also reports pre opening and given the debacle from KB Home (NYSE: KBH) 2 days ago, LEN earnings will give us input on whether KBH was a "one off" or symptomatic of industry wide issues within the Home Building sector.
After the close we get 4Q earnings from INTC, always an benchmark for cap ex spending in the tech sector. Helped by a ~4% dividend yield, Intel Corp (NASDAQ: INTC) has been a market leader. Schlumberger Limited. (NYSE: SLB) will be the 1st Global Oil company to report, and no doubt, their guidance on stress points within the industry from $50 Oil will get a lot of attention.
The Early Line: Before the currency move by the Swiss National Bank, markets were nicely set up for a follow through of the relief rally that started yesterday afternoon. That's now a distant memory as equity futures are looking at a triple digit decline for the DJIA and a 10 to 15 handle decline on the S&P 500. 2 hours before the NY opening it's still a very fluid situation and a lot could change. The only certainty we have to look forward to today is a lot of volatility.
Image credit: Dodo von den Bergen, Wikimedia
The preceding article is from one of our external contributors. It does not represent the opinion of Benzinga and has not been edited.
Posted-In: Previews Opinion Trading Ideas Best of Benzinga
View Comments and Join the Discussion!