Notes From The Street: 'Hiring Booms, But Soft Wages Linger'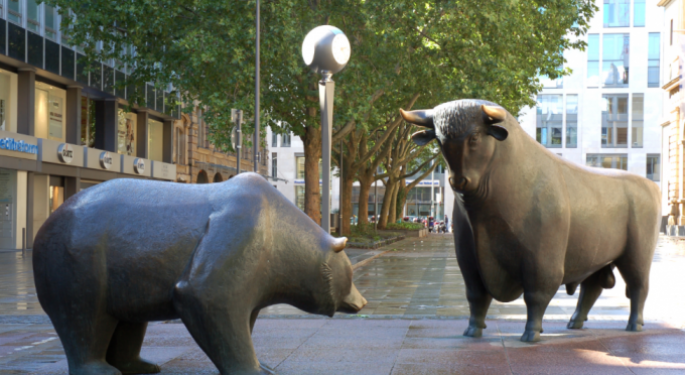 The following is Kenny Polcari's morning note. He can be found on Twitter @KennyPolcari:
Stocks ended the first week of the year in negative territory – giving up 170 pts on Friday and capping off one of the most volatile weeks in recent history. Friday's move was credited to what many perceive to be a serious slowdown in wage growth evidenced by the Non Farm Payroll report published on Friday morning.
Saturday morning WSJ - headlines with: "Hiring Booms, but Soft Wages Linger".......and Dan Greenhaus of BTIG highlights the issue."
"The simple fact is that we cannot consider an employment report a success, no matter how healthy the headline may be, if wage data does not begin to accelerate."
- and although 2014 looks like it was the best year for job growth in 15 yrs - with unemployment at 5.6% - the supposed signs of strength only hide the weakness in wage growth and the true number of Americans still without full time jobs.....
You see the Labor Department reported that we created 252,000 jobs in December (ahead of the 230,000 expectation) but that wages in the form of take home pay are slowing way down. The stronger than expected report also managed to push the unemployment rate down to a new 6 yr low of 5.6% - all good – no? Well…….the report also said the annual rate of average hourly earnings growth slowed to 1.7% in December, the slowest rate of growth in 2 yrs.
Remember that the New Year brings with it the health care mandate and employers are obligated to provide coverage to FULL TIME employees. So even a rocket scientist knows that if you eliminate full time jobs and increase part time jobs then the issue of healthcare goes away……and that is what appears to be happening……employers are cutting back on hours so that they won't be responsible for providing new health care coverage - in a clear sign that we are trading full time jobs for part time jobs so that employers control their healthcare costs to remain competitive in the market place.
Unfortunately, those part timers are also required to obtain healthcare coverage on their own (or be fined by the IRS) via government-subsidized 'Obamacare insurance exchanges', where premiums and deductibles are higher than most have ever seen. And to think – we are only 1 week into the New Year!
So back to what's happening now…..The month of January often sets the tone for the year, and with that in mind – all of the volatility has caused lots of speculation. Global indexes began 2015 with a bang….continued weakness in the price of oil and the political instability it can cause, uncertainty over the ECB, the possible Greek tragedy that awaits, speculation over the start of earnings season (today) are all offset by the view that central banks are going to continue to support global growth.
WTI crude oil breached $50/barrel – causing renewed negative comments and outlook for the energy sector – prices are beginning to appear a 'bit oversold'. But again – if you take the contra side of that argument - lower oil prices put more money in the pockets of consumers, provides an earnings boost for companies for whom oil is a key cost – airlines, transports, manufacturers, as well as companies that stand to benefit because of the stronger consumer. Lower energy prices have also dampened inflation expectations, forcing central banks to remain loose and investors do love this part of the argument.
Look – you can't play on both sides of the fence - I mean you can but that gets confusing...... where is the credibility? If you believe that when prices were high – teasing $110/barrel – that it threatened the economic recovery you cannot now say that when prices have been cut in half - that it hurts the economic recovery as well. When then does it NOT hurt the economy – at what price? $55, $60, $70? What side of the fence are you on?
And the geo-political risks? Well they remain key to this story – and the tragic events that unfolded right before our eyes in Paris last week serve to remind everyone of the current state of affairs. All of these issues are setting up to be this year's main plot line.
Central banks in my opinion will remain accommodative – and the FED made that very clear with the 'steady as she goes' message…..and although some believe that a move is imminent before the summer – I continue to believe that it won't happen until we are well into the summer if at all. The political instability that lower oil prices can bring along with dampened inflation expectations may be enough to push the timeline out a bit further – teasing 2016…..
I mean Fed President Charlie Evans hinted at that possibility last week as Janet sent him out to test the waters on Wednesday night to float that balloon and see the reaction – and Thursday – the mkt rocketed some 330 pts as investors and the computers celebrated! And in a funny twist - oil rallied 50 cts and everyone breathed a sigh of relief.....I mean - its comical really......
This morning - US futures are rocketing higher currently up 10 pts trading once again at 2045 - piercing the 50 dma at 2037.... this is the game we played last week as the mkt tries to stabilize around this key support level. All this while oil remains under pressure - currently down $1.15 at $47.15. Our friends at Goldman once again cutting their oil price forecast to $40/barrel - at this point they suggest - the Saudi's will have succeeded in killing off the US Shale industry.
Today kicks off earnings season and tonight we will get the AA report - consensus estimates are for 0.27 cts/sh....On Wednesday we will get JPM (est of $1.32) - the first DOW stock to report....This is sure to be an interesting earnings season as we find out what effect of lower oil prices are beginning to mean to corp profits.
Remember – with earnings to start this week - caution is the word as investors worry about what the surge in the dollar will mean for US multi-national companies (almost half of the S&P). By now though – you would think that analysts have accounted for dollar strength, adjusted their earnings estimates AND telegraphed that to the mkts…so investors should not be surprised unless any hit to earnings is accompanied by a weaker future guidance over new concerns about the state of the Eurozone.
On the economic front - it will be a full week of data....Mortgage apps, retail sales, business inventories, FED's Beige Book, PPI, Empire State Manf, Philly Fed, and CPI to name some of the highlights. Do not forget though - the European drama will continue to play a pivotal role over the next two weeks....so investors/traders will be getting hit from all sides.
Overnight in Asia - mkts clearly mixed.....Investors there trying to discern the NFP data, weaker oil, blah, blah, blah as they also await earnings season to kick off. Japan closed for the "Coming of Age Day" holiday. China gets knocked around - closing down 1.7%. Hong Kong +0.45% and ASX -0.7%.
Europe on the other hand is decidedly higher this morning....all mkts are up broadly...Monday morning M&A is the focus as Shire PLC announces the takeover of US biotech NPS (Ticker NPSP) for $46/share - an 11% premium to Friday's closing price ...early trading takes the stock to $45.48...suggesting that investors think this is a fair price..... on another note - speculation remains that the ECB is readying to announce a more aggressive program. FTSE +0.26%, CAC 40 + 1.45%, DAX + 1.5%, EUROSTOXX +1.5%, SPAIN +1.3% and ITALY +1.1%.
Take Good Care
KP
"The market commentary is the opinion of the author and is based on decades of industry and market experience; however no guarantee is made or implied with respect to these opinions. This commentary is not nor is it intended to be relied upon as authoritative or taken in substitution for the exercise of judgment. The comments noted herein should not be construed as an offer to sell or the solicitation of an offer to buy or sell any financial product, or an official statement or endorsement of O'Neil Securities, Incorporated or its affiliates"
Image credit: Eva K, Wikimedia
The following article is from one of our external contributors. It does not represent the opinion of Benzinga and has not been edited.
Posted-In: Kenny Polcari Notes From The StreetPreviews Opinion Trading Ideas Best of Benzinga
View Comments and Join the Discussion!