Cheap Stocks, Winnie The Pooh And Hunter S. Thompson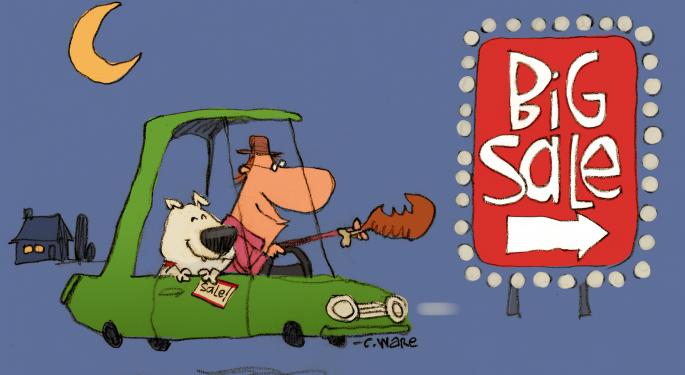 This piece contains the opinions of the author and Marketfy Maven Tim Melvin that do not reflect the opinions of Benzinga.com.
Oil remains the theme of the day, week and month.
I confess that the speed and depth of the sell off in oil and oil related stocks caught me off guard. I am frankly shocked that any semi rational observer expected anything other than what we got from OPEC.
The Saudis, Kuwait and the Emirates did everything short of sending us all a nice embroidered pillow with "no cuts in production" switched on it. I guess some thought the Saudi Arabia would never be so defiant about sinking the U.S. shale market and would offer up a market appeasing cut if production.
Of course the mantra we are hearing now is how wonderful the drop in oil prices is going to be for both the U.S. and Global economies. It is great for the consumer in many ways and I am quite happy about the current price (at least I will be when I finally have to fill the tank again. One trip a day to the 7-11 and a weekly wine run is not exactly burning up the fuel).
However this view point does overlook the extensive job loss that will happen in the U.S. oil patch and potential devastation in high yield markets. Energy is one of the biggest industry groups in the domestic junk market and many of them are in danger of collapsing.
I looked over shale company junk debt recently and I saw an awful lot of bonds trading in the 12-15 percent yield zone that I have always considered to be the pre-danger zone.
The market is telling you that is very worried about the potential for these companies to go belly up over the next year and they want to be paid and paid very well to own them. There is a real chance that sub $70 oil breaks the high yield market and that is not good for equities.
We own some oil stocks but with more than 50 percent cash in the Deep Value portfolio we are not getting crushed by them.
I am reviewing each to see how they fair under long term lower oil prices. Those that pass my low price stress test will be added to and those that fail might have to get cut out of the portfolio for now. I also have a growing list of stocks that are looking safe and cheap in the sector so we could get oil heavy if the decline continues much longer.
Of course we offset oil stocks with little banks that care not one bit about the grand macro situation. If anything lower oil prices might stimulate demand for loans as consumers find a few hundred extra bucks in their pocket every month. If we are really lucky maybe a few Texas banks will drop below book value and we can finally add a few of them to the Banking on Profits portfolio.
We are seeing a lot of insider buying and 13D filings on our little banks since earnings season has neared an end for the quarter and I am pretty excited about the prospects for community banks next year.
I am a big fan of James Montier the author of Value Investing and current market strategist at GMO. He recently spoke to Swiss business magazine Finanz und Wirtschaft. He perfectly described the current market form the perspective of a deep value oriented investor telling the magazine, "We at GMO define bubbles as a two standard deviation move away from the long term trend. And we are not quite there yet. We'd need another 10-15 percent. But let's say it in simple terms: For all purposes, this is a hideously expensive market. I don't care if it's a bubble or not. It's too expensive, and I don't need to own it. But because this is a central bank sponsored near bubble, it hurts to stay away."
They say the measure of someone's intelligence is how much he agrees with you and by that measure Mr. Montier is pretty smart. He told the Swiss publication "Be patient. Don't take it from me, take it from Winnie the Pooh: Never underestimate the value of doing nothing. Never forget: You can't know the future.
Hold a lot of dry powder now.
Fifty percent of our portfolio currently is in cash or some form of short term bond holdings. If we do get a dislocation in equity markets, we will have the ability and deploy that dry powder. That's the time to buy."
I love the Winnie the Pooh quote but in a market like this I prefer Hunter Thompson to Pooh. He once warned us that "There is no such thing as paranoia. Your worst fears can come true at any moment."
In a market like this that has gone up for five years and is fueled primarily by Central Bank activity as opposed to economic improvement a lot of paranoia in the form of cash continues to make sense to me.
As always this is not really a macro call of any sort on my part. I am terrible at predicting market movements. What I do know is that cheap stocks are hard to find and the pool of safe and cheap stocks is miniscule. I ran a screen this afternoon for profitable dividend paying companies with safe balance sheets that trade below book value.
There were just 14 names on the list in the U.S. There are a whopping 12 more international stock that are easily traded in the U.S. If I screen for cheap stocks with favorable Altman Z and Piotroski F scores I get whopping 7 U.S. stocks and 5 international names. There is just not a lot to do outside of community banks right now.
Fortunately we have new books out this week to help keep me distract me from the lack of cheap stocks and ignore the disastrous news that Nick Markakis signed with the Atlanta braves. The final Tom Clancy book is out, David Balducci released a new John Puller novel and James Hall has a new offering in the Thorn series to fill my time.
On the business side Charles Brandes has a new book that is certain to be a solid informative read. Of course I will run the screens and kick over the rocks in the markets dark corners but we simply aren't finding much at the moment that is not a little bank.
Our day as deep value investors will come. Until then like the Wisconsin football team uses Melvin Gordon to carry them to victory we will let the community banks carry us to profits in a pricy market.
Have a great week everyone.
Cheers,
Tim
P.S. Be careful and cautious right now, lest you desire to find yourself singing this:
Posted in: Opinion Trading Ideas General Best of Benzinga