'Sell Rosh Hashanah, Buy Yom Kippur' Working To Perfection In 2016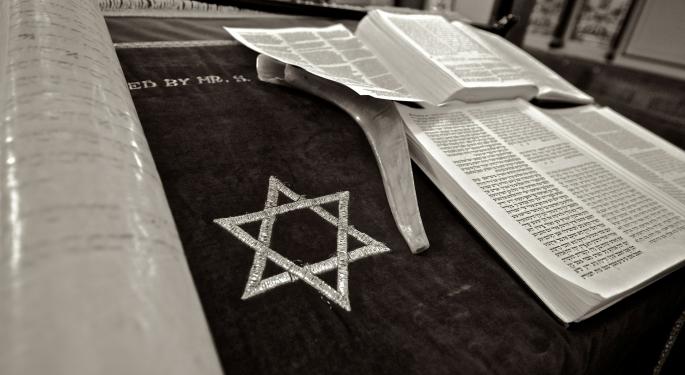 Not all stock market adages work to perfection.
If one had sold in May and went away, they would have missed out on the post-Brexit rally and the the move to all-time new highs in August.
However, "Sell Rosh Hashanah, Buy Yom Kippur" has worked out nicely in 2016. The strategy, which is based on the premise that individuals of the Jewish faith lighten up or liquidate their portfolios during the time period of the two High Holidays, in order to properly celebrate the New Year (Rosh Hashanah) and atone for the their sins (Yom Kippur), is a winner.
Based on the closing price of the S&P 500 index futures (2060.50) on Friday, September 30, the last trading day before start of the holidays (Sunday, October 2), and its current price as of 3:45 p.m. EST Tuesday (2136.76), the strategy has resulted in a modest gain of 37 index points or 1.5 percent.
Other Factors
Of course, other market dynamics have been at work during this time period, such concerns over the stability of Deutsche Bank (NYSE: DB) along with the constant fear of interest rates rising. Plus, not all stocks have replicated this pattern (Apple Inc. (NASDAQ: AAPL) has rallied from $113.05 to $116), it's hard to argue the broad market hasn't complied.
The $64,000 question still remains for those that have been fortunate enough to employ this strategy: Is it time time to redeploy their assets before Yom Kippur (the night before the holiday which begins at sundown Tuesday) or to sit tight?
One twist to the holidays is the timing of them. Being a Jewish leap year in 2016, one month has been added to the calendar, which makes the conclusion of the holiday or end of strategy fall right before the official start to Q3 2016 earnings season.
At this time, Alcoa Inc (NYSE: AA)'s unofficial start has not been good, as the issue is trading lower by over $3.35 at $28.16. However, a different tone for the quarter may be set on Friday when three financial behemoths (Wells Fargo, Citigroup and JPMorgan) release their latest numbers.
As always, whether or not to buy the sharp decline in today's market should be predicated on your long-term investing goals and objectives.
View Comments and Join the Discussion!
Posted-In: Rosh HashanahNews Education Technicals Events Intraday Update Trading Ideas General Best of Benzinga