Will Investors Stick With Glu Mobile?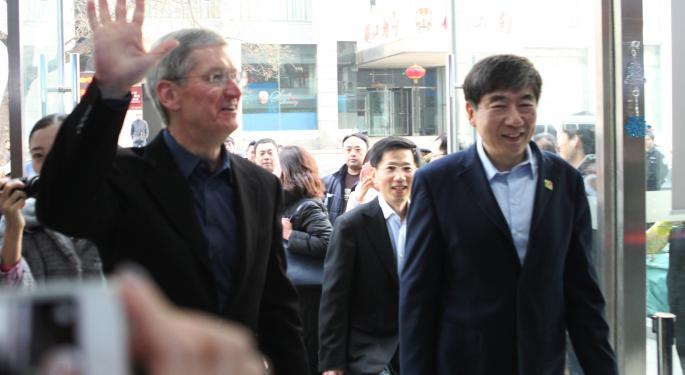 After delivering better than expected 4Q earnings on Wednesday of $0.07 vs. $0.00, Glu Mobile (NASDAQ: GLUU) shares have rallied nearly 30 percent to trade at $5.05.
In addition to the earning surprise, the company increased its FY2014 guidance from EPS to $0.00-$0.02 vs. $(0.05). Also, GLUU forecast sales to be in the range of $142 million-$150 million vs. the $121.40 million estimate.
As a result, Piper Jaffray upgraded the issue from Neutral to Outperform and raised its price target from $4.00-$6.00. That level coincides with its July 2011 high ($6.10) which is quite some distance from its all time high of $14.80.
Perhaps the company is going to benefit from the announcement of Apple's deal with China Mobile. An additional 24 million iPhones in the hands of people in China may allow the company to continue to increase it earnings. In 2013, spending on gaming apps in China skyrocketed 247 percent.
The mobile game specialist that competes with Zynga, Electronic Arts and Activision Blizzard may be in a better position to capitalize on the Apple/China Mobile deal. Being a smaller company with a mere $300 million market cap, rapid revenue growth will have a more pronounced effect on earnings than the other much larger companies.
The much leaner company with a staff of less than 550 has produced 14 games on average since December 2008. Its ability to derive much better returns on its Research and Development makes the shares a more attractive investment than the other larger companies.
Gluu, which may launch as many as 34 new games this year to China's 759 million China Mobile customers, may establish itself as the premier mobile provider of games way ahead of its competition. Also, the company will surely benefit as Apple expands sales of iPhones via China Mobile to 340 cities from only 16 now.
Despite all the positive catalysts for the issue for future growth, the company is still losing money based on generally accepted accounting standards. The complicated economics behind effectively monetizing free-to-play games is a daunting task. Therefore, the the long-term direction of its share price will be determined by the company's ability to achieve continued profitability over the long-term.
For now, the momentum following its latest earnings release is clearly to the upside. After blowing through the major resistance at the $4 level on Thursday, the issue has refused to pullback. In fact, its has already crossed the $5 level in Friday's trading and may not face any major resistance until the its highs from mid 2012 at $5.50.
Of course, the long-term direction of its stock price will be determined its ability to capitalize on the Apple/China Mobile and its ability to deliver entertaining mobile games to its customers, while staying ahead of its competition.
Posted-In: Activision Blizzard Apple china mobile electronic arts ZyngaGuidance Intraday Update Trading Ideas Best of Benzinga
View Comments and Join the Discussion!