Winnebago Is Betting Big On Electric Technology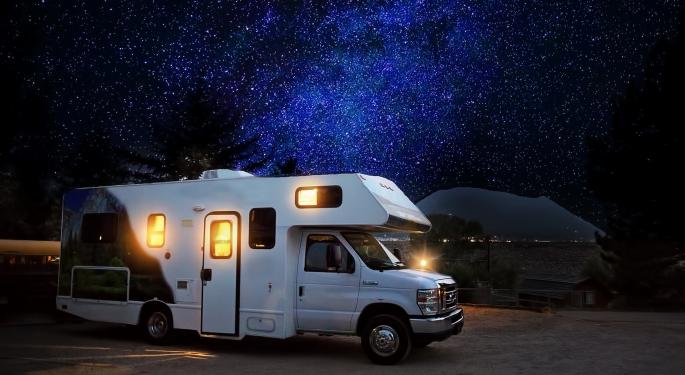 The RV industry has always been long behind the auto industry, but Winnebago Industries Inc (NYSE: WGO) is set to change that. And as a successful result of its undergoing strategy, its share price hit a peak of $42.21, a new 52-week high! The RV industry has been rather slow to catch up on the electric trend, but the company's latest eco-friendly news, Winnebago announced that they will help fund the expansion of Motiv Power Systems, the provider of all electric commercial frameworks. It is the first minority investment that Winnebago has made in over 60 years of operation, with the company producing recreational vehicles since 1958. Motiv Power Systems has secured $60 million in equity funding thanks to Winnebago and GMAG Holdings Corp.
Competitive Environment – Electric RVs Are Yet To Be Seen
In the U.S., the closest thing to an electric camper is yet to be produced by Rivian with a truck that will include a kitchen and tent for overland camping. RV innovations are mostly coming from Europe, with RVs covered in solar panels or a travel trailer that can be towed by an electric car. Most recently, a German company, Skydancer, debuted the world's first electric RV, The Apéro, with a decent range of 249 miles. Winnebago first debuted an all-electric RV with Motiv in 2018, but the commercial vehicle had a limited range, about 100 miles. But over the past year, Winnebago partnered with companies to use their electric RV as a mobile blood bank, mobile lung unit, and a roving book library.
Competition Increases When It Comes To Recreational Vehicles
However, when we look at the segment of Recreational Vehicles as a whole, competition become more intense as we have Harley-Davidson Inc. (NYSE: HOG) for example, although it has lower revenue and earnings comparing to Winnebago. Both companies are more volatile than Standard & Poor's 500 but Winnebago Industries Inc. is better equipped to meet both its short and long-term liabilities. Harley-Davidson will report its third quarter sales on October 22, but the shift to an electric bike is expected to overshadow results, especially with the deteriorating US market.
Then there's Thor Industries (NYSE: THO) as recreational vehicle maker reported a 23% jump in fourth quarter revenue on September 30th. Better-than-expected profit was a result of a its successful European acquisition in February. The company sourced lower-cost substitute components from countries not affected by recent U.S. tariff actions and adjusted its pricing to reflect the consequences of the US-China trade wards. So, the company's entry to Europe was what enabled it to grow its revenue to $2.31 billion and cause its shares to rise 9.7% this year as the North American recreational vehicle segment dropped 17.6%.
Outlook
With a market cap of $1318.3M, Winnebago has shown that is determined to grow its electric segment worldwide. Also, on October 15th, the company has become a member of the National Safety Council, further underscoring a commitment to the safety of its employees and the community at large. This was a good PR move as only a week before, six out of the 31 employees that were laid off in July last year sued the company for age and disability discrimination.
So, there is plenty of headwinds for that stock volatility but we will see how Winnebago will be handling it on October 23 when the company will announce its fourth quarter earnings. Analysts expect Winnebago to deliver a year-over-year increase in earnings. How long will it take to see an all-electric RV on the recreational side is a different question, but a full-electric camper is surely on its way as the company seems determined to adjust to an all-electric future.
This Publication is contributed by IAMNewswire.com
Press Releases - If you are looking for full Press release distribution contact: press@iamnewswire.com
Contributors - IAM Newswire accepts pitches. If you're interested in becoming an IAM journalist contact: contributors@iamnewswire.com
Copyright © 2019 Benzinga (BZ Newswire, http://www.benzinga.com/licensing).
Benzinga does not provide investmentadvice. All rights reserved.
Write to editorial@benzinga.com with any questions about this content. Subscribe to Benzinga Pro (http://pro.benzinga.com).
© 2019 Benzinga.com. Benzinga does not provide investment advice. All rights reserved
Image Sourced from Pixabay
The preceding article is from one of our external contributors. It does not represent the opinion of Benzinga and has not been edited.
Posted-In: IAM Newswire RV's WinnebagoEarnings News Markets
View Comments and Join the Discussion!