Benzinga Licensing and APIs
Benzinga offers various financial tools for your website or platform. These tools include but are not limited to a real-time newsfeed, a financial calendar suite, data, and white labled newsletters.
Contact us at
1 (877) 440-9464
or
News is no longer limited to press releases and executive comments- stocks can move on rumors, tweets, or just sheer sentiment. Benzinga's newsdesk constantly monitors the markets for breaking news ranging from:
Mergers and management changes
Market moving rumors
Key technical levels
Unusual options activity
Large block trades
Let Benzinga's news team be your eyes and ears on the market for the best real-time market moving news on equities, commodities, bonds, options, and forex.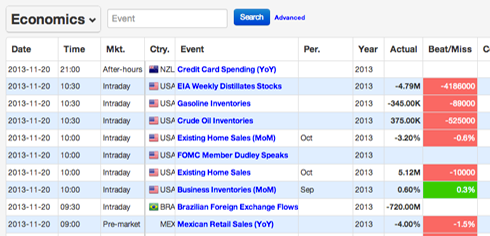 Calendars
Get the fastest and most accurate real-time earnings calendar in the industry. The Benzinga newsdesk keeps their eyes glued to the feeds all day to ensure breaking earnings reports are delivered at mach speed. The calendar includes analyst estimates and prior reports. It is easily searchable by ticker, and can even be sorted by columns such as importance level and expected pre-market or after-hours release time.
Never miss a key analyst rating again. Through relationships with over 100 of the top research firms, the Benzinga newsdesk gets their hands on the key market moving reports first. Sortable by any column including importance, ticker, analyst, rating, and price target, the Benzinga ratings calendar is the most extensive and feature-rich real time coverage of analyst ratings on the market.
For macro and micro traders alike, economic releases can cause a paradigm shift in the markets in seconds. When those seconds count, rely on Benzinga's real-time economic calendar. With coverage of over 50 nations' key economic releases ranging from the United States to New Zealand, the Benzinga economic calendar includes analyst estimates when available and is sortable by any column including country, importance, and time.
Utilize Benzinga's proprietary chatroom technology to give your subscribers a new way of getting engaged. With features like private messaging, audio broadcasting, and user blocking, our chatrooms offer an unrivaled experience to both the user and moderators.
Don't have time to keep your eyes on a news feed? The newsdesk squawks only the most pertinent market-moving news.
Coverage includes corporate items such as dividend adjustments, buybacks, secondary offerings and M&A, rumors, technical breakouts and real-time analyst ratings changes.
Benzinga also interviews executives of publicly-traded companies and top Wall Street analysts which can only be heard on Benzinga's audio squawk.
As news breaks, the newsdesk monitors each release and assigns a sentiment level to it from -3 to 3, allowing for fast algorithmic and visual analysis of a news item's expected impact.
Get every press release from major wires delivered directly to you at mach speed! Sortable by topic and ticker, the releases can be delivered by any feed method your firm uses.
Partners


Contact us at
1 (877) 440-9464
or
licensing@benzinga.com.