BlizzCon Didn't Go How ATVI Management Hoped, Now Time For Earnings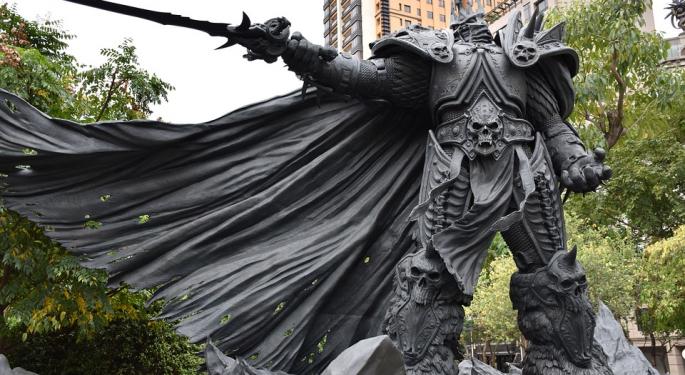 November is a busy month for Activision Blizzard, Inc. (NASDAQ: ATVI). The company just wrapped up its BlizzCon two-day event and next it reports earnings after market close on Thursday, Nov. 8.
BlizzCon didn't exactly go how management was planning as fans were outraged over the announcement of Diablo Immortal, a mobile-only game when the Diablo franchise has traditionally been PC-based. Not only that, the last game in the franchise, Diablo 3, was released in 2012 and many fans have been anticipating a PC-based Diablo 4 for some time.
On Monday this week, the first trading day after BlizzCon, shares dropped 6.7 percent. Diablo has been an important franchise for ATVI historically, and analysts have expressed concerns regarding the current backlash against the company, so investors may want to consider listening to tomorrow's earnings call since it could be discussed.
As far as the results go, ATVI is expected to report adjusted EPS of $0.50 on revenue of $1.66 billion, according to third-party consensus analyst estimates. Compared to last year, both are expected to decline. In Q2 2017, adjusted EPS came in at $0.60 on revenue of $1.9 billion.
Analysts are more optimistic than ATVI, whose Q3 guidance calls for adjusted EPS of $0.37 on revenue of $1.49 billion. One thing to keep in mind is ATVI's management has earned a reputation over the years for issuing conservative guidance.
In addition to this quarter's results, management's guidance for the upcoming holiday season is likely to be closely watched as well. ATVI's stock has also seen some volatility around news of China's government cracking down on video games in recent months, another area that is likely to garner analyst attention on tomorrow's call.
How's the Audience?
During Q2 2018, ATVI reported it had a total of 352 million monthly active users (MAUs), a drop from the 374 million MAUs the company had in Q1 2018.
The Activision division, which includes Call of Duty and Destiny, had 45 million MAUs in Q2 2018, down from 51 million in Q1 2018. Since Call of Duty: Black Ops 4 was just released last month, that won't have an impact on this quarter's MAUs. That said, ATVI announced the title had sold more than $500 million worldwide over its opening weekend and that it had broken a number of audience metric records including average hours per player and number of hours played.
The Blizzard segment had 37 million MAUs in Q2 2018, down slightly from the 38 million ATVI reported in Q2 2018. This segment's major release was an expansion pack for World of Warcraft, which analysts widely expected to help improve audience and engagement metrics for the Blizzard segment.
ATVI's largest segment from a MAU perspective, King, had 270 million MAUs in Q2 2018. This division is solely focused on mobile games, many of which are free-to-play with in-game purchases and upgrades available. King just released a new game, Legend of Solgard¸ in August. Otherwise, this franchise has traditionally been largely driven by the Candy Crush franchise.
Debt Pay Down
Earlier in the year, ATVI's board of directors authorized the company to pay off as much as $1.8 billion in debt. Then, the last time the company reported CFO Spencer Neumann said they planned to utilize the full authorization in the third quarter.
Since this was a significant chunk of the company's debt, analysts might be looking for more information about whether the move was to simply strengthen ATVI's balance sheet, or if management had something else in mind.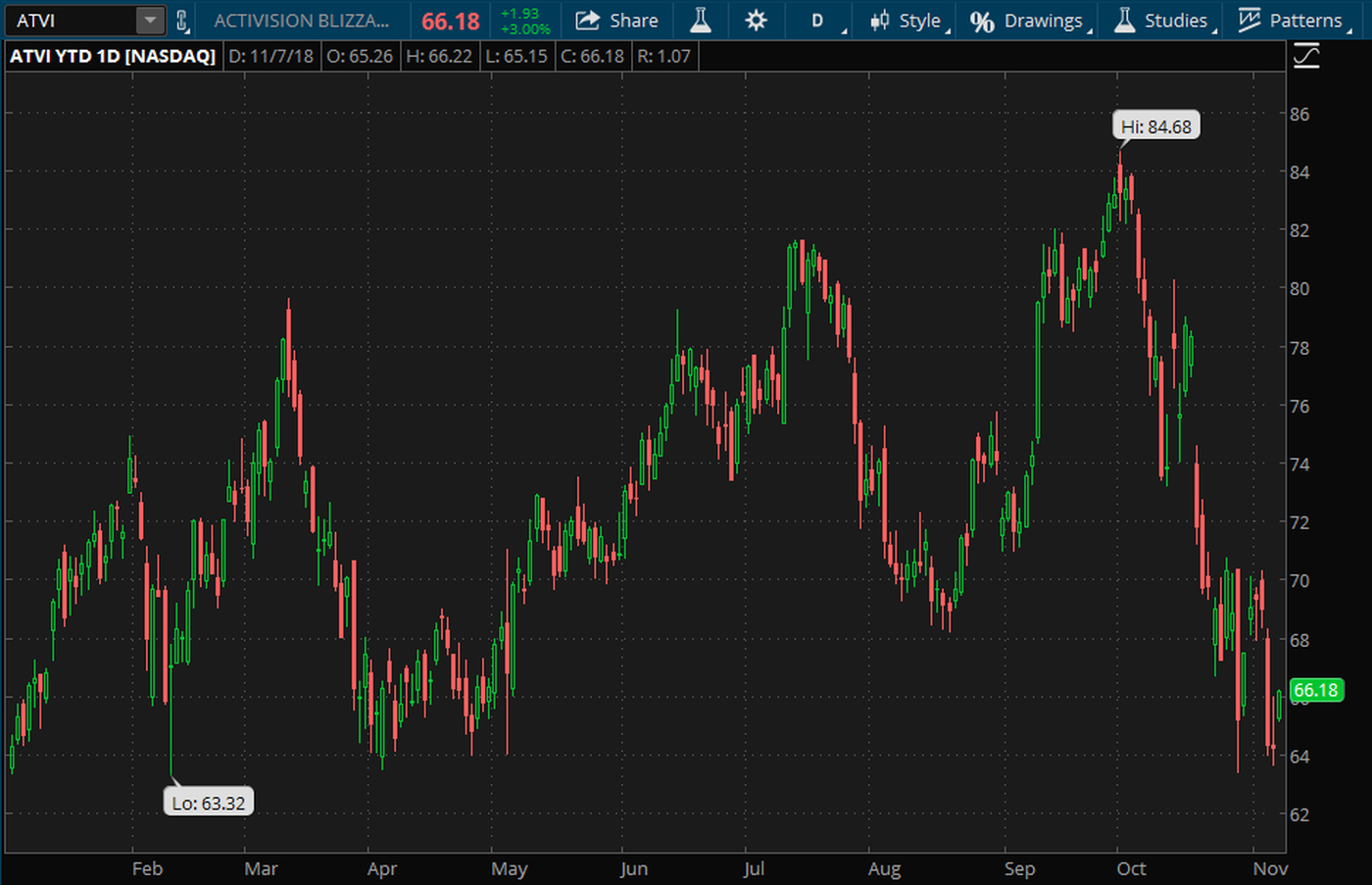 Closer to the Lows. After BlizzCon, ATVI dropped all the way back down to the $64 level, which has been a support level throughout 2018. Shares are bouncing back today and the stock is still up about 3 percent year to date. Chart source: thinkorswim® by TD Ameritrade. Not a recommendation. For illustrative purposes only. Past performance does not guarantee future results.
Options Trading Activity
Around the upcoming earnings release, options traders have priced in a 5.7 percent stock move in either direction, according to the Market Maker Move indicator on the thinkorswim® platform. Implied volatility was at the 88th percentile as of this morning.
Call volumes have picked up this week after the stock's big drop on Monday. In short-term trading at the Nov. 9 weekly expiration, the 65.5-strike call has been the most active, with a lot of activity at the 66.5-strike call so far in today's session. On the put side, there has been a smattering of activity across a range of strikes with no standouts.
At the Nov. 16 monthly expiration, the 65 strike price has been active in recent trading for both calls and puts. Open interest is much higher for the 65-strike put with 14,406 contracts open Wednesday morning, compared to 5,765 contracts for the 65-strike call.
Overall during Tuesday's session, calls outpaced puts by a little more than 3 to 1. 16,329 calls traded hands versus 5,147 puts.
Note: Call options represent the right, but not the obligation, to buy the underlying security at a predetermined price over a set period of time. Put options represent the right, but not the obligation to sell the underlying security at a predetermined price over a set period of time.
Posted-In: Call of Duty TD AmeritradeEarnings News Previews Options Markets Trading Ideas
View Comments and Join the Discussion!