Covenant Rushes Into Dedicated Contracts, Reports A Q3 Beat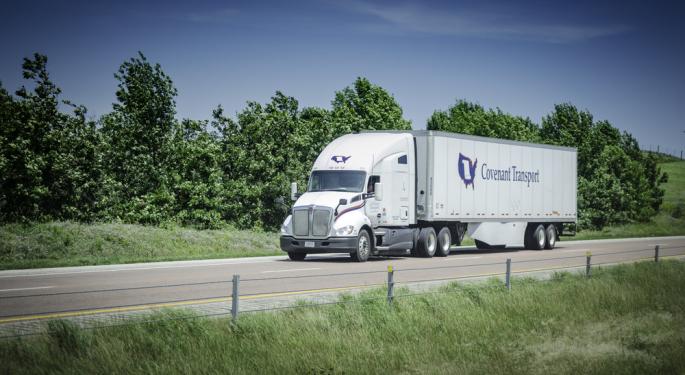 Covenant Transportation Group, Inc. (NASDAQ: CVTI) announced its third quarter results on Tuesday, its first report inclusive of Landair Holdings.
The company reported diluted earnings per share of $0.63, beating the Wall Street consensus estimate of $0.61. Total revenue for the quarter was $243.3 million, up 36.2 percent annually. A series of wage increases this year allowed Covenant to seat an additional 1 percent of its tractors, bringing its unseated truck count down to 3.9 percent of the fleet. Length of haul fell dramatically to 665 miles, down from 867 miles for the third quarter of 2017 (much of this resulted from the addition of Landair's 428 truck fleet averaging 168 mile length of haul). Covenant's proportion of team drivers remained relatively stable at an average of 880 teams for the quarter.
Covenant said increasingly expensive insurance claims were a tailwind to further improvements in the company's operating ratio, which came in at 93.3 percent for the quarter, down from 94.9 percent in the third quarter of 2017. Still, Covenant was able to reduce its debt to 1.5x EBITDA, down from 1.9x year-over-year.
The asset-light side of the business, representing 19 percent of revenue, has grown steadily over the past few years to $46.3 million in revenue for the quarter.
The biggest shift in the company was a dramatic expansion of its dedicated business to roughly 50 percent of its fleet from 32 percent a year ago, accelerated by the Landair acquisition. Parker said that Covenant continues to move away from the unprofitable "you call, we haul" model of irregular over the road trucking. Parker expects Covenant to add "another couple hundred trucks" to dedicated next year out of its present fleet of 3,080.
Covenant is continually asking "how do we get deeper into the supply chain," Parker said, emphasizing the long-term contracts and mutually beneficial partnerships with shipper customers that Covenant is pursuing. Hogan said that integrating Landair and Covenant's sales forces will provide crossover lead generation, but cautioned the dedicated contract sales cycle is longer and that "big wins" will begin accruing next year.
"On sales generation, we're early. The lead generation workflow and pipeline has been put in place, and capital constraints on Landair have been lifted," said Hogan.
Parker said that about 25 percent of Covenant's dedicated contracts come up every year for renegotiation, and Cribbs pointed out that shippers cannot exit the agreements without paying substantial financial penalties.
Analysts were interested in David Parker's view of the freight market and macroeconomic environment.
"We came out of June and everybody was on fire," Parker recounted, "but to be honest, it was an unhealthy fire. When your customers can't get their freight delivered, it's not good. After July 10th, there was a moderation. Instead of 20 loads per truck it was ten per truck; in August it was five for one truck. The peak started for us in the latter part of September. Hurricanes produced for us about 50 percent of what they produced last year in revenue. [Freight demand] continues to ratchet up and get strong, I'm very pleased with the way I'm seeing the freight environment. Between now and Black Friday and Cyber Monday is when peak will start. We're just at the beginning stages of it, and I'm very, very pleased with the freight environment."
Covenant expects between 4-7 percent in rate increases next year, with a similar increase in driver wages.
Hogan also said that SRT, Covenant's reefer subsidiary, has been improving its performance.
"I think that it's come a long way in the last year. The management team has done a really good job, but there's still some opportunity there. The non driving workforce has also stabilized greatly," said Hogan.
Realted Links:
Oakland's Second-Largest Terminal Expands Truck Night Schedules
Rank-And-File Blowback Expected As UPS, Teamster Contract Saga Takes Unusual Turn
View Comments and Join the Discussion!