All Good Numbers For Landstar, And They're Adding Drivers To The Network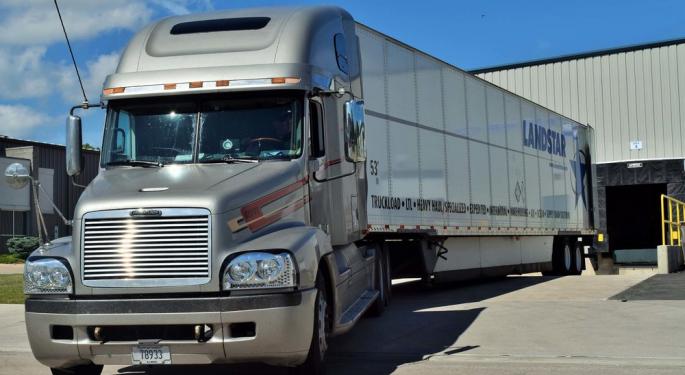 Landstar System, Inc. (NASDAQ: LSTR) second quarter earnings had nothing but positive news.
As CEO James Gattoni said in the earnings call with analysts, the asset-light logistics firm reported record revenue, gross profit, operating income and income before income taxes. But the forward-looking numbers were all strong too. As Gattoni said in his opening remarks, according to a transcript of the phone call supplied by SeekingAlpha, all indicators continued to head higher into July. Among the highlights of his forecast:
—Growth in load volumes in July and August will be similar to what the company recorded in the second quarter. Those growth figures were solid, with revenue per load on loads moved by truck up 21 percent in April and May from the prior year, and 23 percent in June. September comparisons will be difficult, Gattoni said, since last September marked a strong hauling month for hurricane relief activities.
— "Second quarter revenue per load on loads hauled via truck increased almost 5 percent from our first quarter revenue per load to a record second quarter revenue per load, a clear indication of the continuation of the tight truck market," Gattoni said. He added that he expects rates to continue strong, but again cited the September y-o-y comparisons as possibly being difficult.
—Landstar agents are independently-owned businesses that operate under the Landstar banner, and bringing in new agents was a success story for the quarter. Gattoni said revenue from new agents in the quarter was $33.7 million, well up from the $22.7 million in the corresponding quarter of 2017. He added that it was the highest new agent revenue figure since 2010's second quarter. "We continue to attract qualified agent candidates to the model and the agent pipeline remains full," according to Gattoni.
—The network of truckers working for Landstar, either as contracted business capacity owners (BCOs) or contracted truck transportation carriers grew during the quarter, even in the midst of the driver squeeze. Landstar ended the quarter with a record 10,155 trucks provided by business capacity owners, and that was up 459 from the end of 2017. "We recruited a slightly higher number of BCOs as compared to the 2017 second quarter," Gattoni said in the call. "The net increase in the number of BCO trucks in the…second quarter was our highest ever quarterly net increase. Loads hauled via BCOs increased 5 percent in the 2018 second quarter over the 2017 second quarter on higher truck count, partially offset by a 1 percent decrease in BCO truck utilization defined as loads per BCO truck per quarter."
During the question and answer session with analysts, Gattoni was asked about the success in attracting drivers in this market. "We can access capacity," he said, referring to the network of BCOs and independent agents working for Landstar. "Capacity knows where to find quality freight, and they come to us. So it's pretty easy for us to access capacity in this environment, because they know what we're doing, and they know our systems are designed to push those loads out. "
Landstar's purchased transportation costs rose to $1.72 billion from $1.26 billion in 2017's second quarter. According to the company's earnings release, the fact that more freight was hauled by truck brokerage carriers had a significant role in that move. Those carriers were paid, on average, 49 basis points more in 2018's second quarter than a year earlier.
Some CEOs on the quarterly earnings calls have been talking about an impact from the ELD mandate, which went into effect April 1. Not Gattoni: "As expected, the ELD mandate has had an insignificant impact on BCO productivity in the 2018 first half," he said.
Gattoni said—echoing what most CEOs have been saying on earnings calls—that there is no visible end to the strong freight market. "Historically, when you have a truck environment the way we have it today, you see the guys putting trucks into the system and then loosening up that supply," Gattoni said. "But I don't anticipate that having much of an effect over the next short term six months. "It's demand driven for us, that's what we're seeing. And there's going to have to be a lot of capacity to come into this to disrupt this environment."
Image: SONAR chart showing Landstar stock price year to date
Landstar's stock was back-and-forth between unchaged Thursday, on a day when the Dow was higher but the broader S&P 500 was lower, with trucking stocks dragged down by the 13 percent collapse for Knight-Swift Transportation Holdings Inc (NYSE: KNX).
View Comments and Join the Discussion!