Forward Air Stock Pops 6.45% On Earnings Beat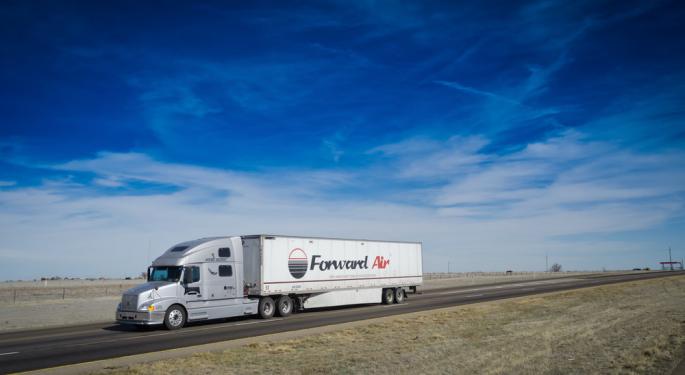 Bruce Campbell: "pricing environment is indeed good, but so is the cost environment"
Intermodal growing with bolt-on M&A
Truckload brokerage playing catch-up
Forward Air Corporation (NASDAQ: FWRD), a mostly expedited LTL carrier that has been acquiring intermodal/drayage businesses, announced earnings per share of $0.82 for Q2 2018, beating the Street's consensus of $0.77. On the expedited LTL side, volume growth and yield growth were a robust 8.6 percent and 9.0 percent year-over-year, respectively.
FreightWaves listened to Chairman and CEO Bruce Campbell and SVP and CFO Mike Morris discuss Forward Air's performance on Thursday morning's earnings call.
The two most important components of Forward's business are its expedited LTL business (representing ~55 percent of revenue, ~88 percent of operating income) and its intermodal/drayage (~15 percent of revenue, 12 percent of operating income). A positive signal from the LTL segment was that Forward's average weight per shipment increased 0.4 percent for the quarter, year-over-year, after declining for the previous four years.
The growth in purchased transportation costs for both the LTL and truckload side were a major headwind for Forward Air: Q2 purchased transportation costs were $155.7M, up 18.7 percent year-over-year.
Forward also offers an asset-light Premium Truckload Service by recruiting owner-operators, but this business adds little to the company's bottom line ($1.7M of operating income this quarter against Forward's consolidated operating income of $32.9M). Forward was caught off guard when truckload spot rate volatility suddenly increased in Q3 2017 and ran losses in that quarter, Q4 and Q1 2018; it seems as though the LTL carrier was unable to stay ahead of the truckload spot market. It was much simpler to source purchased transportation profitably in 2015 and 2016, and we think that Forward was under-invested in technology and unprepared for a volatile truckload market where more sophisticated brokerage house did very well. In this morning's earnings call, Forward reported that its truckload division had completed the implementation of the McLeod TMS, which should help, but their cautiously optimistic guidance on securing owner-operator capacity going forward was less convincing.
"Going from from Q2 to Q3, sequentially the third quarter is more of the same, where you have macro strength, good volumes, but at the same time you're facing headwinds on purchased transport. From a forecasting perspective, this purchased transport is the hardest thing to predict," said Campbell.
When asked about what it takes to recruit owner-operators, "We have to stay competitive, right now we think we're in really good shape; we've differentiated team pay from single because we think they should earn more," said Campbell.
An analyst asked about the plan for getting the truckload business in shape. "Profitability growth comes first in truckload," Campbell said, "then revenue growth comes second, assuming we can get the fleet count up. Last call, I drew an analogy to a four act play, we played the long game and honored some contracts as capacity tightened… now we've turned the corner and gotten back into profitability—going forward it's trying to enhance that profitability."
The intermodal/drayage side of the business looks much brighter than truckload and has grown quickly with a healthy mixture of organic growth and acquisitions. Stifel's Bruce Chain wrote that Forward's intermodal segment is "based on a gem of an acquisition, in our view, and remains the company's primary M&A growth engine." To that end, Campbell announced that Forward had acquired Multimodal Transport for $3.7M, a Minneapolis-based drayage provider that would add 6.5M in revenue and 1M EBITDA on annualized basis.
Intermodal brought in $5.6M in operating income for the quarter, up 42 percent year-over-year.
Campbell discussed his impending retirement and the selection of Tom Schmitt, currently Schenker's Chief Commercial Officer, to be the new President and CEO. "We've been in the process for over three years—the board members on the search committee and myself. We were not in a hurry—we just wanted to work through and find the right person. With FedEx Corporation (NYSE: FDX), Purolator, and now Schenker, he has the network background knowledge. The big thing we really liked, as Forward Air goes forward, our sales and marketing was not overly refined because we dealt with one kind of customer base, and as we expand into these other product lines, we need somebody with that type of market expertise… so Tom's big strength, to me, was his marketing and sales strength. We have operators in our company now that are extremely strong, but what we need now is to improve our sales and marketing strategy as we expand."
Forward Air shares jumped 6 percent to $61.80 on the positive news.
(Image: FreightWaves SONAR)
View Comments and Join the Discussion!