Concerns About Trade Picture Overshadowing Earnings As GM, Boeing Report
Today we have earnings with a tariff chaser. Concerns about the trade picture and what companies might say about it in their calls could potentially overshadow the actual numbers at times.
The market had a surprisingly strong day Tuesday despite financials fading, but ran into pressure before the open Wednesday after Boeing Co (NYSE: BA) and General Motors Company (NYSE: GM) shares slumped in pre-market trading.
GM put the brakes on guidance, citing higher costs, while BA's Q2 commercial airplane business pulled up just short of the gate as far as some investors were concerned.
Though GM didn't mention tariffs in its press release, investors might want to monitor this morning's call to see if some of the rising costs it cited have anything to do with trade policy. BA is another company that could potentially run into tariff issues. Unlike GM, however, BA didn't say anything about cost pressure in its press release, which painted a mainly rosy picture.
Though BA beat Wall Street analysts' estimates on both top- and bottom-lines, weakness in the stock appeared to put pressure on the Dow Jones Industrial Average ($DJI) ahead of the opening bell. Earnings tend to drive the market, something that's been said again and again. Investors might be on tenterhooks waiting for BA, GM and Ford Motor Company (NYSE: F)—which reports later today—to explain on their calls exactly how they're being affected by trade policy.
Beyond the Beats
GM, like BA, topped expectations for earnings, though it just missed third-party consensus estimates on revenue. However, it was some of the fine print that seemed to get investors' attention. The company said it expects higher commodity costs and a strong dollar to be possible sticking points as the year moves along. Rising costs and foreign exchange challenges are issues that go well beyond GM, but hearing the venerable automaker discuss them might raise their profile even more and cause concern about how other companies might be affected.
BA raised guidance for the full year, but its full-year EPS projections remains below those of some analysts. Today's BA and GM earnings and the market's initial reaction could make this one of those sessions where the quarter's top- and bottom-lines aren't the full story. As we saw last quarter, some investors appear to want more than just higher than expected earnings and sales from companies, especially with stocks like BA that are up more than 20 percent so far this year.
Facebook in the Wings
This morning is crowded with companies reporting, but the main event arguably comes after the close when social media giant Facebook (FB) marches into the center ring with its Q2 results. While FB's financial numbers are probably front and center, investors could also be itching to see what FB says about projected spending, ad prices and impressions, and U.S. user engagement.
FB is part of a "FAANG" trio this week, with Alphabet Inc. (NASDAQ: GOOG) (NASDAQ: GOOGL) starting things off and Amazon.com, Inc. (NASDAQ: AMZN) on tap after tomorrow's close. GOOG started things off with a bang, easily beating Wall Street analysts' estimates. Another big name, Twitter Inc. (NYSE: TWTR), also enters the fray later this week. FB is a stock that's widely held by retail investors, and has faced some selling pressure from those investors over the course of the year. Today we'll see if the long-term story for the company is better than some people suspect.
Trade seemed to move to the backburner the last couple of days as many investors focused instead on solid earnings across the spectrum. However, concerns might resurface today when President Trump meets with European Commission President Jean-Claude Juncker. It seems likely they'll discuss the U.S. threat to impose a 20 percent tariff on European autos and auto parts, something that was among the factors weighing on U.S. carmaker stocks last week. If negative headlines emerge, look out for any possible impact on the market.
The earnings picture continued to look mostly positive as the week advanced, with companies including Eli Lilly And Co. (NYSE: LLY), Lockheed Martin Corporation (NYSE: LMT), 3M Co. (NYSE: MMM), and Biogen Inc. (NASDAQ: BIIB) among the firms rallying after reporting strong results.
Yields Slow Down After Quick Sprint
After leaping to one-month highs on Monday, 10-year Treasury yields pulled back Tuesday, but only a little, and traded at 2.94 percent by early Wednesday. The question remains whether the yield can go above 3 percent and stay there. There might be some anticipation at work here as investors await the week's two biggest economic data points: durable goods tomorrow and gross domestic product (GDP) on Thursday. Wall Street analysts look for a 0.4 percent climb in June durable goods after a 0.3 percent drop in May, according to Briefing.com. The Wall Street consensus for Q2 GDP is 4.1 percent.
If GDP does breach the 4 percent mark, it's unclear exactly how the markets might react. On the one hand, that kind of growth would offer another hint that the economy seems to be firing on all cylinders. On the other, some people might see that big first number of "4" and start worrying about inflation that can sometimes surface when the economy grows so quickly. Any inflationary fears would likely show up in bond yields, perhaps sending the benchmark 10-year yield back above 3 percent and perhaps putting more pressure on the Fed to push through two more rate hikes in 2018. Chances for that creeped up lately. CME Group futures now show a 61 percent chance of two additional hikes, up from around 50 percent a week ago.
Tuesday Tech Hiccup After Fast Start
Sector-wise, it was pretty solid across the board Tuesday. Some of the leaders included telecom (which rallied after strong Verizon Inc. (NYSE: VZ) earnings), energy, materials, and health care. Financials started off with a bang but eased a bit as the day continued. Info tech had an interesting session, rallying sharply early in the day after GOOG reported strong results but then back-tracking amid pressure on some of the semiconductor companies. If you'll recall, that's one area of tech some analysts worry might see a bigger impact from the U.S./China tariff battle. Chipmaker Advanced Micro Devices, Inc. (NASDAQ: AMD) reports after the closing bell today and Intel Corporation (NASDAQ: INTC) is scheduled to report after tomorrow's close, so consider monitoring those for possible tariff talk.
If there's any doubt that tech has a wide impact, Tuesday's market action might have dispelled some of it. The whole market seemed to lag a bit when tech began sagging from its highs at midday. The rest of the market eventually popped back to close solidly higher, but the rest of Wall Street does seem to be taking a cue from tech at least some of the time. Tech is up more than 16 percent year-to-date.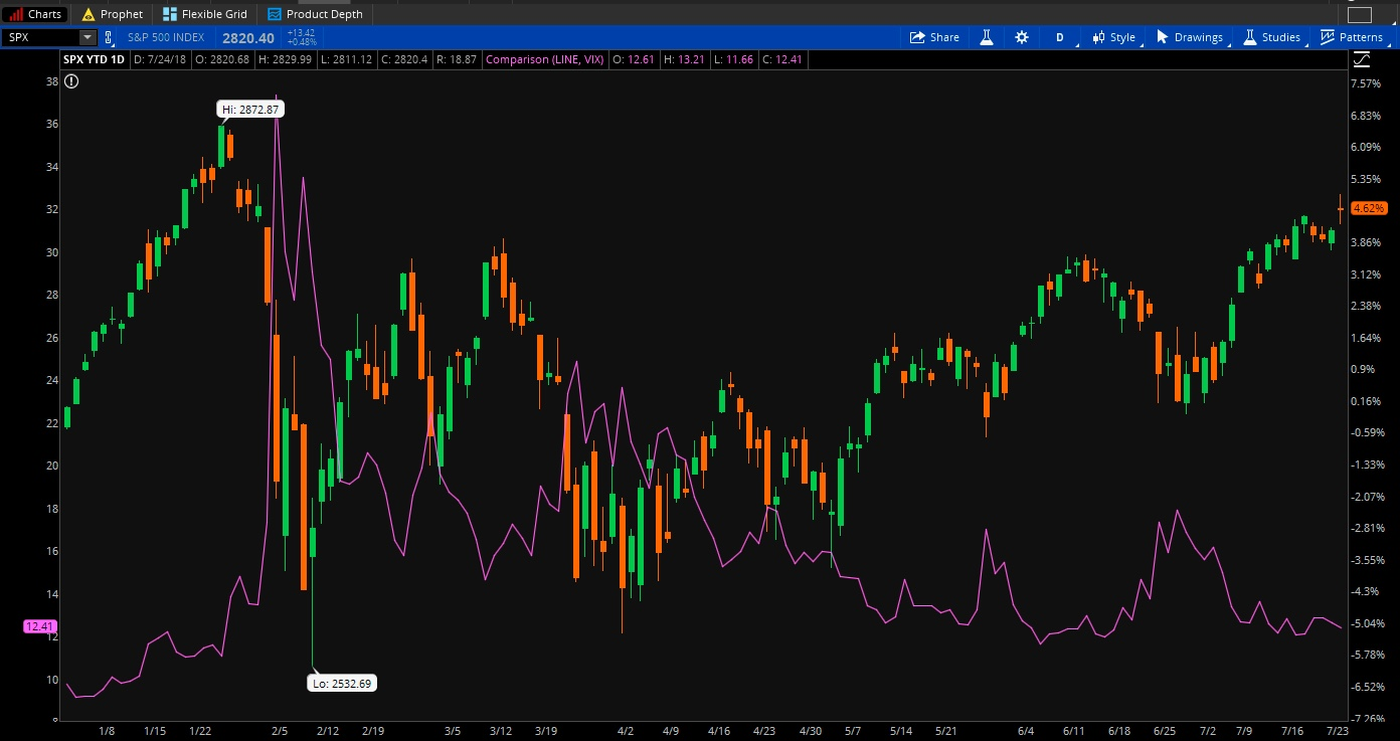 FIGURE 1: Stocks Rally as VIX Lags: This year-to-date chart of the S&P 500 Index (candlestick) and the VIX (purple line) shows the SPX rising lately while the VIX trades at relatively low levels. Since this was the pattern before the February market correction, some analysts see the current trend as a possible warning sign. However, there are differences between now and then. The SPX hasn't been going straight up, and the VIX has had a few pops here and there. Data Source: CBOE, S&P Dow Jones Indices.Chart Source: The thinkorswim platform from TD Ameritrade. For illustrative purposes only. Past performance does not guarantee future results.
Small World
Despite recent gains in the S&P 500 Index (SPX), its yearly performance trails the small-cap Russell 2000 Index (RUT). By mid-week, the SPX was up around 5 percent since the start of 2018, but the RUT was up around 9 percent even after slipping 1 percent on Tuesday. More than $4 billion flowed into mutual funds and exchange-traded funds that track small caps in May and June alone, while U.S. stock-focused funds as a whole have suffered billions of dollars of outflows every month this year, according to data from Morningstar LLC, The Wall Street Journal reported earlier this week.
Many investors jumped into small-caps this year, possibly amid hopes that they might offer more protection from tariffs. However, that strategy isn't fireproof, the WSJ noted. It pointed out that six small, domestically-focused companies have said that recent U.S. tariffs on steel and aluminum as well as other goods from China could hurt their businesses. Some are concerned about possible declining demand if tariffs generate inflation. Others worry about cost pressure because they buy some of their materials from foreign suppliers. All this isn't to say small-caps don't have their strong suits, but they aren't necessarily going to offer complete shelter in a storm, either.
What's Ailing Housing?
Anyone hoping that June existing home sales earlier this week could make up for last week's disappointing data on housing starts and building permits probably came away disappointed. Existing sales of 5.38 million on a seasonally-adjusted basis came in below Wall Street analysts' expectations for 5.45 million. Total sales fell 2.2 percent from the same month a year earlier. It's easy to point the finger at higher mortgage levels and leave it at that. After all, most other economic data look solid, including retail sales and employment. However, housing can sometimes be the "canary in the coal mine" when there's economic unease, so it's not something to ignore. In some ways, housing might be a victim of the economy's own success. Prices, which were up more than 5 percent year-over-year, appear to be rising faster than middle-class incomes. While the percentage of first-time home buyers declined last month, the percentage of people buying homes with cash rose. New home sales for June are on today's calendar.
Shutdown Watch Back On
Once again, the U.S. government faces a deadline to stay open. Congress has 14 legislative days to pass a bill to keep the lights on after Sept. 30, Politico reported Tuesday. These shutdown warnings used to regularly trip up the stock market, but many investors now seem more sanguine about them in part because the threats have become part of the scenery around Washington. Right or wrong, there's a sense among many people that the government will do what it has to do to stay open, especially with the November election approaching. Still, keep it in the back of your mind as one possible factor that could play into market action over the next couple of months, especially if there's sparring over key legislative issues like immigration. Government shutdowns typically don't last very long even when they do happen, and their impact over the years has been mixed. A shutdown occurred for two days back in January, but it's kind of hard to remember considering everything that's happened since.
Information from TDA is not intended to be investment advice or construed as a recommendation or endorsement of any particular investment or investment strategy, and is for illustrative purposes only. Be sure to understand all risks involved with each strategy, including commission costs, before attempting to place any trade.
Posted-In: TD AmeritradeEarnings News Commodities Treasuries Markets
View Comments and Join the Discussion!