Earnings Season Off To Good, But Not Great, Start As Morgan Stanley Reports
Morgan Stanley (NYSE: MS) became the latest big bank to notch an earnings beat Wednesday as the season is off to a mostly positive start. Stocks had a mixed tone early following mostly higher action in overseas markets and while investors prepare for more congressional testimony from Fed Chair Jerome Powell.
Bank Earnings' Final Grade: From C+ to Solid B
The financial earnings news continued to roll in Wednesday as Morgan Stanley (MS) easily exceeded Wall Street analysts' expectations. Earnings per share of $1.30 topped the $1.11 average estimate. Revenue climbed 12 percent to $10.6 billion, about $500 million more than analysts expected. Shares rose 3 percent in pre-market trading.
In a press release, MS said its results reflected "strong performance in investment banking and sales and trading." Revenue in the key Institutional Securities business rose nearly $1 billion from a year earlier. Overall profit for MS rose 38 percent year-over-year. However, the wealth management business took a bit of a hit. This was a little surprising, because going into earnings season many investors had expected trading revenues for the banks to be weaker and wealth management to be stronger, but it turned out to be the opposite.
So looking at all five of the big banks now that they've reported, there seems to be a lot to like. If Friday's results collectively merited a grade of C+, the three banks that reported this week might bring the total grade up to a solid B.
Blink and You Missed Nasdaq's Sell-Off
Some say March comes in like a lion, out like lamb. It's the middle of summer, but that's probably the best way to describe the Nasdaq's (COMP) performance Tuesday after a disappointing Netflix, Inc. (NASDAQ: NFLX) earnings report that many analysts expected to put the tech-heavy index on the run. The COMP opened lower but then scurried to a record high as many investors seemed to shake off the NFLX news.
Though NFLX shares experienced a rough day, falling 5 percent, the damage ended up being far less than the 12 percent plunge in NFLX futures prior to the opening bell. The other "FAANGs" actually fared pretty well, and the overall COMP rose more than 0.6 percent to a new record high. So if you blinked, you might have missed the big COMP washout some had predicted.
This kind of performance arguably helps illustrate just how resilient the market has been this year, particularly info tech. Though the sector hasn't had the kind of giddy gains we saw in 2017, it's shown a lot of pep considering it's been victimized by some bad news like the Facebook, Inc. (NASDAQ: FB) privacy issue and NFLX's failure to meet its own subscribership guidance. The sector is up about 15 percent this year, easily topping the sector leaderboard.
The "risk-on" sentiment that seemed to start percolating late last week spilled into Tuesday, judging by sector performance. Cyclical sectors like info tech and industrials gained ground while so-called "defensive" ones like utilities and telecom ended up flat to lower on the day. Still, utilities and telecom continue to hold their own in recent trading sessions, possibly because 10-year Treasury yields remain stubbornly low. The 10-year yield crept up to 2.86 percent on Tuesday, but it's hardly been moving the last few days. A lot of people have turned to stocks like AT&T Inc. (NYSE: T) and some utilities because interest rates are the biggest story of year and the 10-year is still under 3 percent. Some people appear to be going for yield by purchasing stocks that pay decent dividends.
Powell Pep Talk
It wasn't exactly a yawn fest when Fed Chairman Jerome Powell talked to Congress Tuesday, but arguably he didn't say anything all that surprising. He reiterated that core inflation appears to be near the Fed's 2 percent target and that job and wage growth remain strong. He warned that an extended period of high tariffs could hurt the economy, and said the recent tax reform could help give gross domestic product (GDP) a boost.
"With appropriate monetary policy, the job market will remain strong and inflation will stay near 2 percent over the next several years," Powell said. He added that the Fed "believes that—for now—the best way forward is to keep gradually raising the federal funds rate" in a way that keeps pace with a strengthening economy but does not raise rates so high or so fast that it weakens growth, Reuters reported.
Though he didn't use the term, what Powell arguably described is what many economists call a "soft landing" where the Fed is able to raise rates and inflation back toward historical norms without steering the economy into a recession due to higher borrowing costs. Remember, the Fed has a "dual mandate" to keep inflation and unemployment low, and both are at this time. Whether this positive mix can continue as Powell predicted remains to be seen. As he said, tariffs could be one impediment to growth, and any sign of overheating in the economy that moves the inflation dial could put pressure on the Fed to hike rates more quickly.
That said, the market appeared to appreciate Powell's words, rising moderately during his testimony. He'll speak again today, but the second day of testimony usually is just an addendum to day one. It seems likely he'll stay positive. It's also worth noting that Tuesday was one of the first times in Powell's short tenure when he's spoken in a major forum without stock prices retreating. Maybe investors and the Fed chair are getting more comfortable with each other.
Rate Hike Odds Creep Higher
After Powell spoke, rate hike odds inched up in the futures market. Chances for a hike by September now stand at 86 percent, up from 80 percent earlier this week, according to CME Group Fed funds futures. The chance for four hikes this year is now at 60 percent, up from less than 40 percent a few weeks ago. Though odds don't seem high for a hike by the next meeting July 31-Aug. 1, there's now a better than 5 percent chance, up from close to zero a few days ago.
Consider keeping an eye on oil today after a private industry group reported a surprise rise in U.S. crude stockpiles last week. The official stockpiles data from the government is scheduled for later this morning and we'll see if it resembles the private group's report. This time of year is traditionally when stockpiles fall.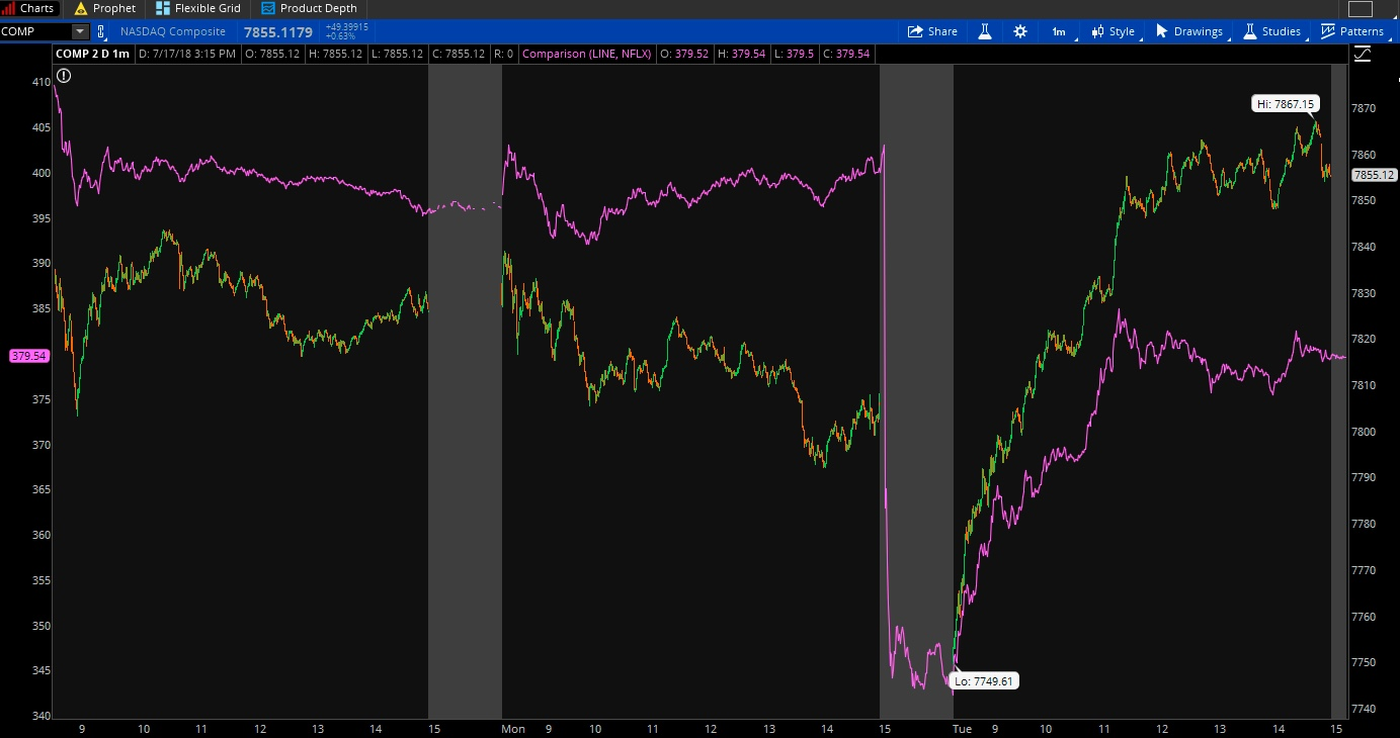 FIGURE 1: Nasdaq Sell-Off: Don't Blink: This two-day chart of the Nasdaq (candlestick) shows how the index dropped sharply at Tuesday's open in large part due to disappointing Netflix results. Netflix (purple line) plunged in post-market futures trading Monday but recovered a good portion of its losses Tuesday. The COMP did even better, rallying to a record high. Data source: Nasdaq. Chart Source: The thinkorswim platform from TD Ameritrade. For illustrative purposes only. Past performance does not guarantee future results.
Retail Shopping, and a Side of (Micro)Chips
It's almost back to school season, believe it or not, and that might have had something to do with VF Corp. (NYSE: VFC) advancing more than 4 percent earlier this week after getting an upgrade based on the popularity of its Vans brand. The analyst upgrade suggested Vans could be a hot brand as those shoppers hit the stores. In the next few weeks we'll see if this plays out. It might not be a bad idea if you're shopping for your children or your spouse is to check out what people are bringing to the check-out lines, because back-to-school season can sometimes have a big impact on the market this time of year.
Another company advancing early this week was Advanced Micro Devices, Inc. (NASDAQ: AMD), which rose after an analyst predicted better profit margin in its Q3, media reports noted. The company appears to be benefitting from robust shipments of personal computers, including traditional desktop models. This suggests demand from businesses, so keep an eye on other computer makers to see if they also benefit.
Crude Faces Headwinds
Despite a recent slump, oil futures remain up about 10 percent year-to-date and aren't far from three-and-half-year highs. The oil market's been a bit of a roller coaster ride lately, but if it's going to get back on the upswing it might need to push past some bearish fundamentals. We've already discussed the U.S. administration's suddenly less hawkish stance on Iranian oil imports along with Libyan exports coming back. In addition, online industry journal OilPrice.com reports that oil demand from China could slow in coming months partly due to a tighter tax regime on independent Chinese refiners. It's also reporting that India and China might be in talks about forming an "oil buyer's club" in an attempt to curb OPEC's influence on prices. OPEC recently agreed to raise production, and Russia seems ready to cooperate with the U.S. to smooth out volatile oil prices, according to media reports. Meanwhile, in Texas there's plenty of production but bottlenecks have developed in the delivery process, pushing cash prices down in the region. All this isn't to say crude prices can't rise from here, but it does illustrate some of the headwinds.
Solid Retail Sales Put a Charge Into GDP Estimate
We're a little more than a week out from some major data as the government prepares to deliver its first estimate of Q2 gross domestic product (GDP) on July 27 (a week from Friday). The Atlanta Fed's GDP Now indicator ticked up to a robust 4.5 percent from its previous 3.9 percent estimate after Monday's strong retail sales report for June. A 4.5 percent tally would sure be a big turn-around after Q1 growth came in a bit disappointing at 2 percent as personal spending came in slightly weaker than expected. The opposite appears to be the case now, with consumer spending apparently driving economic growth, many analysts say. Though few economists are as optimistic about GDP as the GDP Now indicator, many quoted in the media expect between 3.5 percent and 4 percent, which would put year-to-date GDP growth not far below 3 percent. That was near the rate in the second half of 2017.
Information from TDA is not intended to be investment advice or construed as a recommendation or endorsement of any particular investment or investment strategy, and is for illustrative purposes only. Be sure to understand all risks involved with each strategy, including commission costs, before attempting to place any trade.
Posted-In: TD AmeritradeEarnings News Options Federal Reserve Markets
View Comments and Join the Discussion!