Weight Watchers CEO Discusses Relevance In The Era Of Apps And Wearables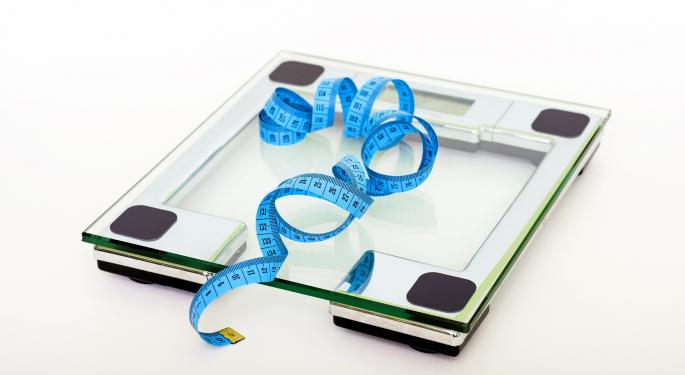 Weight Watchers International, Inc. (NYSE: WTW) was founded decades before fitness apps and wearables, which gave the company by default an advantage over new-age technologies that promote losing weight. But how can the company continue to remain relevant against companies like Fitbit Inc (NYSE: FIT) whose fitness tracking products makes it easier for people to get in better shape?
There's plenty of room to co-exist, Weight Watchers CEO Mindy Grossman told CNBC Tuesday morning. Specifically, Weight Watchers boasts 1.3 million unique users who sync the Weight Watchers app with their fitness device. This creates a scenario where Weight Watchers offers a "complete holistic concept of wellness" for people.
'Everyday App'
Weight Watchers' biggest competition isn't a tech giant or hardware maker, Grossman said. The biggest competition is from people who think they can get healthy themselves as only 5 percent of people looking to become healthy use some sort of commercial weight loss program.
"We are focused on being the partner for the 95 percent to really help them to be empowered to get healthy," Grossman said. "And that's what people want today. They don't want to be dictated to -- they want to define what healthy means to them."
With that said, Weight Watchers wants to position itself as being an "everyday app" for people looking to lose weight, which implies it has minimal desire to enter the hardware space directly with a fitness tracking device, Grossman said. In other words, why fix what isn't broken? Weight Watchers' digital community called Connect ended the first quarter with a record 4.6 million users and the highest retention rate in the platform's history.
Millennials
The millennial demographic group is at the forefront of wanting to "describe what is healthy" and "what beauty means to them," Grossman said. At the same time, millennials also want community engagement and connect with others.
The Weight Watchers platform also appeals to millennials since it never dictates what people need to eat and need to avoid eating, she said. The program "fits in to their life, not the other day around."
Weight Watchers shares closed Tuesday at $80.18, up 1.7 percent. The stock is up nearly 70 percent year-to-date.
Related Links:
B. Riley FBR Raises Weight Watchers Price Target After 'Healthy' Q4 Print
Oprah Sheds Stake In Weight Watchers, Remains 'Committed' To The Company
Posted-In: CNBC fitness Fitness Tracker Mindy GrossmanEarnings News Tech Media Best of Benzinga
View Comments and Join the Discussion!