Puma Delivers A Record 4 Billion Euros In Sales In 2017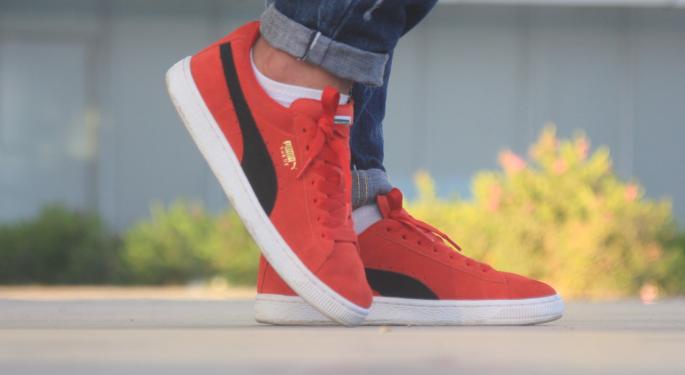 Puma AG Rudolf Dassler Sport (OTC: PMMAF) capped a successful 2017 after announcing it has delivered sales of over 4 billion euros in 2017, a record for the German sportswear company.
Every geographic region contributed to more than double-digit sales growth in fiscal 2017, and footwear continued to be the main driver, with that sector growing more than 21 percent. Puma's footwear sales have grown for over 14 consecutive quarters.
Since Puma introduced its turnaround strategy in 2014, sales have grown nearly 40 percent, the company said in a statement.
The company's overall 16-percent growth in 2017 made it a "great year" for Puma, CEO Bjørn Gulden said in a statement.
Puma expects to increase sales by about 10 percent in 2018 and to increase its EBIT between 305 million euros to 325 million euros, the CEO said.
"We are also pleased by Kering's proposal to reduce their ownership in PUMA by a distribution of dividend in kind to its shareholders," Gulden said.
The deal makes Puma a public, independent company with a higher free float — 55 percent — and two strong anchor shareholders in Kering and Artemis, he said.
"This will allow us to continue our positive development and make PUMA the fastest sports brand in the world."
Following the earnings results, Puma said it will propose a one-time dividend of 12.50 euros at its annual meeting.
Puma outlined five priorities it said have driven its encouraging sales trajectory:
Increased brand heat.
A competitive product range.
A leading offer for women.
Improved quality of distribution.
Organizational speed.
Powell: Market Trends Favor Puma
While Puma did not have any shoes in the top 10 sales list in the U.S. in 2017, that list comprised just 10 percent of all shoes sold, down from 15 percent in 2016 — showing that consumers are looking for differentiated products and brands, an industry analyst told Benzinga.
"My conclusion is that the kid is looking for unique products. They want to wear sneakers, but they want different sneakers than their friends. The market is more fragmented than ever in terms of brands," said the NPD Group's Matt Powell.
"Small is the new big and I think we will see consumers gravitate to smaller brands that are unique and don't look like everybody else," he said.
Arguably the quintessential casual athletic brand, Puma continues to be one of the fastest-growing sportswear companies in the business, and current trends are playing favorably into the hands of the company, Powell said.
"We are in a non-performance market; when performance was in fashion, Puma really struggled. Now that we are in a market where casual is in fashion, Puma is winning."
Related Links:
Nike Back On Top With Best-Selling Shoe Of 2017
Puma, The Fastest-Growing Company In The Footwear Industry, Raises 2017 Guidance
View Comments and Join the Discussion!
Posted-In: Artemis Athleticwear Bjørn Gulden Kering Matt Powell NPD GroupEarnings News Best of Benzinga