Puma Parent Company Kering Announces Plan To Sell 70% Of Its Stake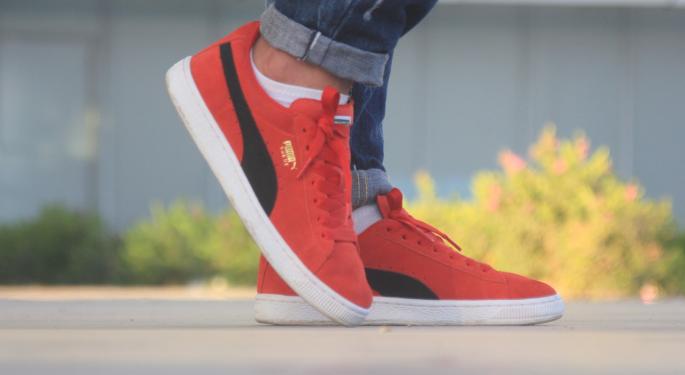 German sportswear company Puma AG Rudolf Dassler Sport (OTC: PMMAF) may no longer be weighed down by its French parent company Kering S A/ADR (OTC: PPRUY).
The French luxury goods group proposed to reduce its stake in Puma on Thursday, distributing the majority of Puma shares — 70 percent — to Kering shareholders through a dividend.
This move would lead to a greater free float of Puma stocks — providing investors an enhanced opportunity to invest in Puma — and allowing the company to reaffirm its business strategy, according to a statement released by Puma.
"We are very pleased that Kering has proposed this way to reduce its stake in PUMA. It would allow us to continue with our current business strategy that has started to show good results," said Bjørn Gulden. "We would be able to carry on to invest in becoming the fastest sports brand in the world, create value for retailers, improve performance for athletes and excite consumers."
The move would reduce Kering's 86 percent ownership stake in Puma to just 16 percent. The proposal appears to be beneficial for both parties: Kering wants to focus on its high-end fashion business and Puma, a growing sportswear business in a struggling industry, will have more control of its own fate.
The distribution of Puma shares would be a "milestone" for Kering, Chairman Francois-Henri Pinault said in a statement.
"Kering would dedicate itself entirely to the development of its luxury houses," Pinault said.
Industry expert Matt Powell recently told Benzinga of Puma: "We are in a non-performance market; when performance was in fashion, Puma really struggled. Now that we are in a market where casual is in fashion, Puma is winning."
The move will make Artemis SA Puma's largest shareholder with a 29-percent stake.
Puma CEO Gulden said Kering's sell-off of shares makes the sportswear retailer more attractive for investors.
"Kering and Artémis, however, would remain strong partners and shareholders, which proves that they believe in our strategy and PUMA's future success,"he said.
The transaction is subject to approval by at Kering's April 26 annual meeting.
Related Links:
Hibbett Sports Upgraded With A Tax Cut, New Products And E-Commerce As Catalysts
View Comments and Join the Discussion!
Posted-In: Bjørn Gulden Francois Henri-Pinault retail SportswearNews Dividends Asset Sales Best of Benzinga