Upcoming Netflix Earnings: Subscriber Growth And Price Hikes In Focus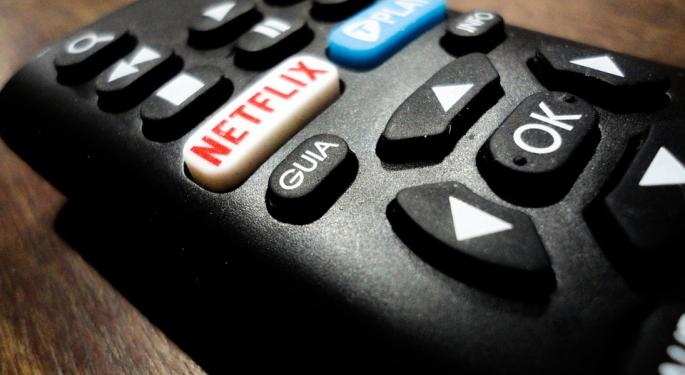 Netflix, Inc. (NYSE: NFLX) is scheduled to report fourth-quarter earnings after the closing bell on Monday, Jan. 22. Investor expectations appear to be elevated heading into the report, evidenced by shares climbing to a new all-time high this week.
For the fourth quarter, NFLX is expected to report adjusted earnings per share (EPS) of $0.41, up from $0.15 in the prior-year quarter, on revenue of $3.28 billion, up 32% year over year, according to third-party consensus analyst estimates. Over the past eight quarters, revenue has been roughly in line with estimates, while earnings came up a few cents short in the last two quarters.
Management said it expects contribution margin in the U.S. to decline from 35.8% in Q3 to 34.4% in Q4, as it increases marketing spend domestically, while they expect international contribution to increase from 4.7% to 7.4%.
As usual, analysts have been focused on the company's subscriber growth, wondering how it might be impacted after it raised prices for some of its services in early October. In the third quarter, NFLX reported it had added 5.3 million members, with a bulk of the adds coming from international subscribers, which exceeded management's guidance for 4.4 million net member additions. For the fourth quarter, management issued guidance it expects to add 6.3 million subscribers—1.25 million in the U.S. and 5.05 million internationally.
Over the years, more streaming services have come onto the market, which has been a topic that has come up regularly on the earnings call. Unlike traditional cable, however, consumers often have more than one streaming service. In a 2017 study by IBB Consulting, 33% of respondents said they use two streaming services and 18% said they use three or more.
In August, Walt Disney Co (NYSE: DIS) announced it would be launching two of its own streaming services and end its distribution agreement it had with NFLX for Disney and Pixar movies. DIS also recently announced it would acquire parts of 21st Century Fox (FOXA) for $52 billion, making it the majority owner of streaming service Hulu. If previous earnings calls are any indication, analysts are likely to have a few questions for NFLX management about that deal.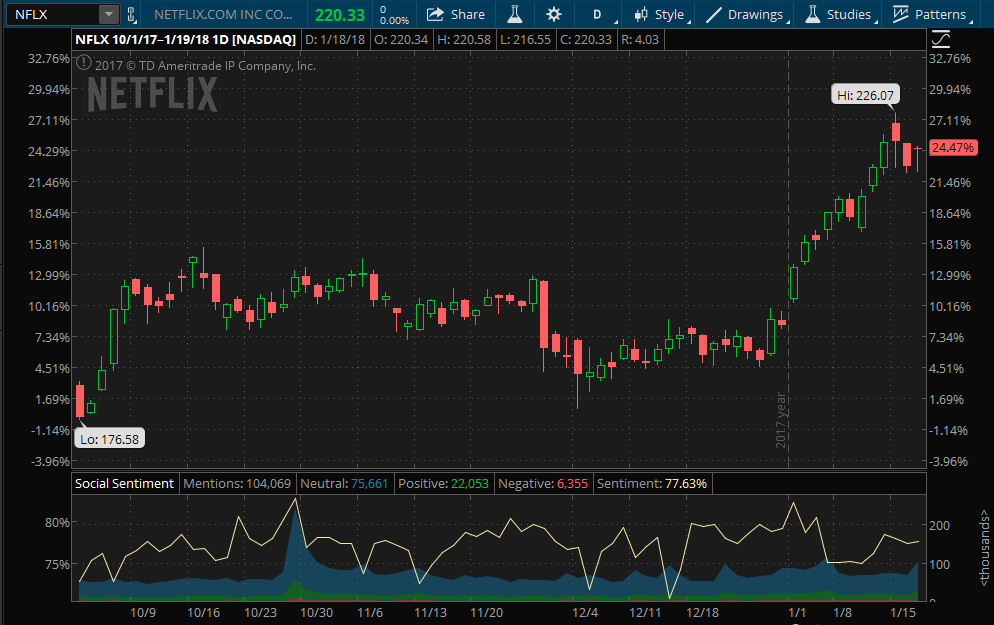 NETFLIX STOCK AND SOCIAL SENTIMENT. NFLX was trading in a tighter range throughout the fourth quarter, but since the start of the new year shares jumped higher to hit a new all-time high of $226.07. The bottom chart shows the company's Social Sentiment, which allows TD Ameritrade clients to view the number of social mentions (positive, negative, neutral) for a company, as well as the overall percentage of positive sentiment for the company. Chart source: thinkorswim® by TD Ameritrade. Not a recommendation. For illustrative purposes only. Past performance does not guarantee future results.
Netflix Options Trading Activity
After a 50.57% increase in 2017, NFLX climbed higher to hit a new all-time high of $226.07 on Jan. 16, but shares have since pulled back slightly to around the $220 level. Options traders have priced in about an 8% potential stock move in either direction around the upcoming earnings release, according to the Market Maker Move indicator on the thinkorswim® platform. After the stock's recent rally to new all-time highs at the start of the year, implied volatility is on the high end ahead of Monday's report and is at the 85th percentile as of this morning.
In short-term trading at the January 26 weekly expiration, calls have been active at the 220 and 230 strike prices. For the at-the-money 220 call, 2,499 contracts traded hands during yesterday's trading session, compared to 655 contracts at the 230-strike call. Volume has been lighter and a little more spread out on the put side, with more activity at the 210 and 215 strike prices.
Looking further out at the February 16 monthly expiration, trading has also been heavier for calls at the 220 and 230 strike prices, with open interest of 9,018 and 6,172 contracts respectively, whereas puts have been active at the 210 strike with open interest of 3,886 contracts.
Note: Call options represent the right, but not the obligation, to buy the underlying security at a predetermined price over a set period of time. Put options represent the right, but not the obligation to sell the underlying security at a predetermined price over a set period of time.
Looking Ahead
Next week many of the major Dow components are slated to report quarterly results. Johnson & Johnson (NYSE: JNJ), Procter & Gamble Co (NYSE: PG) and Verizon report before the open on Tuesday, Jan. 23, General Electric Company (NYSE: GE) reports before the open on Wednesday, Jan. 24, Caterpillar Inc. (NYSE: CAT) reports before market open on Thursday, Jan. 25 and Intel Corporation (NASDAQ: INTC) reports after close the same day.
The following week is tech-heavy, with reports from Microsoft Corporation (NASDAQ: MSFT), Facebook Inc (NASDAQ: FB), Apple Inc. (NASDAQ: AAPL), Alibaba Group Holding (NYSE: BABA) and Alphabet Inc (NASDAQ: GOOGL) scheduled to report. To see what else is happening across markets, make sure to check out today's market update.
Posted-In: JJ Kinahan The Ticker TapeEarnings News Options Markets Tech
View Comments and Join the Discussion!