Earnings To The Rescue? Wal-Mart, Cisco Results Might Help Revive Ailing Market
Earnings might come to the rescue Thursday as two key companies outpaced Wall Street's expectations and sent stock futures indices higher before the opening bell. Also on tap today: A possible tax vote in the House and a lineup of Fed speakers.
Wal-Mart Stores Inc (NYSE: WMT) delivered what looked like a blowout quarter, helping turn the mood around slightly in the early going after Wall Street's recent retreat. The company beat analysts' top- and bottom-line estimates, and, perhaps more importantly, grew its U.S. e-commerce business by 50%. The grocery business also appeared pretty good, and it was encouraging to see same-store sales up. It looks like the company continues to weather the online onslaught pretty well.
One thing that's tripped up some big retailers this earnings season is guidance, but that doesn't seem to be the case with WMT. The company raised its full-year earnings per share estimates, and said it expects "a solid performance for the important holiday season." Competitor Target Corporation (NYSE: TGT) saw shares fall yesterday after the company forecast a "highly competitive" Q4 environment. WMT shares rose in pre-market trading.
Something people might want to ask themselves as they see strong earnings from Amazon.com Inc. (NASDAQAMZN) and WMT is, "Who's suffering?" For instance, L Brands Inc (NYSE: LB) saw same-store sales fall during the quarter. It looks like there may be a shuffling of the deck going on here, with the biggest companies prospering while more and more of the little guys struggle. You may be seeing a two-party system. That's the only negative from the AMZN and WMT results.
Cisco Systems Inc. (NASDAQ: CSCO) was another name on the upswing in pre-market trading Thursday after the company beat Wall Street's earnings expectations. Here's an example of an under-the-radar stock, one of the darlings of the 1990s, still out there putting up great numbers. The company's security software sales looked really impressive. Intel Corporation (NASDAQ: INTC) is another one of the big 1990s names that's not talked about as much but continues to do well.
On the less positive side, Best Buy Co Inc (NYSE: BBY) shares fell more than 4% in pre-market trading after missing analysts' revenue expectations amid weaker-than-expected mobile phone sales and hurricane-related pressures. BBY also offered a holiday season outlook that disappointed some on Wall Street, Reuters reported.
Before today, stocks had been stumbling into Thanksgiving season, falling four days out of the last five. However, the downtrodden financial sector actually perked up a little on Wednesday. Whether that's the start of anything or simply a one-day reprieve remains to be seen. This morning's strong futures market action followed rebounds in Europe and Asia overnight.
Eyes could turn toward Washington, D.C., today, where the House might vote on tax legislation. This topic continues to captivate Wall Street, but also keeps it a little uneasy. Today's vote could grab some headlines, and represents nice progress. But there's still a long way to go.
On the data side, today brings industrial production for October, not typically a report that draws much attention. Yesterday's reports showed consumer prices rising just 0.1% in October and year-over-year core consumer prices up 1.8% — an improvement from 1.7% the previous five months. Retail sales rose 0.2% in October, a little better than expected. However, none of those numbers hit the ball out of the park.
Other things to watch today include volatility (see below) and a scheduled speech at 3:45 p.m. ET by Fed Governor Lael Brainard, who's talking at a conference on financial stability at the University of Michigan. Other Fed speakers today include Dallas Fed President Robert Kaplan and Cleveland Fed President Loretta Mester. Language from most of the recent Fed speakers hasn't really rocked any boats, indicating the likelihood of another rate hike next month and alluding to inflation remaining under the Fed's 2% target.
Crude oil keeps sinking, though the front month futures contract retraced some of its early losses to stay above $55 a barrel Wednesday. U.S. oil stockpiles and production both rose last week, as did U.S. gasoline stocks, all when analysts had been expecting draws. Daily U.S. oil production climbed above 9.6 million barrels.
It looks like sustained prices above $50 a barrel the last six weeks or so had U.S. producers turning on the taps to full steam. Just a few days ago, there was talk that some of the transport stocks like airlines, trucking, and railroad companies might face pressure from rising fuel costs, but now that doesn't look as certain. One thing investors might want to remember, assuming this production and price trend continues, is to keep a close eye on the $50 level. It seems to represent a kind of inflection point.
One company that's struggled in part due to low energy prices over the last few years is General Electric (GE), whose recent 50% dividend cut raised concern among some investors who depend on dividends from GE and other companies. Though GE's troubles drew a lot of attention, remember that other large dividend-paying companies are generally doing well. One company isn't the whole market, and the squeaky wheel tends to make the most noise on the financial news networks.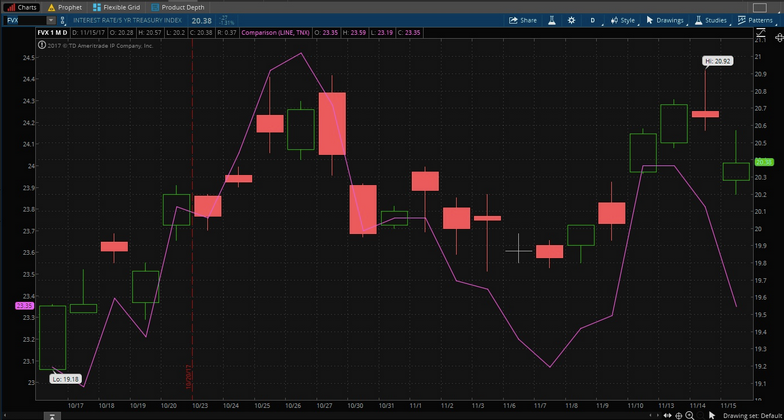 FIGURE 1: CLOSING THE GAP. This one-month chart shows how the five-year Treasury bond yield has basically held ground even as the 10-year yield (purple line) tumbled from its October highs. The gap between the two, which had been around 40 basis points in late October, is down to 30 now, illustrating how the yield curve has flattened. Data source: CME Group. Chart source: The thinkorswim® platform from TD Ameritrade. For illustrative purposes only. Past performance does not guarantee future results.
Word of the Day is "Resilient"
If there's one word this year's U.S. stock market brings to mind, it's arguably "resilient." Since May, the S&P 500 Index (SPX) has fallen 1% or more several times, and each time didn't take long to bounce back. Although past isn't precedent, keep those earlier recoveries in mind as the SPX struggles, down more than 1% Wednesday from its recent all-time peak of 2597 recorded on Nov. 7.
Let's look at a few other instances where the SPX plunged 1% or more this year and see what happened next. The last 1% drop occurred between Oct. 23 and Oct. 25, when the index fell 1.3%. By Oct. 27, it was back above its Oct. 23 high, and up 1.4% from its Oct. 27 low. Before that, the SPX fell almost 3% between Aug. 8 and Aug. 21, but by Sept. 12 had rallied more than 3% from the low to back above its old Aug. 8 peak. Between June 19 and June 29 the SPX fell nearly 2%, but rose 2.4% to top its June 19 levels just over two weeks later. Another instance occurred in late May. See a pattern there? There's no guarantee of a repeat, of course, but it does seem like whenever the market has stepped back this year, it's found buyers. And it's never fallen too far from peaks. That might serve as an argument against panic at this juncture.
Safety Check
Previous resiliency, however, doesn't mean investors should feel comfortable getting too far out over their skis. A sharp rise in volatility this week could indicate possible rocky waters ahead. The reasons are multifold, and include a lot of the factors we've discussed including uncertainty surrounding possible tax reform, as well as crude oil's struggles and the flattening yield curve. With Thanksgiving and the holidays ahead, now could be a good time to check allocations in your portfolio and make sure you're comfortable with the balance between equities and fixed income.
Hold On For Housing Starts
The final data this week are tomorrow's building permits and housing starts, both due before the opening bell. Economic numbers have been a mixed bag over the last few days. Producer prices rose 0.4%, perhaps a sign of economic activity ramping up, but Empire Manufacturing disappointed, and neither retail sales nor consumer prices put in a really great showing, as we mentioned above. Building permits for October are expected to rise to 1.243 million on a seasonally adjusted basis, according to a Briefing.com consensus of analysts, with housing starts climbing to 1.198 million. The question going in, Briefing.com said, is whether permits and starts can recover from hurricane-related weakness in September.
Posted-In: JJ Kinahan TD Ameritrade The Ticker TapeEarnings News Commodities Federal Reserve Markets
View Comments and Join the Discussion!