Apple Earnings Preview: Services And Upcoming iPhones In Focus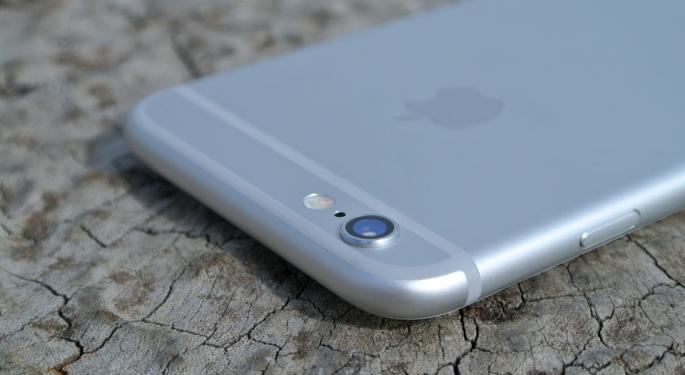 Apple Inc (NASDAQ: AAPL) reports fiscal third-quarter earnings on August 1 after market close. While the company's earnings are always an important event for shareholders, many analysts and investors have shifted their attention towards Apple's upcoming iPhone launches for the smartphone's 10th anniversary.
When the company reported earnings last quarter, CEO Tim Cook said "we're seeing what we believe to be a pause in purchases of iPhone, which we believe are due to the earlier and much more frequent reports about future iPhones." And Drexel Hamilton analyst Brian White wrote in a recent note that "in our view, Apple's quarterly results and outlook will be less important this week as investors are focused on the iPhone 8 this fall."
Historically, the company has reported that iPhone sales have been softest in the third quarter since 2012, when it started launching new iPhones in September. Regarding the future iPhone launches, many analysts have said they will be looking to see what kind of guidance Apple management provides for upcoming quarters to see what their expectations are for sales of the company's flagship phones.
The company's iPhone sales tend to be a primary focus among analysts because they generate a majority of the company's revenue. In fiscal 2016, the iPhone accounted for 63% of revenue, while the iPad and Macs accounted for 10% and 11%, respectively. In recent quarters, the company has reported declining iPad sales while revenue from its Mac computers increased 10% year over year, to $13 billion, in the first half of fiscal 2017.
Beyond the company's hardware, its Services business has been a focus for analysts as well. The Services segment includes iTunes and the App Store, and Apple reported $14.2 billion in revenue for Services during the first half of fiscal 2017, its second highest segment by revenue after iPhones. One way Apple has indicated that it hopes to boost its Services business is through the launch of new products, such as its HomePod speaker.
Another area many analysts have focused on is the company's cash balance. CFO Luca Maestri said the company ended the last quarter with "$256.8 billion in cash plus marketable securities", and that "$239.6 billion of this cash, or 93% of the total, was outside the United States". Due to that large overseas cash balance, CFRA analysts see Apple as one of the potential beneficiaries from President Trump's proposed one-time tax break on repatriated cash, which would allow them to pay lower income taxes when repatriating overseas profits.
Since 2012, Apple has been returning a portion of that cash to shareholders. Last quarter, the company announced that it would expand its program to return capital to shareholders by $50 billion and extend the timeframe by four quarters, bringing the cumulative total to $300 billion by the end of March 2019 At the end of the last quarter, Apple announced it has already returned $211 billion to shareholders under the program initiated in 2012. The board also approved an increase of 10.5% to the company's quarterly dividend, bringing the quarterly payment to $0.63 per share.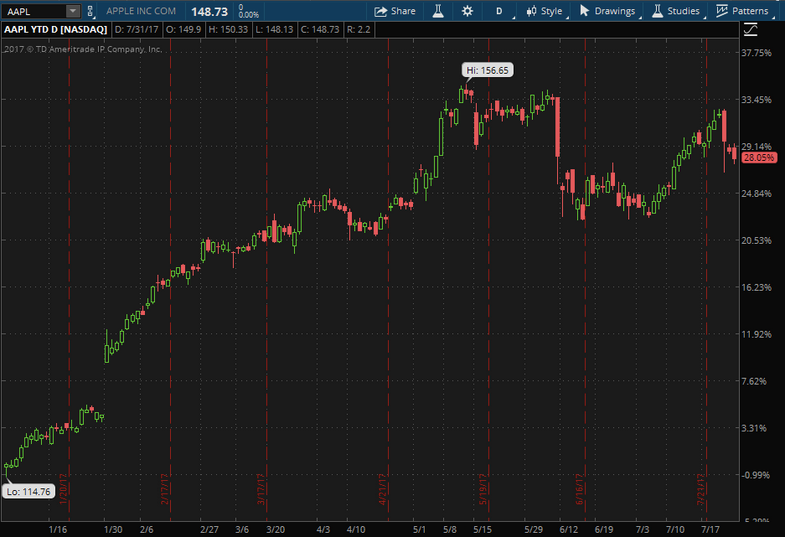 FIGURE 1: OFF FROM MAY HIGHS. Apple's (AAPL) stock hit an all-time high of $156.65 on May 15. It mostly recovered from the tech selloff in June, but has declined in the past several trading days leading up to earnings. So far this year the stock has increased 28.05% compared to the S&P 500's (SPX) 9.41% gain. Chart source: thinkorswim® by TD Ameritrade. Data source: Standard & Poor's. Not a recommendation. For illustrative purposes only. Past performance does not guarantee future results.
Apple Earnings and Trading Activity
For the fiscal third quarter, Apple is expected to report earnings of $1.57 per share, up from $1.42 in the year-ago period, on revenue of $44.71 billion, according to Wall Street consensus analyst estimates. Analysts expect revenues to grow 5.6% year over year, putting estimates right in the middle of Apple's guidance for revenue between $43.5 billion and $45.5 billion.
With the stock closing at $148.73 yesterday, options traders have priced in about a 3% potential price move in either direction around Apple's upcoming earnings release, according to the Market Maker Move indicator on the thinkorswim® platform.
In short-term trading at the August 4 expiration, calls have been active at the 152.5 and 155 strike prices, while puts have been active at the 140 and 145 strikes. As of this morning, the implied volatility sits at the 88th percentile.
Note: Call options represent the right, but not the obligation, to buy the underlying security at a predetermined price over a set period of time. Put options represent the right, but not the obligation to sell the underlying security at a predetermined price over a set period of time.
Looking Ahead
Next up in earnings this week, Tesla Inc (NASDAQ: TSLA) reports second-quarter results tomorrow after market close. And if you have time, make sure to check out today's market update to see what else is happening.
Posted-In: JJ Kinahan TD AmeritradeEarnings News Previews Options Markets Trading Ideas
View Comments and Join the Discussion!