Netflix Earnings Preview: What Might Be Expected From Q2 2017?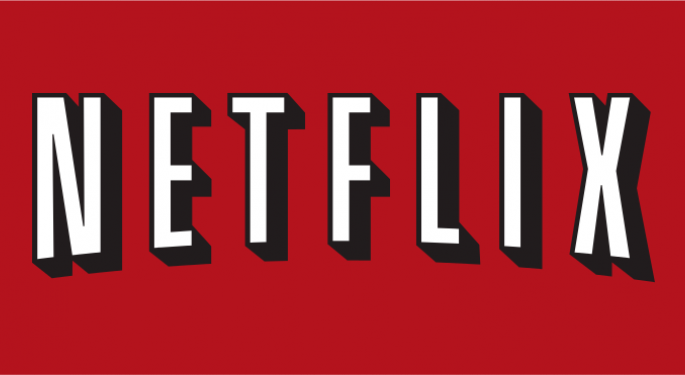 Streaming giant Netflix, Inc. (NASDAQ: NFLX) reports second-quarter earnings after market close Monday, July 17, just a little over a month after hitting an all-time high of $166.87. The stock subsequently declined with the broader tech sector, but has rallied in recent weeks. As in previous quarters' earnings, subscriber growth and content costs will likely continue to be two of the main focuses for analysts and traders who closely follow the stock.
As far as subscriber growth goes, historically the second quarter is a softer one, and CEO Reed Hastings has said in the past it is "generally a seasonally tight quarter for us." In the same period last year, the company added 1.7 million subscribers, and issued guidance it expects to add 3.2 million subscribers this quarter. Just a few months ago, the company announced it reached 100 million subscribers, shortly after reporting first-quarter results with 98.5 million subscribers.
Netflix's subscriber growth has been slowing in the United States, which some analysts believe is a sign the company is getting closer to domestic market saturation. As that has happened, many analysts have shifted their focus to international growth.
Among the companies providing video streaming services, Netflix isn't the only company focusing on international growth. In 2016, Amazon.com, Inc. (NASDAQ: AMZN) expanded its Prime Video service from four countries to more than 200 by the end of the year. To expand into China, Netflix signed a licensing deal with iQIYI, a video streaming subsidiary of Chinese search engine Baidu Inc (ADR) (NASDAQ: BIDU), after Chinese regulators blocked its operations in the country. As companies expand into new markets, not only do they need to compete with other companies trying to do the same, but they also have local competitors to worry about.
Subscriber growth, both domestic and international, hasn't come cheap for video streaming companies. The amount spent on original content has continued to grow as flagship shows can help attract and retain subscribers (HBO's Game of Thrones, Netflix's House of Cards, etc.) By some estimates, Amazon is expected to spend roughly $4.5 billion this year on original content, and Netflix announced last year it plans to spend $6 billion this year. HBO's content budget is estimated to be close to the $2 billion mark, and Hulu CEO Mike Hopkins said his company plans to triple its original content investments.
Creating original content hasn't always worked out. Both Amazon and Netflix have cancelled several shows that didn't resonate with their viewers. Netflix cancelled The Get Down after one season, which cost more than $120 million to produce, and has also axed other shows including Marco Polo, Sense8 and Girlboss. Amazon cancelled Hand of God, Mad Dogs, Good Girls Revolt, and a few others.
Original content has helped attract new subscribers, but there's plenty of competition and content budgets have continued to increase. On top of that, Alphabet Inc (NASDAQ: GOOG) (NASDAQ: GOOGL), Apple Inc. (NASDAQ: AAPL), Facebook Inc (NASDAQ: FB) and others have all started to explore creating their own video content. The ongoing battle has been frequently dubbed a content "arms race" as cable companies work to keep customers from cutting the cords, and streaming services battle for new subscribers.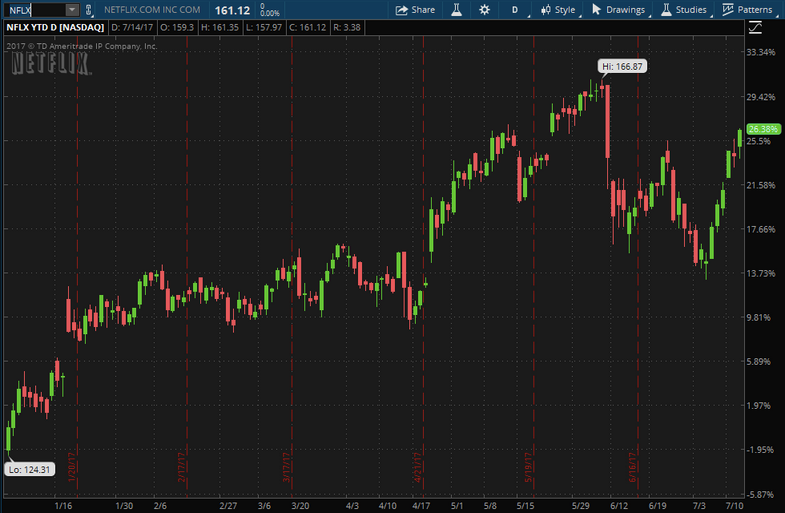 FIGURE 1: BOUNCING BACK? Netflix, along with the broader tech sector, sold off in the beginning of June has been volatile in trading over the past several months. After rallying over the past two weeks, it is up 26.38% year-to-date. Chart source: thinkorswim® by TD Ameritrade. Data source: Standard & Poor's. Not a recommendation. For illustrative purposes only. Past performance does not guarantee future results.
Netflix Earnings and Trading Activity
Netflix is expected to report earnings of $0.16 per share, up from $0.09 compared to the same period last year, on revenue of $2.76 billion, according to third-party consensus analyst estimates. Last quarter, the company reported earnings of $0.40 per share on revenue of $2.64 billion.
Looking at options trading activity, short-term options traders have priced in just over a 7% potential stock move in either direction around the earnings release, according to the Market Maker Move™ indicator on the thinkorswim® platform. At the July 21 monthly expiration, calls have been active at the 160 strike price, with a pretty high open interest, while puts have been active at the 150 strike. The implied volatility sits at the 54th percentile.
Note: Call options represent the right, but not the obligation, to buy the underlying security at a predetermined price over a set period of time. Put options represent the right, but not the obligation to sell the underlying security at a predetermined price over a set period of time.
Looking Ahead
After last week's round of financial sector earnings, big banks take the stage again this week with Bank of America Corp (NYSE: BAC) and Goldman Sachs Group Inc (NYSE: GS) reporting before market open tomorrow, and Morgan Stanley (NYSE: MS) before market open on Wednesday.
Posted-In: JJ KinahanEarnings News Previews Options Markets Tech Trading Ideas
View Comments and Join the Discussion!