Semiconductor Companies Expected To Fuel Growth In Tech Sector Earnings This Quarter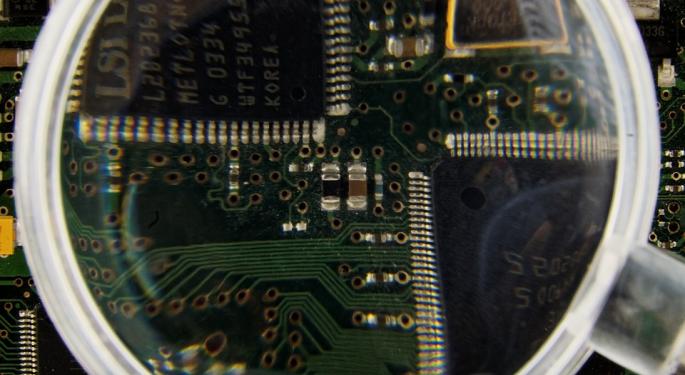 The S&P 500 Technology Select Sector Index (IXT) saw its largest daily drop in early June due to rising concerns regarding the sustainability of the tech rally. Despite the recent pullback, the information technology sector remains one of the best-performing sectors in the S&P 500 (SPX) with a 13.4% year-to-date increase, compared to a 7.4% increase in the SPX.
Looking at upcoming earnings, projections are high for the sector with low double-digit earnings growth expected by Wall Street analysts. Results coming out over the next several weeks could help support the rally, or give fuel to the bears saying tech stocks have gotten ahead of themselves. First, we'll take a look at what might be expected for Q2 earnings, and then what's been happening in the sector lately.
Information technology companies in the SPX are expected to report 10.5% year-over-year earnings growth, the second highest behind the energy sector, according to FactSet. Of the seven industries in the sector, their research projects that semiconductor and semiconductor equipment industry will report the highest earnings growth (41%). If it is excluded, the expected earnings growth for the sector rate would drop to 4.3%.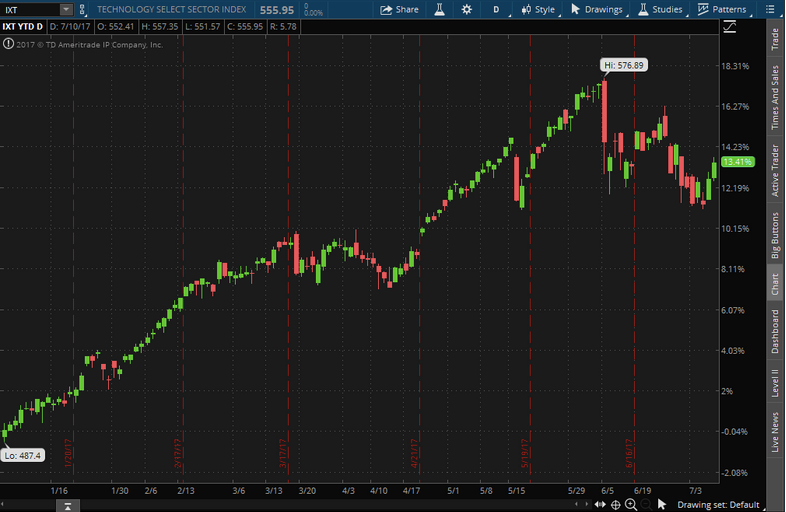 FIGURE 1: RECENT PULLBACK. The S&P 500 Technology Select Sector Index (IXT) dropped at the beginning of June as prominent Wall Street analysts expressed concerns about the sustainability of the tech rally. After the pullback, the IXT is up 13.4% year-to-date. Chart source: thinkorswim® by TD Ameritrade. Data source: Standard & Poor's. Not a recommendation. For illustrative purposes only. Past performance does not guarantee future results.
Cyclical Semiconductor Industry
Semiconductors are important technological components used in industrial equipment, automobiles, smartphones, connected devices, and more. Some of the companies in the industry include: Nvidia Corporation (NASDAQ: NVDA), Intel Corporation (NASDAQ: INTC), Micron Technology, Inc. (NASDAQ: MU), and Advanced Micro Devices, Inc. (NASDAQ: AMD).
Demand for different types of semiconductors can be highly cyclical depending on technological trends. As more devices are connected, industrial process are automated, and cloud computing grows, demand is expected to increase for certain types and decline for others (for example, semiconductors used in PCs have been declining as more consumers use mobile devices, according to research firm Gartner).
Another thing to consider is that the prices of certain stocks in the industry have increased substantially over the past several quarters. And considering FactSet's expected earnings growth of 41%, not only could that growth be distributed unevenly across the industry, but high-flying stocks might see heightened volatility if earnings miss expectations.
Overlapping Focus on Big Technologies
As companies get larger, they often need to enter new markets, and expand their products and services to continue to grow. That's one of the factors at play in the tech sector as companies focus on artificial intelligence, self-driving cars, cloud computing, and other technological shifts.
Looking at some of these trends, there are hundreds of companies involved in different aspects. For example, Apple Inc. (NASDAQ: AAPL), Alphabet Inc (NASDAQ: GOOGL) (NASDAQ: GOOGL), Intel, and Nvidia are just some of the companies working on self-driving cars. In cloud computing, Amazon.com, Inc. (NASDAQ: AMZN), Alibaba Group Holding Ltd. (NYSE: BABA), Oracle Corporation (NYSE:ORCL), Microsoft Corporation (NASDAQ: MSFT), International Business Machines Corp. (NYSE: IBM), and salesforce.com, inc. (NYSE: CRM) are just some of the players. And Facebook Inc (NASDAQ: FB), GOOGL, AMZN, NVDA, and plenty others are working on artificial intelligence.
Businesses and Consumers Ready to Spend on Tech?
High levels of consumer and business confidence could translate into increased expenditures on technology. If consumers are optimistic about their financial situations, they might be spurred to upgrade their phones, buy smart devices for their homes, and more.
On the business side, in this day and age companies spend money on technology—software, automation, new computers, etc.—to remain competitive. 53% of companies surveyed recently by Evercore ISI said they expect to increase tech spending in 2017, the highest level since 2011.
Looking Ahead
Most of the biggest companies in the sector release earnings over the next several weeks. Here's when they are reporting: IBM on July 18 before market open, MSFT on July 20 after market close, GOOGL on July 24 after market close, FB on July 26 after market close, INTC on July 27 after market close, and AAPL on August 1 after market close. Some of the other companies have yet to confirm release dates, but they're expected to report in late July and early August.
Posted-In: JJ KinahanEarnings News Previews Options Markets Tech Trading Ideas
View Comments and Join the Discussion!