Market Awaits Telling Economic Data On Approach To Long Weekend
Last week's blow to oil and the sideways trading during most market sessions may see a repeat this week as investors prepare to wind down for the long 4th of July weekend.
There's not a lot in the pipeline this week that would typically drive trading, but a handful of reports on the dockets might have some impact. That starts today with the Commerce Department's monthly report on durable goods, widely considered a reflection of business and consumer confidence translated into spending. It also might offer some insight on whether the resurgence we've seen in the manufacturing sector earlier this year is still moving forward.
In April, the orders for long-lasting goods like airplanes and appliances slipped 0.7%, its first pullback in five months. Has that improved? Also of note might be the direction of what's called "core" capital goods, which is a category used to get a read on gross domestic product, of major interest to the Federal Reserve. That dipped 0.1% in April.
Some analysts speculated then that the decline in corporate investment might have been tied to businesses' need for clarity on whether promised corporate tax reform and other related issues could materialize. They also reasoned then that a 9.2% drop in bookings for large commercial aircraft, for example, may have been a result of the double-digit percentage gain in March. We'll see how those issues unfolded in May.
Investors will get a read on expectations for U.S. economic activity in Q2 with the third estimate for gross domestic product (GDP) on the books for Wednesday. Various models of expectations are largely seeing a softer Q2 forecast with the economy heating up in the second half of the year. The official GDP report is slated for a late July unveiling.
It might be prudent to keep an eye on consumer sentiment, which has been slipping in recent months after some strong moves forward earlier this year. The Conference Board reports the results on Tuesday. It might be worth noting that though the numbers retreated slightly in April and May, they're still hovering around 10-year highs.
Personal income and spending are scheduled for Friday, as is the important personal consumption index, a pet inflation measure for the Fed. All these figures have traditionally gauged the mindset of the consumer and future demand. The thinking, of course, is if people have and/or believe they have more disposable income, they tend to be more likely to spend it.
Big earnings on the scoreboard this week include Nike Inc (NYSE: NKE), General Mills, Inc. (NYSE: GSI), and Darden Restaurants, Inc. (NYSE: DRI).
In midday trading on Friday, Baker Hughes' report that the number of active oil rigs climbed for a record 23 weeks appeared to pare earlier gains in oil prices, which were still on track to log the biggest first-half loss in two decades. We'll get another appraisal on supply when the U.S. Energy Information Administration (EIA) releases its weekly account of commercial crude inventories on Tuesday.
If the sideways trading we saw in the markets midday Friday took a major swing in the last minutes of trading, investors might not want to be too alarmed. The Russell indexes were rebalanced to better reflect the market trends, and that typically has led to wild swings and heavy volume amid a flood of late-day program trading. It should be back to business now.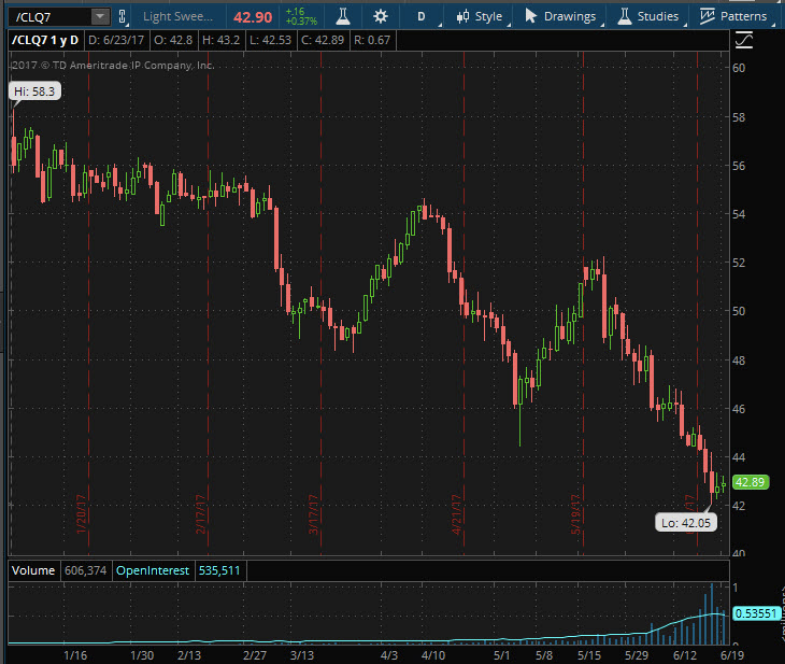 FIGURE 1: WHERE WILL CRUDE FLOW THIS WEEK? Crude oil future contracts, tracked through midday Friday on the thinkorswim® platform from TD Ameritrade, continued to waddle in bear market territory even with a little uptick. Barring any major moves, oil prices are on track to end the first half of the year with the biggest loss in two decades. Data source: CME Group. For illustrative purposes only. Past performance does not guarantee future results.
Stress Tests Part 2
The nation's largest banks passed the first leg of the Federal Reserve's annual stress tests with flying colors last week, the Fed said, meaning they have the capital on hand to survive a severe financial collapse. On Wednesday, they'll find out if they did as well on the second half of the test, called the Comprehensive Capital Analysis and Review (CCAR).
If so, the big banks have indicated they hope they get the OK to increase stock-buyback programs and increase dividends to shareholders. A Morgan Stanley analyst has estimated that banks going through the stress tests have roughly $150 billion more capital than they need—enough to fuel 27% more stock repurchasing programs and spike dividends by 8%. One good grade does not guarantee another, analysts said. Stay tuned.
Speaking of Share Repurchases
Corporate buyback programs are on the decline, according to S&P Dow Jones Indices, which points to the surge in stock prices as the primary cause.
Preliminary results show that S&P 500 stock repurchases have slipped 1.6% to $133.1 billion in Q1 from the previous quarter when they were at $135.3 billion. They're down 17.5% from $161.4 billion in the year ago period. For the 12-month period that ended in March, S&P 500 issues spent $508.1 billion on buybacks, down 13.8% from $589.4 billion for the prior 12-month period, which marked an all-time record.
More Trouble for Retailers
As if the retail industry wasn't already battling with disruptors, it appears to be facing a rising incidence of "shrinkage," the industry's reference to the various levels of theft.
Noting that security budgets for retailers have been flat or falling, the National Retail Federation (NRF) said "shrink" expanded by 8.2% in 2016 to $48.9 billion. That represents 1.44% of total sales, up from 1.38% in 2015. The biggest culprits: shoplifters and organized crime, filching products worth an average of $798.48, a jaw-dropping jump of 112% in one year. Employee theft also surged, up 55%, to an average loss of $1,922.80, according to NRF.
View Comments and Join the Discussion!
Posted-In: JJ KinahanEarnings Commodities Previews Retail Sales Buybacks Econ #s Markets