Deere Delivers Welcome Distraction From Politics With Strong Earnings Data
Earnings season is nearly over, but the end of the week brought a new batch of quarterly reports and strong data that could help distract the market from politics.
Deere & Company (NYSE: DE) beat Wall Street analysts' expectations on both the top and bottom line, a positive sign for the industrial sector and perhaps the economy as a whole. Other companies reporting since yesterday's close included retailer Gap Inc (NYSE: GPS), which bucked the downward retail trend with better-than-expected results, and Foot Locker (FL), which came in below estimates.
The word from DE is positive this time out after several quarters in which it cited soft markets for its products. DE said it saw improving demand for farm and construction goods along with "stabilization" in its key markets. Earnings from DE and Caterpillar Inc. (NYSE: CAT) arguably deserve some extra attention from investors because their farm and construction equipment products are so expensive that they can serve as proxies for the broader economy. If you're getting one of these products, it's a big investment, so when DE and CAT are going well, it's often an indication that the economy is also humming along.
Other earnings this week also put a better spin on recent economic performance, with both Target Corporation (NYSE: TGT) and Wal-Mart Stores Inc (NYSE: WMT) looking pretty good for the most part, though WMT just missed top-line expectations. The strong performances from TGT and WMT, with major growth in online sales at WMT a particular highlight, could wash away the sour taste from last week's mostly disappointing department store earnings. They also reinforce ideas that perhaps the department stores are dealing with issues that affect their industry but not so much the economy as a whole.
As this turbulent week winds down, it could be interesting to see if people start to lighten up on risk heading into the weekend. One way to evaluate if that's happening is to watch a few major markets. If gold, VIX, and bonds start to rally late in the day while stock values fall, it could be a sign.
Volatility pulled back a little early Friday as VIX fell below 14, but it remains well above recent levels as concerns about leadership in Washington continued to create concern on Wall Street. The anxiety doesn't appear to be so much about the investigations of political figures as it is about the possible effect on policy. The market has really run up not only on the back of strong earnings, but also on expectations for a tax cut. At this point, there are questions about whether that can happen.
Financials, which got taken to the woodshed Wednesday in part because financial companies could be among the biggest beneficiaries of tax reform, recovered slightly on Thursday along with the rest of the market. Telecom and info tech led the pack, but almost every sector put in a positive performance as buying interest cropped up starting early in the day (see below).
Almost lost amid the political excitement and yesterday's rally, economic news maintains a positive tone. Jobless claims yesterday were the lowest in 20 years, and the Philadelphia Fed Index blew away expectations (see below).
Despite Wednesday's steep losses, stocks remain much higher this year, with the S&P 500 Index (SPX) still up nearly 6% and the Nasdaq (COMP) up more than 12%. But markets don't move in straight lines, and sell-offs do happen, as this week reminded everyone.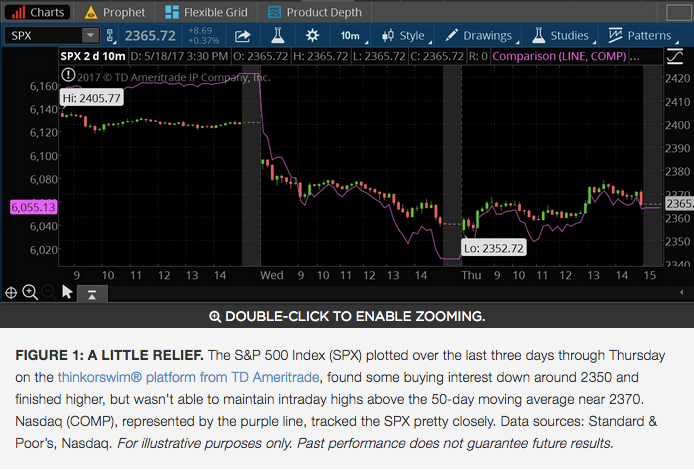 Freedom in Philly
If you're seeking positive news in this shaky week, look no further than Thursday's Philadelphia Fed Index for May. Manufacturing in the region perked up big time, with the index rising to 38.8. That was about double the consensus expected by Wall Street analysts, and represented the second highest reading for the index since January 1984, according to Briefing.com. While the data indicate that regional manufacturing firms look for growth to continue, there were some warning signs, as both new orders and prices paid dipped. Most of the strength came from the shipments index. April durable orders data due May 26 is another chance to get a read on the manufacturing sector.
Clock Watching
As we noted yesterday, it's important to keep an eye on the first half hour of trading when the market comes back the next day from a big move. Sometimes those early minutes can set the tone for the rest of the session. And sure enough, the S&P 500 Index (SPX) appeared to find some buying interest in the first 30 minutes Thursday after it dipped to near technical support that lies just under 2350. Some sectors that ticked up early in the day included info tech and consumer discretionary, two of the most beaten-down sectors on Wednesday.
Missing Data
We're entering a data lull here, with nothing on the calendar today or Monday. The next economic data point is new home sales on Tuesday. That means there's not much, other than earnings reports, for the market to hang its hat on. While normally investors might welcome some peace and quiet, the lack of data today and Monday could give people more time to watch for news from Washington. Perhaps it might be quieter there in coming days now that the president is on a foreign trip and a special prosecutor is in place, but trading could be jittery today because there's simply so little news once the market is opens. With that in mind, investors might want to take a careful approach.
View Comments and Join the Discussion!
Posted-In: JJ Kinahan TD Ameritrade The Ticker TapeEarnings Retail Sales Econ #s Markets