Retail's Last Hope: Store Credit Card Profits?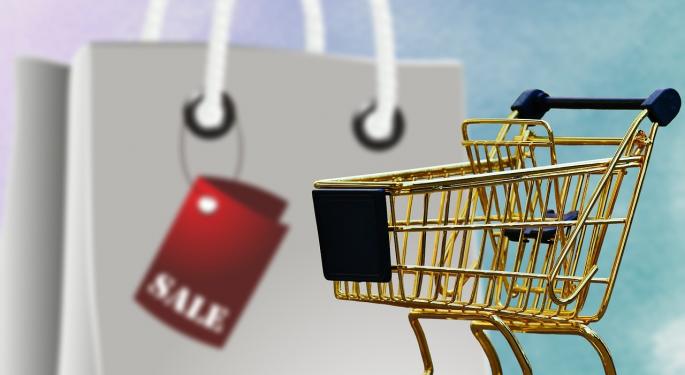 The financial struggles of American retailers were underscored by quarterly earnings reports from companies in the space.
The Trends In Retail Stocks
Shares of J C Penney Company Inc (NYSE: JCP) were hammered on May 12, falling about 14 percent after JC Penney's reported a revenue miss. Ahead of JC Penney, Kohl's Corporation (NYSE: KSS) and Macy's Inc (NYSE: M) also reported lackluster revenue numbers.
After the retail space recovered following the Great Recession of 2007–2008, stocks in the sector peaked in mid-2015. Subsequently, the rally stalled and performance has trended downward since then.
Source: YCharts
Multiple Factors Of Hurt
The retail sector's struggles can be traced back to several factors, including the emergence of Amazon.com, Inc. (NASDAQ: AMZN) as a strong contender, offering the convenience of shopping anytime, anywhere and at competitive prices. Some of the sector's the issues may also have to do consumer attitudes: A government report released earlier this month showed the personal savings rate in the U.S. rose to 5.9 percent in March from 5.7 percent in February.
Even as brick-and-mortar retailers suffer from industry-wide and company-specific issues, there is one avenue that has served to keep the companies fairly positive.
Store Cards: A Ray Of Hope
Retailers have gone out of their way to woo customers to sign up for their store cards, according to a report in the New York Times. Store cards are nothing but credit cards that can be used in one store or a chain of stores. Though a store card brings advantages such as bonus coupons, free gift wrapping, free shipping, exclusive financing offers and other rewards, they also bring pitfalls.
The New York Times noted that J. Crew offers card holders 15 percent off their first purchase, while Home Depot Inc (NYSE: HD) offers one year of "hassle-free" returns for card holders. A Macy's card offers savings of up to $100 for a two-day shopping spree. At the same time, store cards carry high interest rates and the credit limits are low.
A 2014 survey by Credit Cards.com showed that the annual percentage rate for a store card stood at 23.23 percent in 2014 — notably higher than a 13 percent APR for a fixed rate card and 15.6 percent for a variable rate card.
Cards Increase Profits, But Come With Risks
Income from store cards accounted for 39 percent of Macy's total profit of $1.9 billion in 2016, up from 26 percent in 2013, the Times report said, quoting Morgan Stanley. At Kohl's, income from store cards comprise 35 percent of earnings, up from 23 percent in 2013. Target Corporation (NYSE: TGT) gets 13 percent of its earnings from store cards compared to 11 percent in 2013. Amazon derives only about 3 percent of its total operating profit from credit cards.
The over-reliance of retailers on the store cards to beef up the bottom line presents a undeniable risk: Customers burdened with a high interest rate could default.
Synchrony Financial, which handles credit cards branded by stores such as Toys "R" Us and Wal-Mart Stores Inc (NYSE: WMT)'s Sam's Club, is now setting aside more money for bad loans, according to the NYT report.
Related Links:
Retail Wars Move From Online To In-Store As Wal-Mart Tests Cashierless Store To Rival Amazon
Posted-In: Amazon.com home depotEarnings Fintech News Guidance Tech Media Best of Benzinga
View Comments and Join the Discussion!