Retail Wars Move From Online To In-Store As Wal-Mart Tests Cashierless Store To Rival Amazon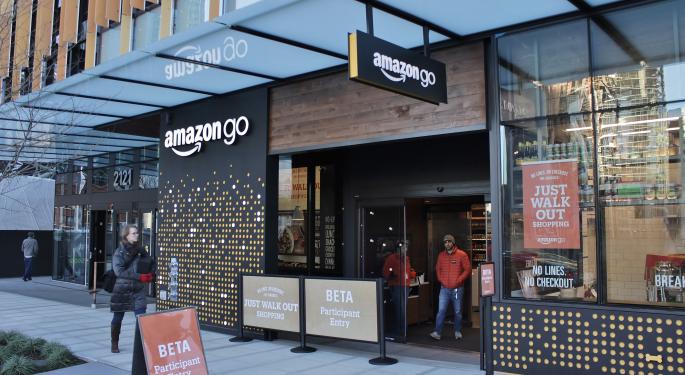 Traditional retailers are gearing up to take on the rivalry posed by online behemoth Amazon.com, Inc. (NASDAQ: AMZN).
As a step in the right direction, Wal-Mart Stores Inc (NYSE: WMT) announced in a blog last week it's testing new approaches in two recently owned supercenters in Tomball, Texas, and Lake Nona, Florida.
This is in a bid to appeal to customers, who are increasingly taking to digital-driven lifestyles.
Scan & Go: Valuing Customers' Time
Realizing customer time constraints, Wal-Mart has begun testing Scan & Go technology, which works both on personal smartphones and Wal-Mart provided handheld devices.
The Scan & Go wands and digital produce scales are available on the way into the store. A customer can pick up a scanner from a rack near the door and go about the store, picking up items he wants to purchase. The customer scans the items and then puts them into the shopping bags.
At the checkout, the customer needs to point the scanner at the kiosk, pay using the card and he will be done.
"The Scan & Go fast pass checkout lanes allow customers to bypass the traditional checkout process, which makes a quick trip faster than ever," Wal-Mart said.
The 5–7 minutes it takes to checkout with a cashier now shrinks to 32 seconds, an ABC report said.
How Does Scan & Go Compare To Amazon Go Stores?
Amazon began testing Amazon Go stores late last year in Seattle for groceries purchases in brick-and-mortar stores. The small-store concept was supposed to serve as small convenience stores rather than as a bigger grocery store. Though Amazon said the store concept would go live in early 2017, the rollout appears to be courting a delay.
The Go store concept works like this: Customers are provided with access to the stores after they wipe their Amazon Go App. Customers can go around shopping and scan the items they plan to buy using their smartphones and then walk out without having to wait in checkout queues. The items they place back after picking up will be deducted from their shopping cart. The bill or receipt will be sent via email.
A Forbes article, quoting a report, suggests that the buying process in the Go stores breaks down if more than 20 people shop in the marketplace at a time.
Once more customers enter the store or when they slow their movements, Amazon's technology can't easily track them and the purchasing process breaks down, the report said.
Apart from Scan & Go, Wal-Mart is also testing other boosted convenience approaches, such as:
New Layout: The company reimagined the layout based on customer shopping behavior. Services such as beauty salon and tech repairs were placed adjacent to relevant merchandise.
Smart Life: New interactive projection technology allows customers to learn about connected devices such as Alphabet Inc (NASDAQ: GOOG) (NASDAQ: GOOGL)'s Google Home, Apple Inc. (NASDAQ: AAPL)'s TV, Nest, baby monitors and connected thermostats.
Integrated Pickup: Shoppers can use the outside drive-thru to pick up not just their weekly groceries, but also their prescriptions and Walmart.com orders.
Extended Aisles: Interactive screens offer access to an extended curated selection of online-only items in almost 100 categories. Customers can order products, pay with the rest of their basket at checkout and pick up two days later.
Appointment Setting: This allows placement of orders, an interlude of time, and then the order pick up.
Related Links:
Should Wal-Mart Investors Be Concerned That Amazon Invited Food Execs To Its Seattle Office?
How Wal-Mart Can Beat Amazon: Copy What Amazon Does Best
_______
Image Credit: By SounderBruce (Own work) [CC BY-SA 4.0 (http://creativecommons.org/licenses/by-sa/4.0)], via Wikimedia Commons
View Comments and Join the Discussion!
Posted-In: ABC Amazon Go cashierless store Scan & GoNews Retail Sales Tech Trading Ideas Best of Benzinga