Netflix's Top Competitor Is...Sleep?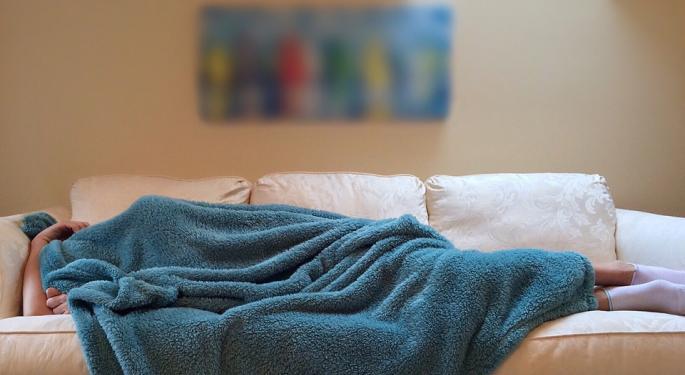 This article originally appeared on DriveWealth.
After years of being asked about HBO and Amazon.com, Inc. (NASDAQ: AMZN), Netflix, Inc. (NASDAQ: NFLX) CEO Reed Hastings has something very different to tell us about competition this time. Instead of competing in the vast market for entertainment streaming, Hastings has said that "there's room for everybody" in the market.
Hold up: room for everybody? Does this mean that Netflix is backing out of the race with its seemingly obvious competitors? Or maybe we've just been thinking about Netflix's competition in the wrong way. To many of us, as contemplative investors, we see HBO and Amazon as natural competitors. At face value, HBO has always been a big video streaming site and, we know that Amazon has begun pushing and creating video content of its own. So, it seems implicit that these companies would be competing with Netflix – for the same customers, amount of popularity, and usage time. And, what's the most important factor in winning this competition? Original content.
But, Hastings points out something very important: people who get HBO also get Netflix. And people who watch movies on Amazon also like to binge watch House of Cards and Orange Is the New Black (some very popular Netflix original shows, if you haven't heard of them). That's because each company comes up with its own good, original content. So, it seems that liking Netflix is not mutually exclusive from liking other video streaming channels. For this reason, Hastings says that the goal of Netflix is not to compete with other huge entertainment companies, but to improve its own content so much that it can compete with sleep.
Hastings cites one of the greatest things we've come to love about Netflix in saying, "you know when you watch a show from Netflix and you get addicted to it, and you stay up really late at night?" We do. Netflix wants to know: at what point do you put your computer down and actually go to sleep? This right here is the time that Netflix could be capitalizing on – the time where you feel as though you should go to sleep, but you really want to keep watching your favorite shows. And, if you think about it, that's a very large amount of time – especially considering the amount of active Netflix users. So, Hastings believes that Netflix is competing with this time – our sleep time – on margin. To him, if we spent even a little bit more of that time watching Netflix, it means that Netflix has beat out the competition for content. In other words, we would be most interested in Netflix because we would be more willing to sacrifice our sleep for it. By design, this means that competing with HBO and Amazon directly isn't worth as much of Netflix's time – because competing with our sleeping habits seemingly attacks the whole problem of content competition outright.
This is a very different kind of competition model than any we've seen before and, for that reason, we find it really interesting. It isn't often that you see CEOs cite consumer habits (instead of other big companies) as their main sources of competition. But, some of us are questioning it: could this model laid out by Hastings be more of a reaction to Netflix's sub-par Q1 earnings report? Or is Netflix really trying to consume our sleep time?
Hastings' statements regarding both Netflix and sleep came just after Netflix released its Q1 earnings, which seemed to fall flat compared to expectations. Many believe Netflix's earnings fell short because of the company's current lack of a big fan-favorite show. Essentially, Netflix's original content isn't interesting users as much right now (especially since House of Cards has yet to return to the computer screen with its newest season), so customers are streaming shows less. Some skeptical investors believe that Hastings' interview – stating that Netflix is not competing with HBO and Amazon – is just a method to mitigate the fears of investors, as they see Netflix being used less this quarter.
What do you think? Do you buy the fact that Netflix is actually competing with our sleep time? Or, do you think that this competition for our sleep time shows an inherent competition with HBO and Amazon, who must also be competing for this time? Keeping up with the stocks of these companies – and their reactions to one another's shifts – may be telling. Remember: Netflix's interpretation of its own competition matters much less if investors aren't convinced.
Posted-In: DriveWealthEarnings Psychology Topics Markets Tech General
View Comments and Join the Discussion!