CSX Delivers Q1 Beat, Meanwhile New CEO Brings Both Changes And Challenges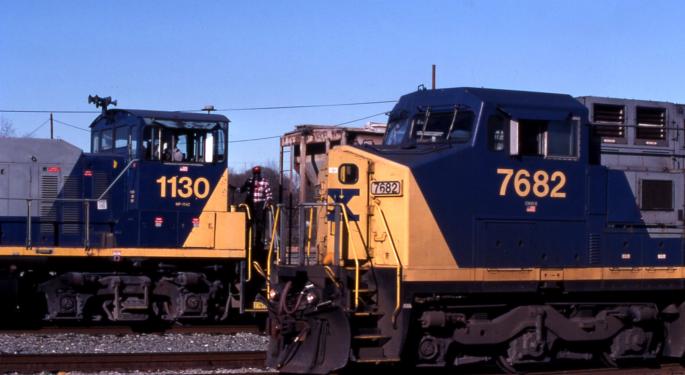 Close on heels of stellar first-quarter results from CSX Corporation (NASDAQ: CSX), Raymond James upgraded its rating on the shares of the company to Outperform from Market Perform. The firm has a new $55 price target for the shares.
Raymond James, as well as Loop Capital Markets in a separate note, looked at the changes and challenges under the new CEO Hunter Harrison.
Raymond James' Q1 Recap
Q1 adjusted earnings per share of $0.51 were up 37 percent year-over-year and ahead of the consensus estimate of $0.43 and Raymond James' estimate of $0.42.
The upside, according to Raymond James, came from stronger pricing and positive mix.
Same-store pricing rose 3.9 percent year-over-year, a pickup in pace from 2.8 percent in the fourth quarter of 2016, helped by improving coal yields.
Intermodal and merchandise decelerated to 2.5 percent from 3.2 percent on weak core intermodal pricing.
Coal volumes were up merely 2 percent.
Higher-priced exports led to a 23 percent year-over-year gain in RTM/coal carloads.
The firm feels the outlook appeared stable, with about 70 percent of the company's book of business expected to be favorable. The firm also noted that CSX's 2017 guidance called for mid-60s operating ratio, 25 percent earnings per share growth and $1.5 billion in free cash flow. CSX also said it will unveil a "multi-year strategy" in 2H17, the firm added.
Redesign Plan Under Harrison
Following details on redesign revealed on the call, Raymond James' Patrick Tyler Brown said he is confident that an improved network can create operational improvements.
"This redesigned network will streamline ops by pre-blocking traffic (more unit trains), shifting from hump to flat switching yards, increasing sidings, and using attrition (~10 percent of employees) to reduce labor," the firm explained.
The firm noted that Harrison's previous turn-around railroads garnered a high mix of bulk-traffic that provided inherent efficiencies and afforded more pre-blocking.
It is to be noted that Hunter, who was formerly with both Canadian Pacific Railway Limited (USA) (NYSE: CP) and Canadian National Railway (USA) (NYSE: CNI)'s recovery to growth, barged into CSX in March following a management shakeup in the company he orchestrated with activist investor Paul Hilal.
CSX Under Harrison: Changes/Challenges
Loop Capital Markets termed the first moves under Harrison as predictably strong: The railroad's 12 bump yards already being converted to cheaper flat switching operations, $100 billion taken out of the year's capital budget, given the company's free cash flow before dividends target of $1.5 billion, raising of quarterly dividend to $0.20 from $0.18, unveiling of a $1 billion stock buyback program.
Of the challenges presented by the new CEO, are the operations-focus, which comes at the expense of marketing, and the different level of attention given to servicing the first mile/last mile customers.
As a remedy, analyst Rick Paterson pointed to the implementation of a successful holistic supply chain by Canadian National after Harrison's exit and suggested that CSX implements it during Harrison's tenure. The firm said it is more worried about growth than the operating ratio.
Raising Estimates
Raymond James raised its 2017 earnings per share estimate for the company to $2.30 from $2.05 and 2018 earnings per share estimate to $2.65 from $2.35.
Rating/Price Target For CSX
Raymond James: Outperform, up from Market Perform/$55.
Loop Capital Markets: Hold/$52.
At the time of writing, CSX shares were rallying 1.55 percent to $50.33.
Related Links:
Canadian Pacific's Pivot To Growth Will Take Longer Than The Market Thinks
CSX Makes New All-Time High After Q1 Beat
__________
Image Credit: By David Wilson from Oak Park, Illinois, USA (19990205 37 CSX Florence, SC) [CC BY 2.0 (http://creativecommons.org/licenses/by/2.0)], via Wikimedia Commons
View Comments and Join the Discussion!
Posted-In: Earnings Long Ideas News Guidance Commodities Travel Markets Analyst Ratings Best of Benzinga